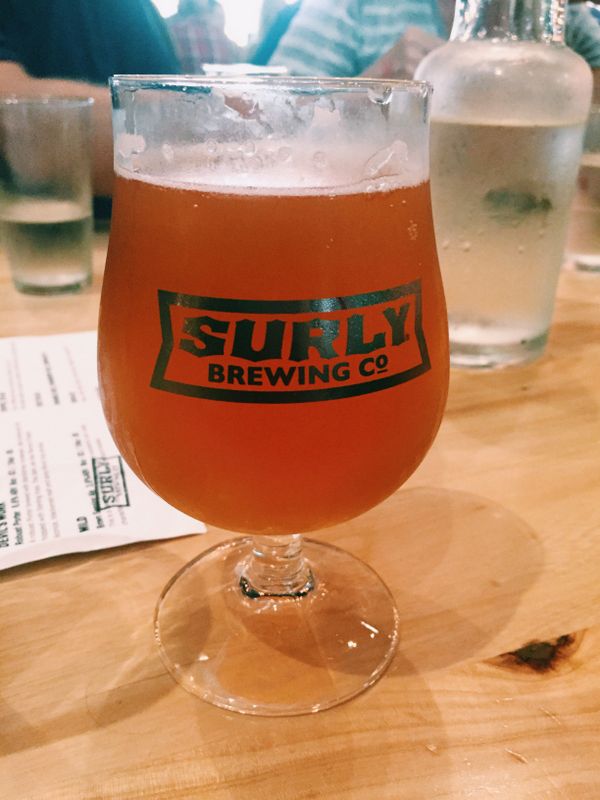 An incredible IPA at my new favorite brewery, Surly in Minneapolis! Touring this place was a highlight of our trip…we Greens like our beer!
Hi guys! Can you BELIEVE it's August already? Have you been summer vacay-ing it up? I'm doing lots of little trips this summer – Minneapolis with my fam, then Chicago for our friends' wedding, then a quickie trip out to wine country with some friends for lots and lots of wine. I'm currently in between trip #1 and trip #2, fighting off a stupid summer head cold and hoping to get my appetite back before Chicago this weekend (where it will be very, very necessary)! I have full faith there will be lots of food pics coming your way in any case! In the meantime, here are this week's Foodie Favorites:
These fig and ricotta cheesecake popsicles are one of the prettiest pops I ever did see! I need to get my hands on some fresh figs before this summer is over.
These sprinkled cake donuts are gorgeous and super nostalgic – these bring back the best memories of Sunday morning trips to the corner donut store to pick up a dozen!
This grilled corn and white bean hummus is right up my alley. I looove hummus, and the idea of adding corn is such a fantastic one!
This half-bundt half-birthday cake not only looks delicious (cinnamon brown sugar chocolate chip!!) but also is just the cutest idea – I am totally stealing the idea of making an annual half-birthday cake when I have kids someday!
I cannot get behind tiramisu (much to the horror of my Italian fiancé) but beeramisu, I certainly can do. I think I have to give this one a try!
These grillable veggie burgers look so good and hearty! I love me a good homemade veggie burger, but the homemade ones I've attempted have been a bit…crumbly. This one looks both incredibly flavorful and sturdy enough to stand up to a "real" burger!
Hope you enjoyed this week's round-up! Go grill some burgs and whip up some s'mores while you can, people!! XO