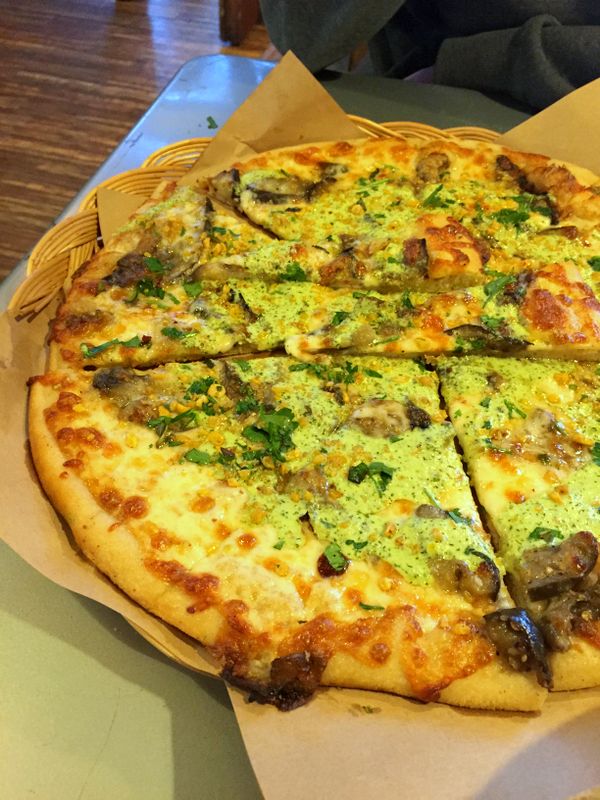 We finally made it to the locally famous Cheese Board Collective in Berk for their looooong-line worthy daily pizza. Two thumbs up!!
Hey, everyone! Happy Tax Day! (Not.) Does anyone actually do their taxes on Tax Day? That sounds like the worst thing in the world to me…one time I accidentally went to the post office on Tax Day and let's just say I majorly regretted that decision. I may not be celebrating finishing my taxes today, but I'll take the excuse to eat and drink and celebrate, anyways. Let's eye-indulge! Here are this week's Foodie Favorites.
This springtime pizza with chipotle romesco and eggs is the perfect seasonal pizza for this time of year – I love how fresh and colorful (and runny egg-y) it looks!
I am totally craving these spicy shrimp tacos right now. Spicy sautéed shrimp in a corn tortilla with crispy slaw? I'm allllll over it.
Peanut butter bacon and dark chocolate cookies. Need I say more?
This Slutty Frenchman egg sandwich looks so decadently delicious. Major weekend brunch perfection right there! Plus, who could resist a sammy with a name like that?!
I am very intrigued by the idea of making homemade tater tots. I may have to try this one time, because these look sooooo good!
This ricotta berry cake looks so simple and wonderful. I love everyday snack cakes possibly even more than fancy celebration cakes, and this looks perfect for a weekend treat!
Have a great week and enjoy the spring-y weather wherever you are! XO!