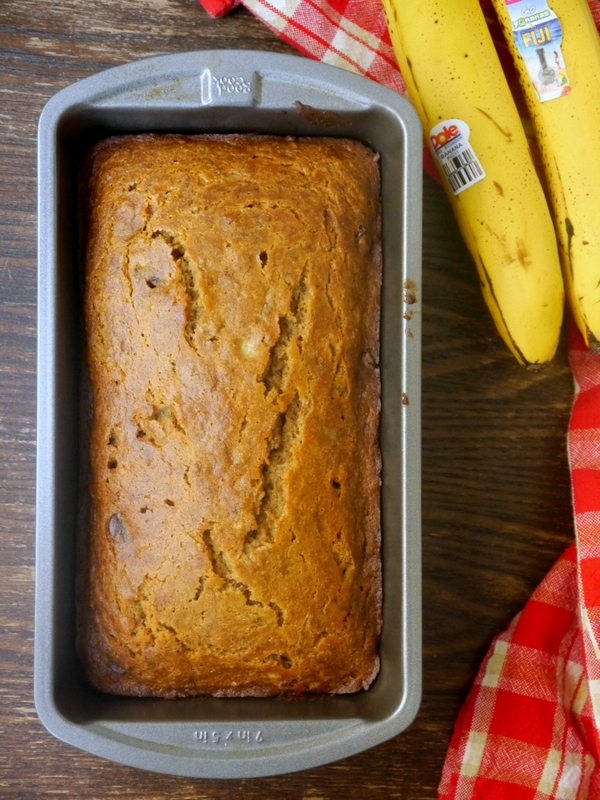 Do you ever see a recipe (in a cookbook, online, on a menu, wherever) and you just absolutely have to drop everything and make it RIGHT THEN?
This is a result of one of those moments.
OK fine, I saw this beauty a few weeks ago, but this was the very first opportunity I had to bake something, so for me, that's a pretty darn quick turn-around. As a food blogger, I have a looooong list of recipe ideas and a significant backlog of things I want to make. But I wasn't feeling inspired for my post this week until I started thinking about exactly what I really wanted to eat. I was craving something cozy and sweet but not overly indulgent, something that I wouldn't feel terrible about eating (especially before the pending Thanksgiving onslaught) but also would satisfy me and make me feel warm and fuzzy inside the way really only a fantastic baked treat can. I wanted this coconut oil banana bread and, backlog be damned, I was going to make it!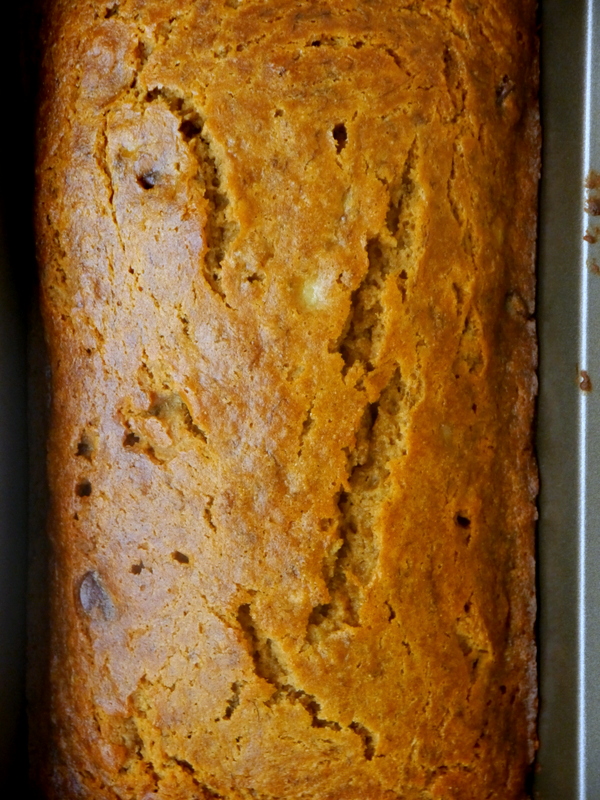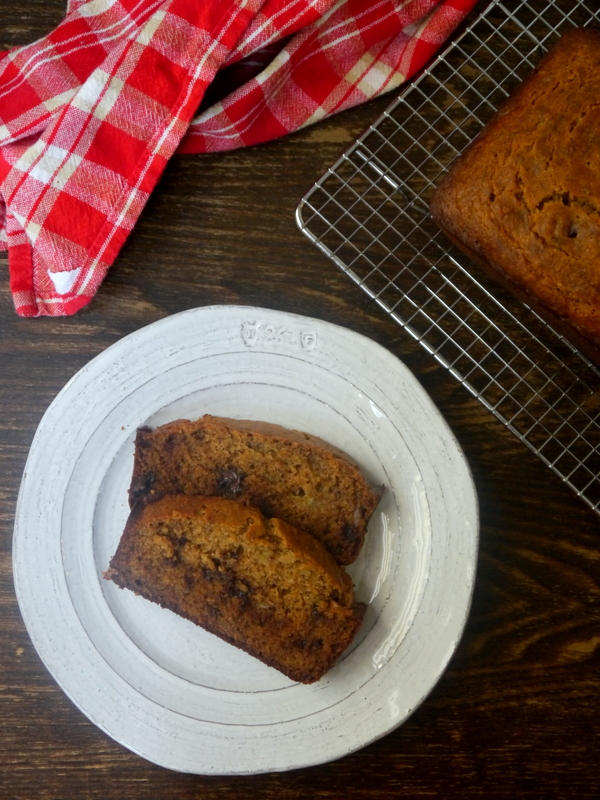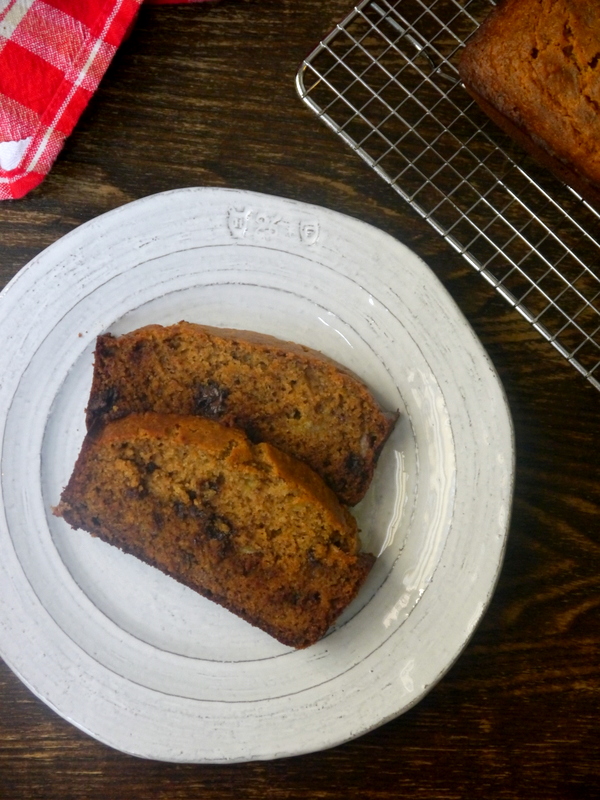 I am so glad I did – this loaf was exactly what I wanted. This coconut oil banana bread uses a ton of healthier substitutes (white whole wheat flour for your typical all-purpose, honey for a natural sweetener instead of white sugar, and coconut oil instead of the usual vegetable/canola oil) for a loaf that is secretly, quietly, inconspicuously actually not that bad for you. But, most importantly, it's still so moist, sweet, and chocolate-studded (because, DUH).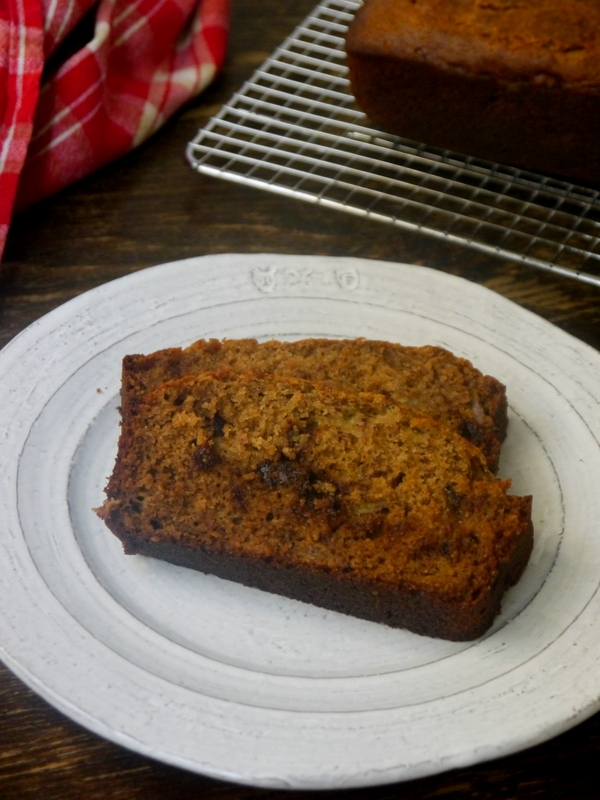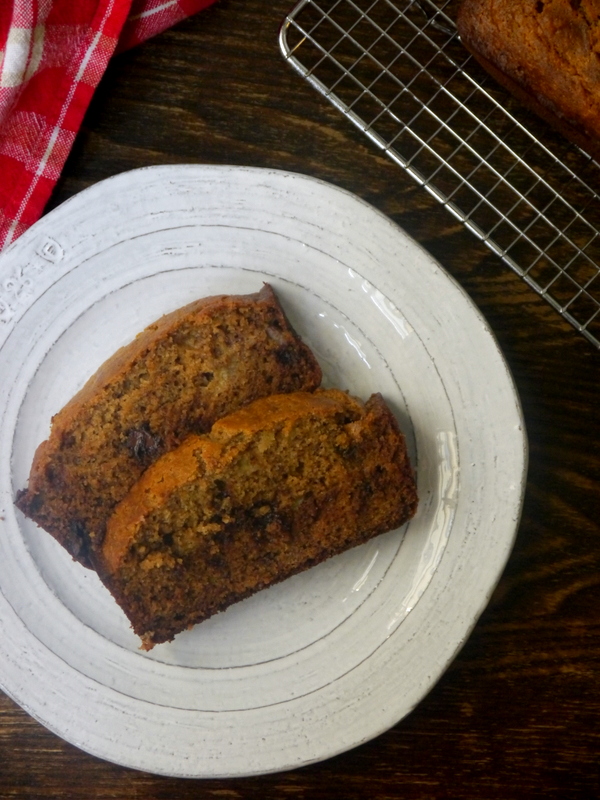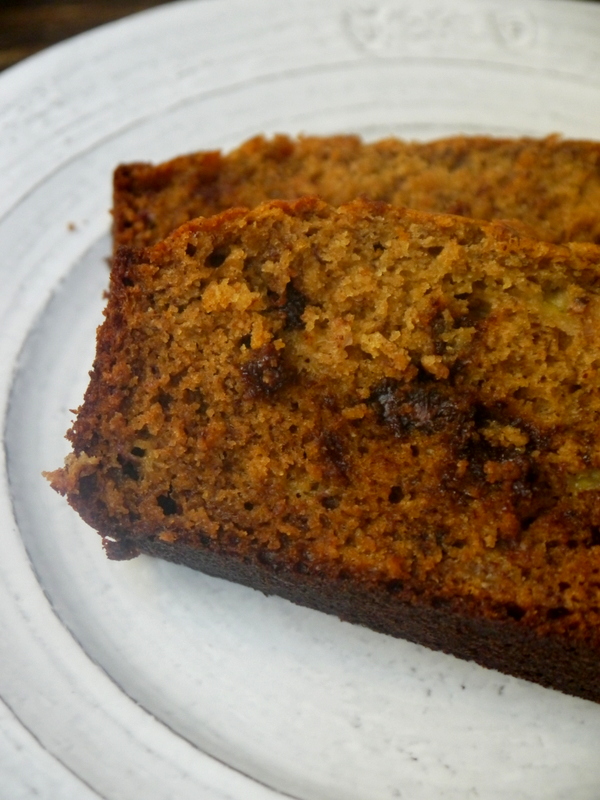 I have been wanting to try coconut oil in baking for awhile, and I absolutely loved the result with this banana bread – the coconut flavor is barely discernable (if at all), but I think it adds a nice slightly sweet touch that goes so well with the bananas, honey, cinnamon, and dark chocolate. This loaf was the Sunday snack of my dreams, even though the bottom got a little darker than I'd like (we can thank my ghetto oven, which is the size of a microwave and over-cooks just about everything). Oh well – there's nothing that a gigantic shmear of peanut butter can't fix, right?
Oh. Did I mention you absolutely NEED to eat this with peanut butter?! Consider it a critical ingredient. Your cozy-food-loving soul will thank me!!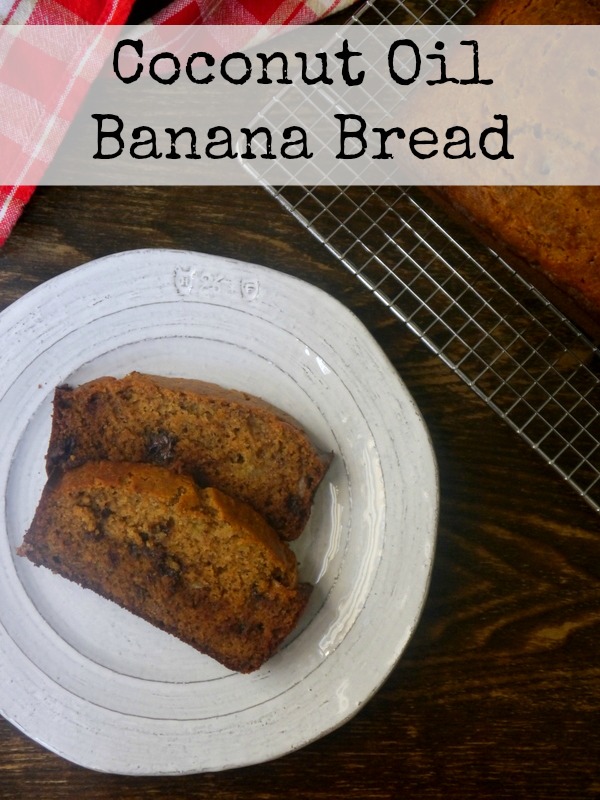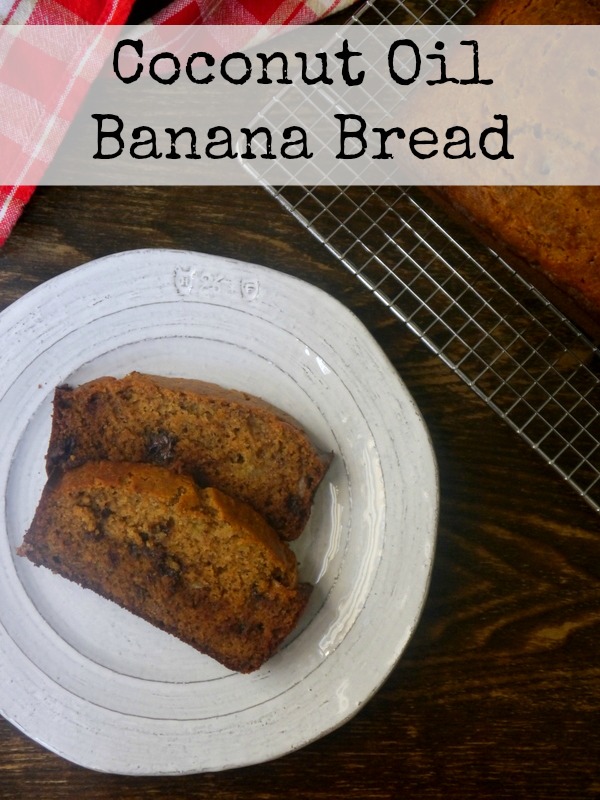 Coconut Oil Banana Bread
2015-11-22 17:02:20
Serves 12
This coconut oil banana bread makes some healthy substitutes to yield a loaf that is sweet and delicious but not guilt-inducing! I absolutely loved this loaf!
Ingredients
1/3 cup coconut oil, melted
½ cup honey (can sub maple syrup)
2 eggs
1 cup mashed very ripe banana (about 2 large bananas)
¼ cup almond milk (can sub regular milk)
1 tsp. baking soda
1 tsp. vanilla
½ tsp. salt
½ tsp. cinnamon
1 ¾ cups white whole wheat flour
½ cup dark chocolate chunks
Instructions
Preheat your oven to 325°F. Grease a 9x5 inch loaf pan and set aside.
In a large bowl, combine the melted coconut oil with the honey. Whisk in the eggs, then the mashed banana and the almond milk. (If your coconut oil starts solidifying as it comes into contact with the cold ingredients (mine did), just put the bowl on top of your stove for a few minutes to warm it up again!)
Next, whisk in the baking soda, vanilla, salt, and cinnamon. Switch to a spatula and stir in the white whole wheat flour, folding lightly until combined. Lightly stir in the dark chocolate chunks. Spoon the batter into the prepared pan and bake for about 55-60 minutes, until a tester inserted into the center comes out clean.
Allow to cool for about 15 minutes, then transfer to a wire rack to cool for another 15-20 minutes before slicing. Enjoy warm (with peanut butter, PLEASE!).
Adapted from Cookie and Kate
My Bacon-Wrapped Life http://www.mybaconwrappedlife.com/
I never get sick of banana bread…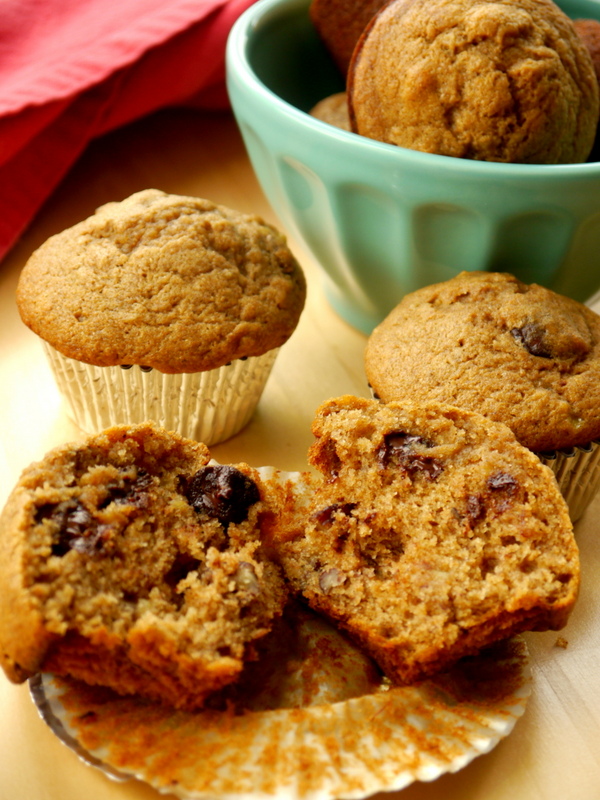 Whole Wheat Banana Muffins with Dark Chocolate and Toasted Pecans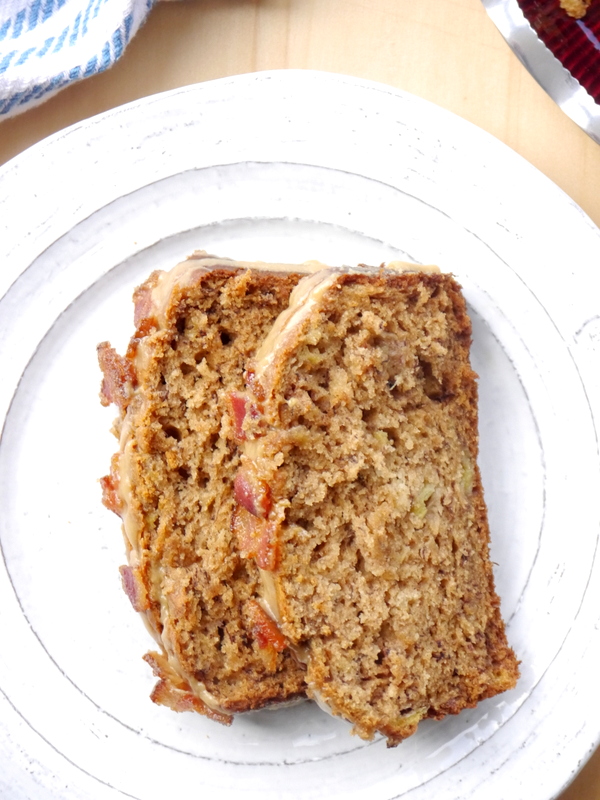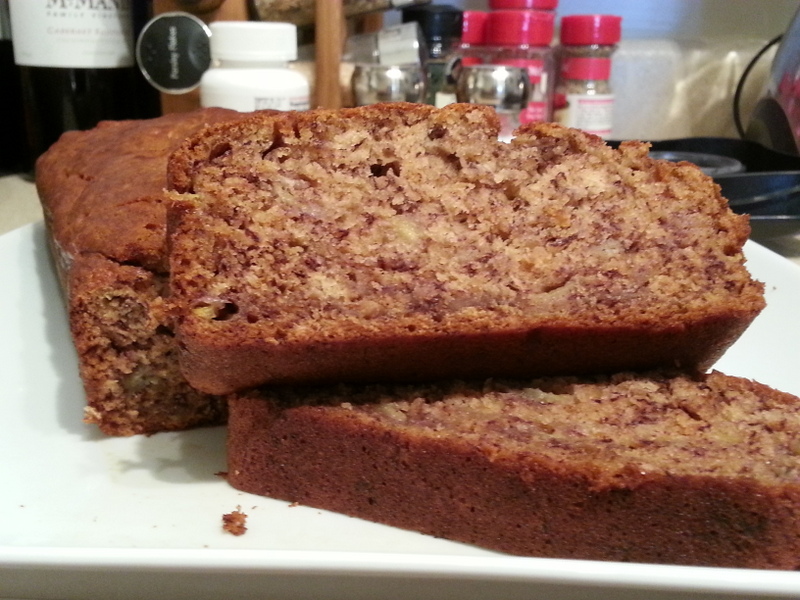 Bourbon Banana Bread (my first post ever – OMG.)