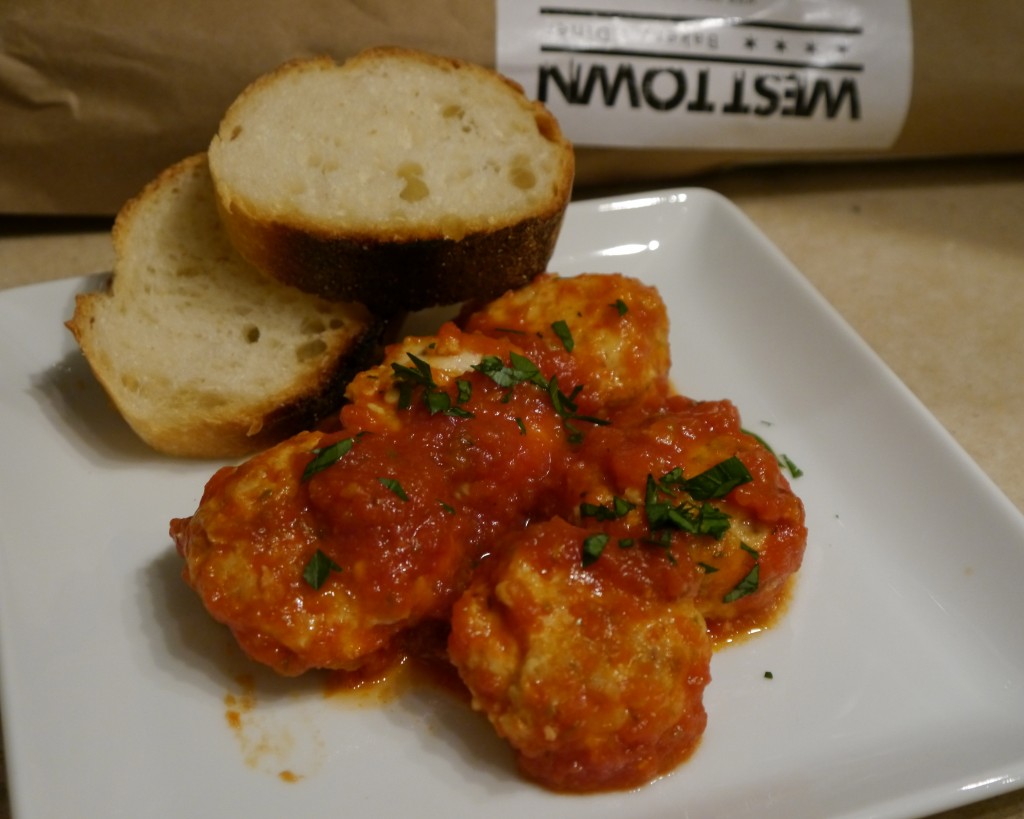 I absolutely love fall, but it always has a tendency to sneak up on me. Like this year – when I left Chicago for a 10-day trip to the UK, it was 95 degrees. When I came back, it had dropped to the mid-60′s and our plane had to be re-routed due to severe thunderstorms. We've had a few days of Indian summer since then, but in general it felt like just like that, the days of fresh corn, heirloom tomatoes, and leaving the house without even thinking about wearing a jacket were gone. Luckily, most of my favorite foods are fall/winter foods and I can't wait to spend the next 6 months eating warm, hearty meals and drinking Sam Adams Oktoberfest. Hell yes.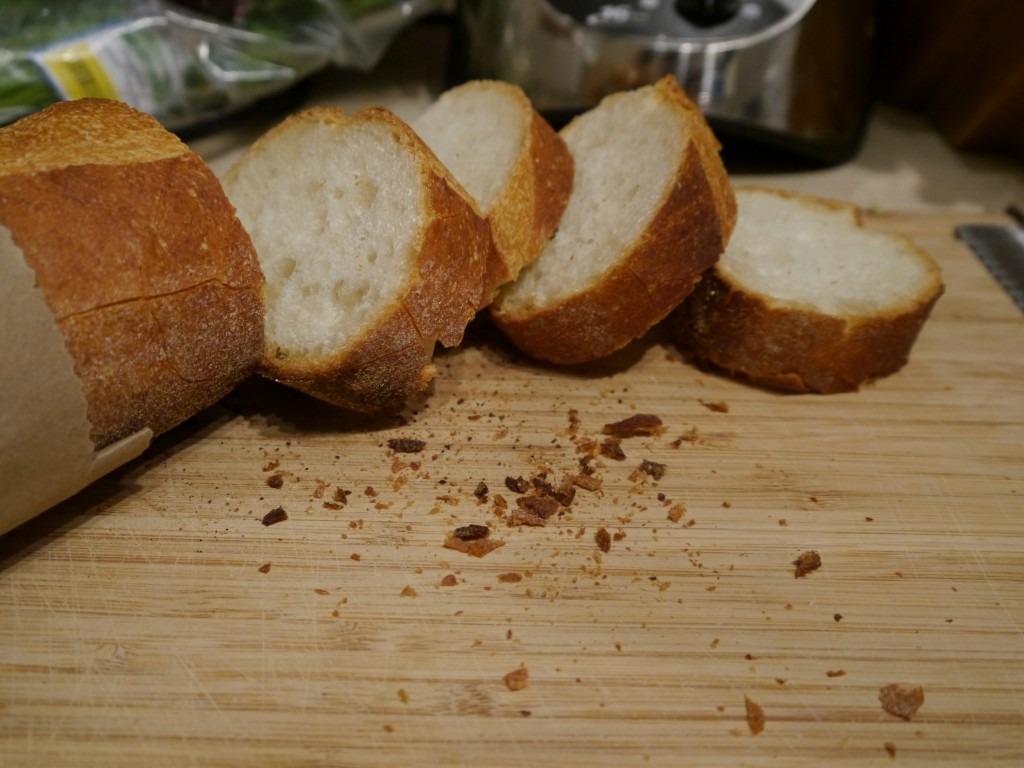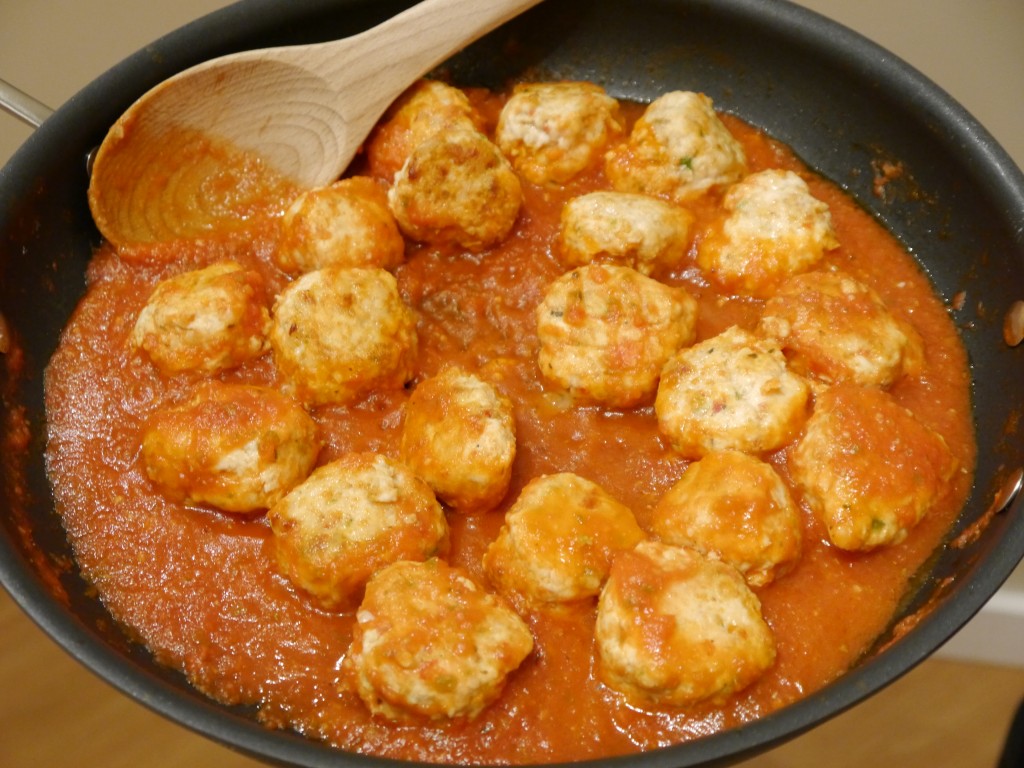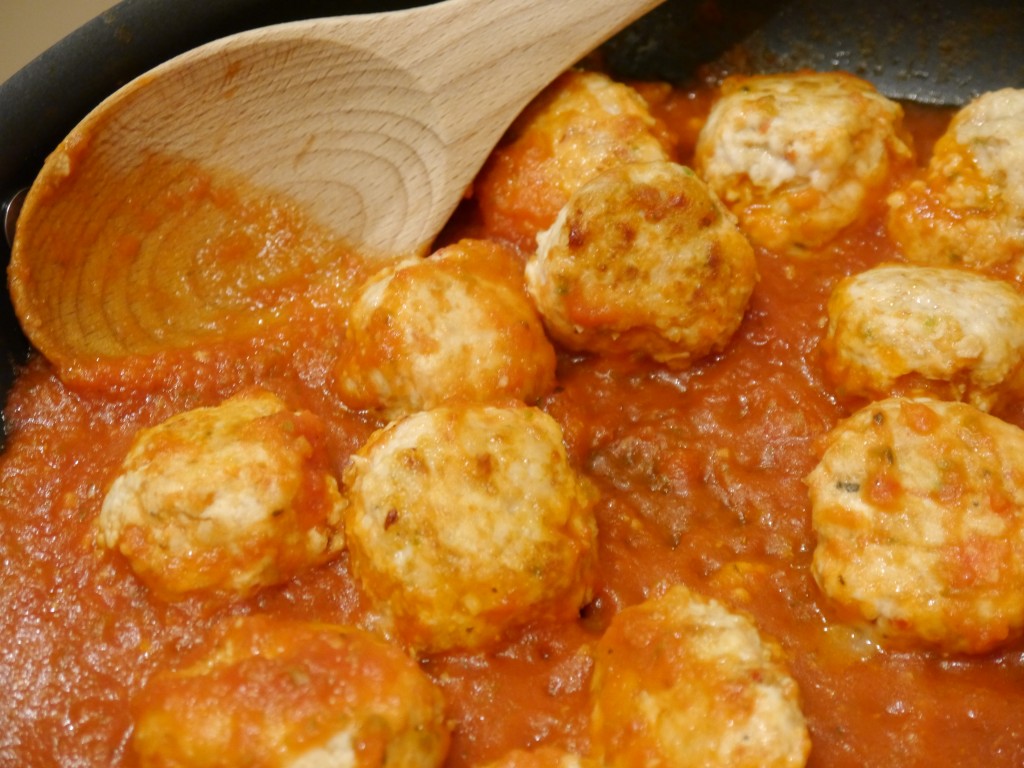 I spotted these chicken and sun-dried tomato meatballs on (where else?) Pinterest and was immediately drawn to their promise of healthy but still hearty comfort food. Meatballs are delicious and easy, and I love that these require no pasta to be a complete meal, just a simple baguette picked up at the market the same day, sliced thick and served generously. Admittedly, ground chicken has a tendency to be dry and bland, but these meatballs were neither of these things. They were super moist and flavorful, aided by the genius additions of sun-dried tomatoes and jalapeño to the standard meat/egg/milk meatball mixture. They were super soft inside and yet still had that nice little char from searing first and then simmering lightly in a quick tomato sauce on the stove top.
I think the only change I'd make to these guys is adding a little more jalapeño – however, I was battling a nasty sinus infection when we ate them, and we like things pretty spicy to begin with. So take that in mind when considering turning up the heat! Overall, this is a great "everyday" dinner recipe that hits the perfect cozy-dinner-after-a-gorgeous-fall-day spot.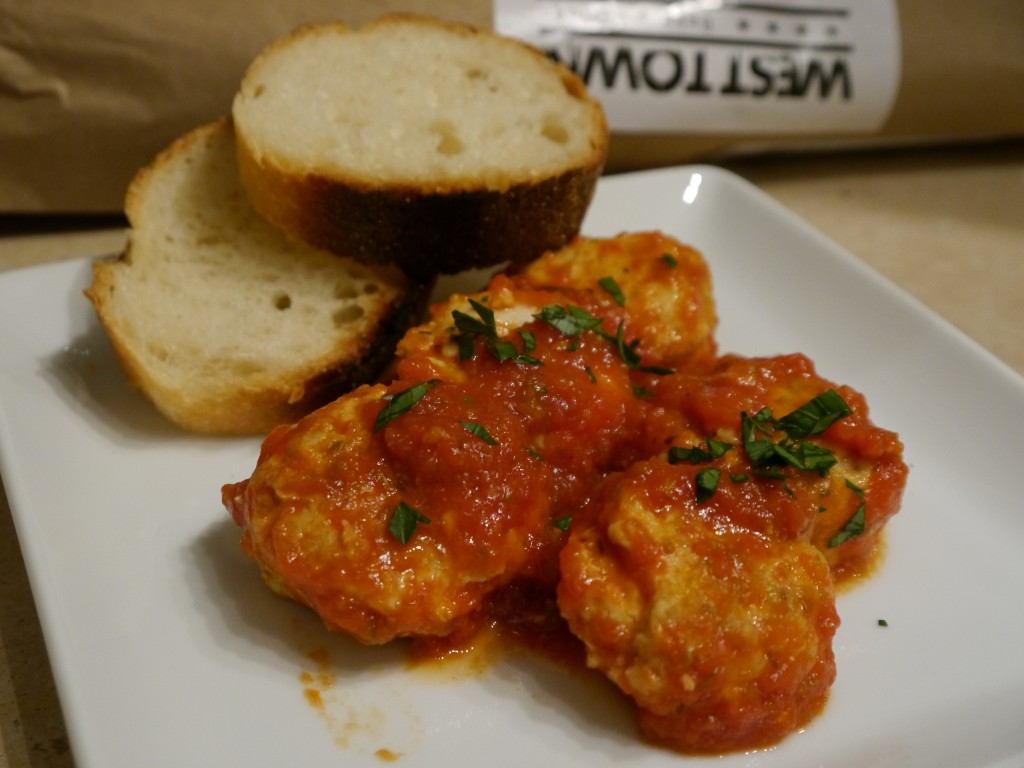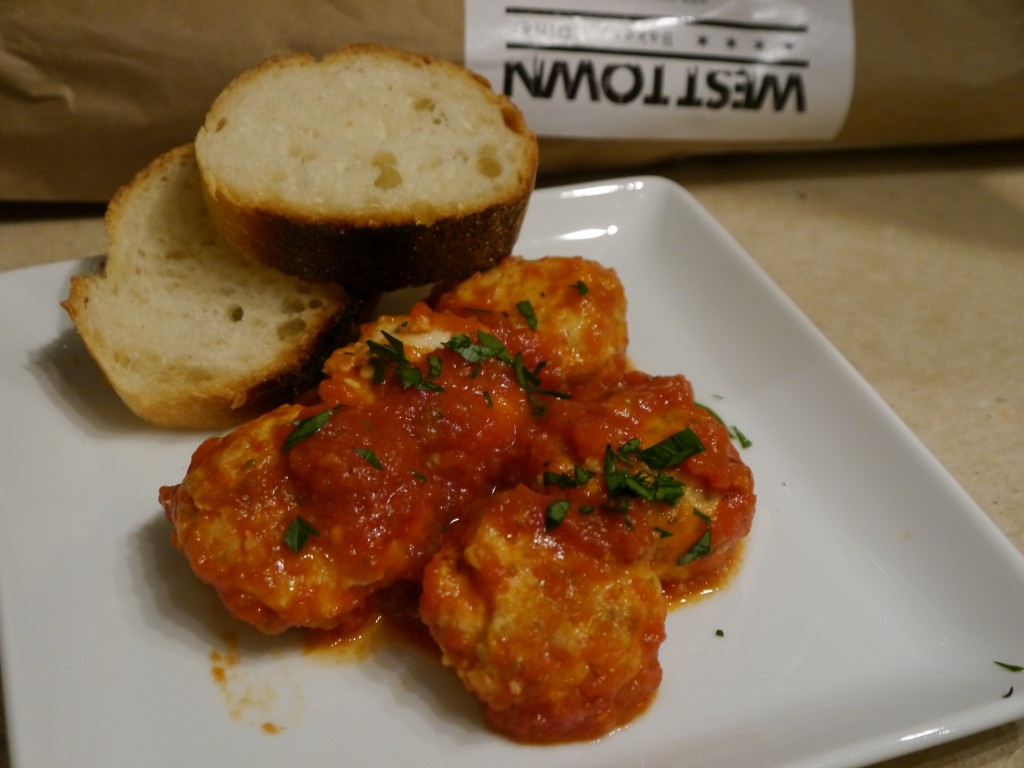 Chicken and Sun-Dried Tomato Meatballs
2013-10-07 19:48:13
Serves 4
A flavorful chicken meatball recipe that is kicked up with sun-dried tomatoes and jalapeños!
Ingredients
4 oil-packed sun-dried tomato halves, drained and patted dry with paper towel
2 garlic cloves
1 large jalapeno – halved, seeded, and chopped
Kosher salt
Pepper
¼ cup bread crumbs
1 pound ground chicken breast
1 large egg, lightly beaten
1 tbsp fat-free milk
¼ cup AP flour
One 14.5-oz can peeled whole tomatoes (juices included)
½ tsp dried oregano
2 tbsp extra-virgin olive oil
1 tbsp chopped Italian (flat-leaf) parsley
Instructions
Add the sun-dried tomatoes, 1 garlic clove, half of the jalapeño, ½ tsp of salt, and 1/8 tsp of pepper to the bowl of a food processor; process until finely chopped. Add the bread crumbs; pulse again until combined. Pour the mixture into a large bowl and add the chicken, egg, and milk. With a little water on your hands, roll about 20 little meatballs (they should be slightly smaller than a golf ball). Dust the meatballs lightly with the flour, tapping off any extra.
Next, wipe out the food processor and add the second garlic clove and the other half of the jalapeño, and process until chopped. Pour in the tomatoes with the juice, add the oregano, and blend until smooth.
In a large cast-iron skillet, heat the olive oil. Add the meatballs and cook over medium heat for about 5-6 minutes, turning occasionally, or until the outsides are golden but the insides are still not quite cooked through. Remove the meatballs and transfer to a plate.
In the same skillet, add the tomato sauce and simmer until slightly thickened (about 2 minutes). Return the meatballs to the skillet, and simmer for about 2 more minutes or until cooked through, continuing to turn occasionally. Transfer the meatballs with the sauce to a bowl, sprinkle with the parsley, and enjoy!
Adapted from Food & Wine
My Bacon-Wrapped Life http://www.mybaconwrappedlife.com/