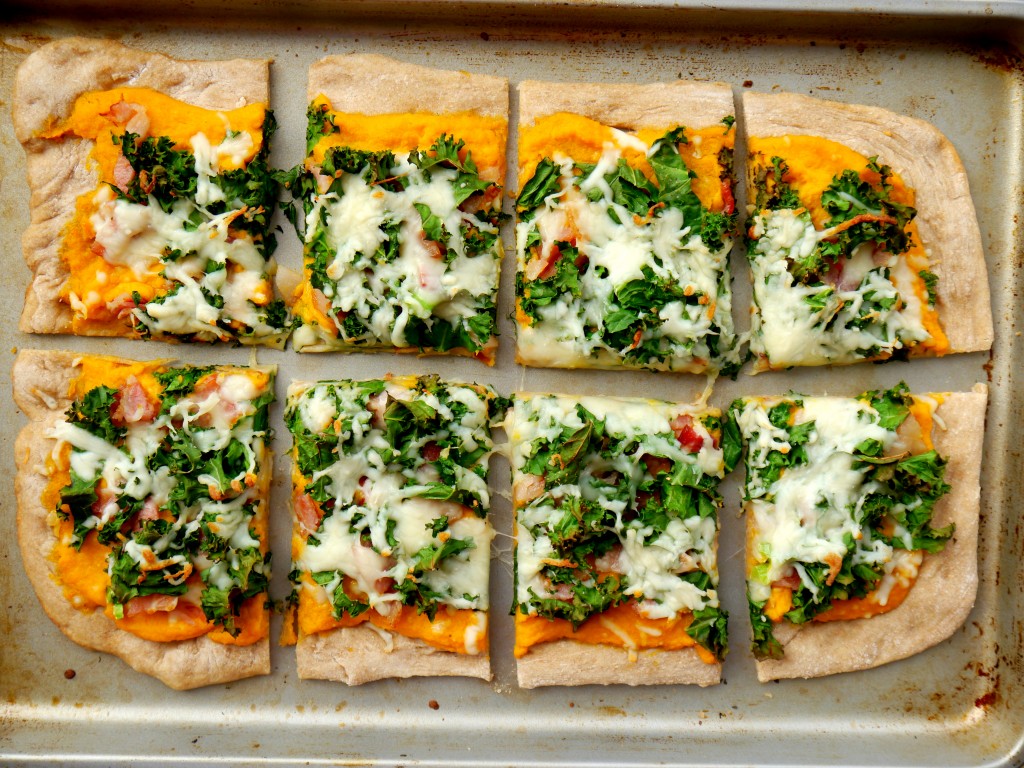 This is my absolute perfect winter pizza.
And by that I mean it's my perfect how-is-it-still-zero-degrees-on-March-2nd pizza.
I can't look ahead to asparagus and artichokes and other signs of spring. I can't think about bathing suits or sunshine or Vitamin D. It's just too painful. Let's just hang out here, in our PJs in the middle of the day (because obviously we haven't been outside yet), gazing out of our snow-filled windows and eating butternut squash and bacon pizza. This is my happy place right now.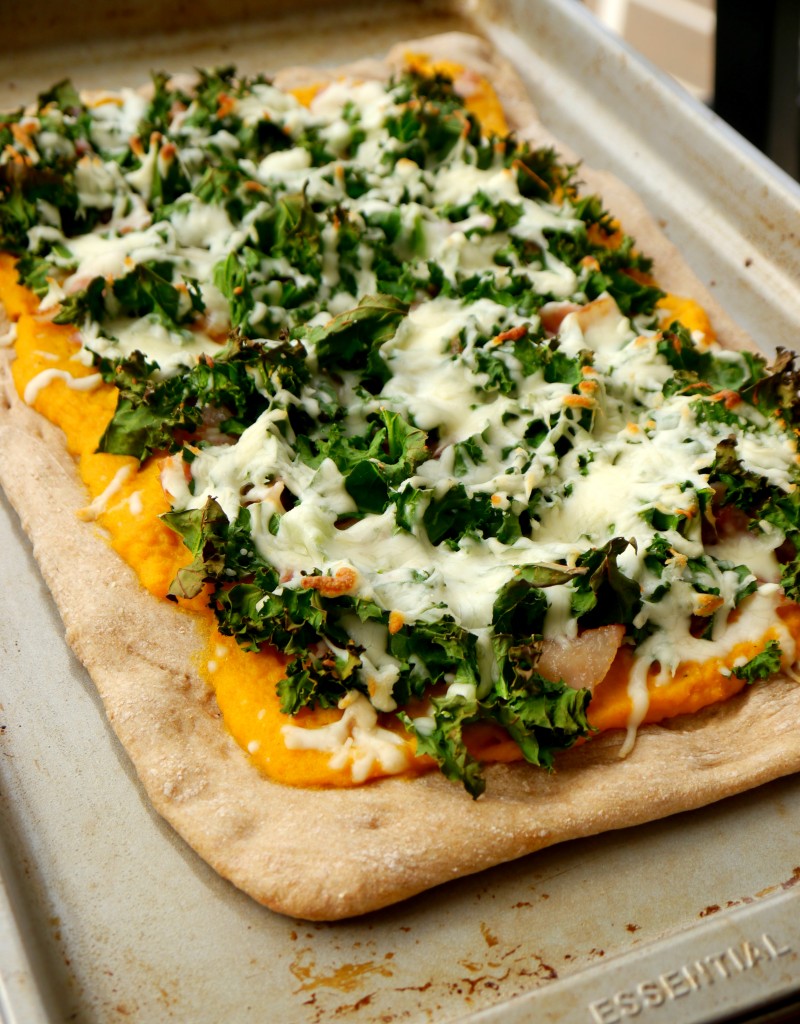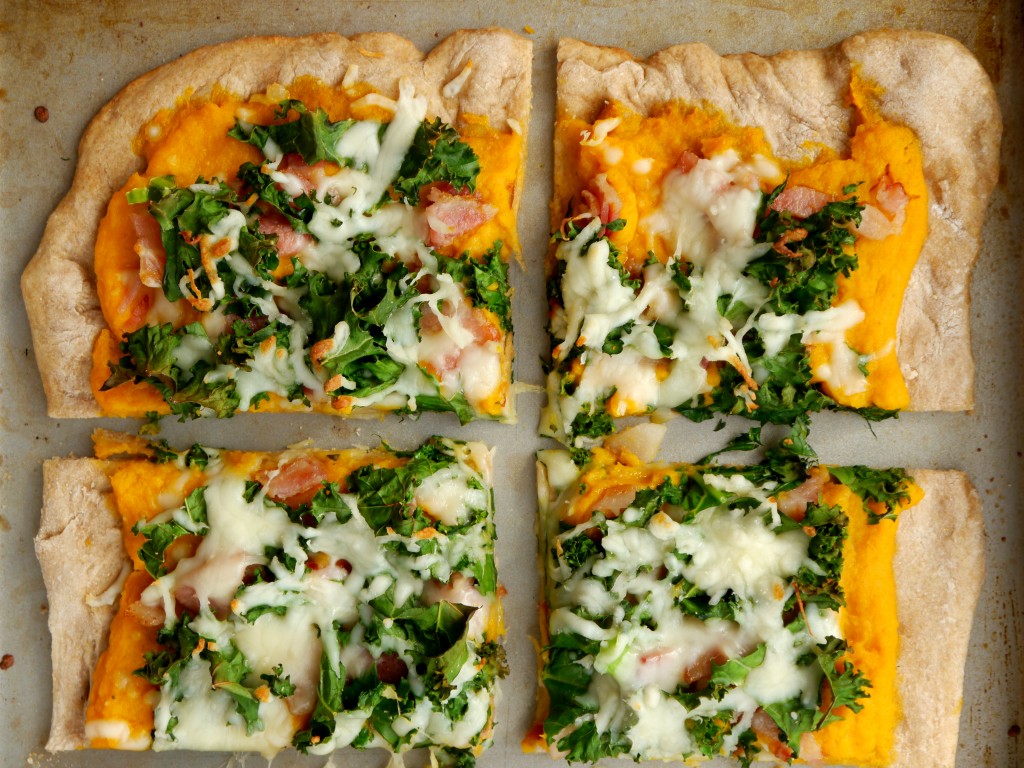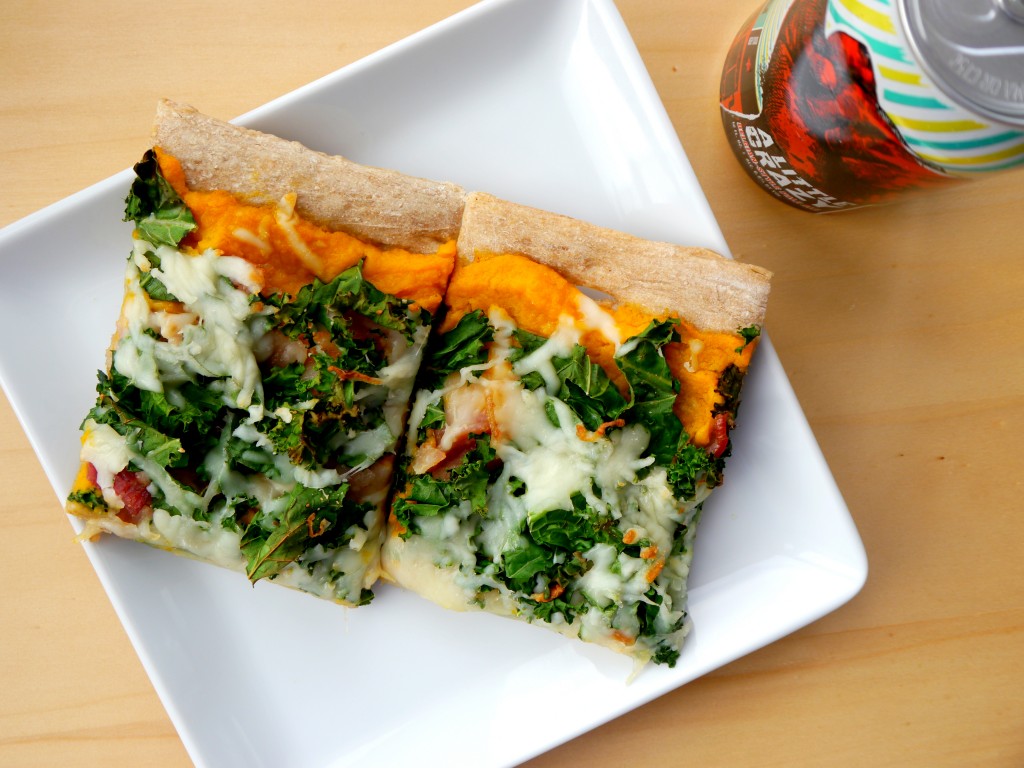 This butternut squash and bacon pizza was inspired by a pizza I tried at a new restaurant in Lincoln Park. It was pretty darn good, but I was totally all "I'm gonna make this at home, but BETTER" about it. First step: whip up my favorite homemade whole-wheat pizza crust for some perfectly chewy flava. Next step: take the butternut squash goodness up a notch by making a puree that gets all up on every bite. Finally: add kale for some crunchy color and bacon for some…well, duh, bacon. It came out absolutely delicious, crispy from the kale and meaty from the bacon and a little sweet and spicy from the spiced butternut squash. This pizza has major texture and flavor and is absolutely perfect for a (please, let it be) end-of-winter celebration of the type of cuddly cooking that just doesn't taste as good when it's above freezing outside. Do yourself a favor and make this baby while it's still super shitty outside!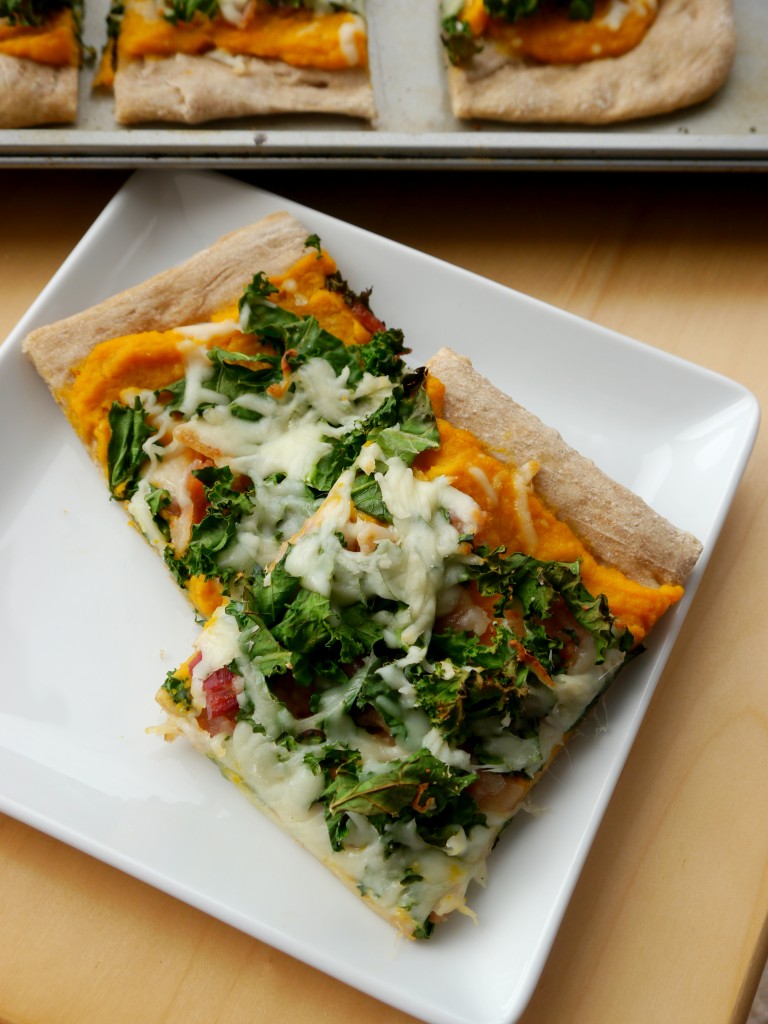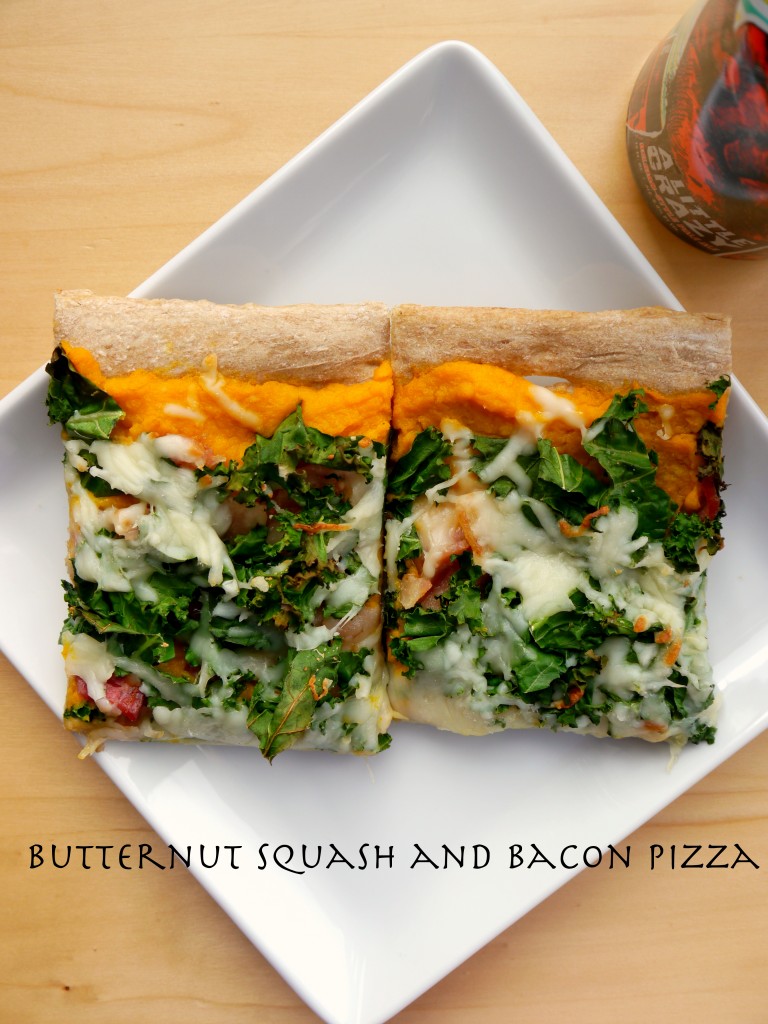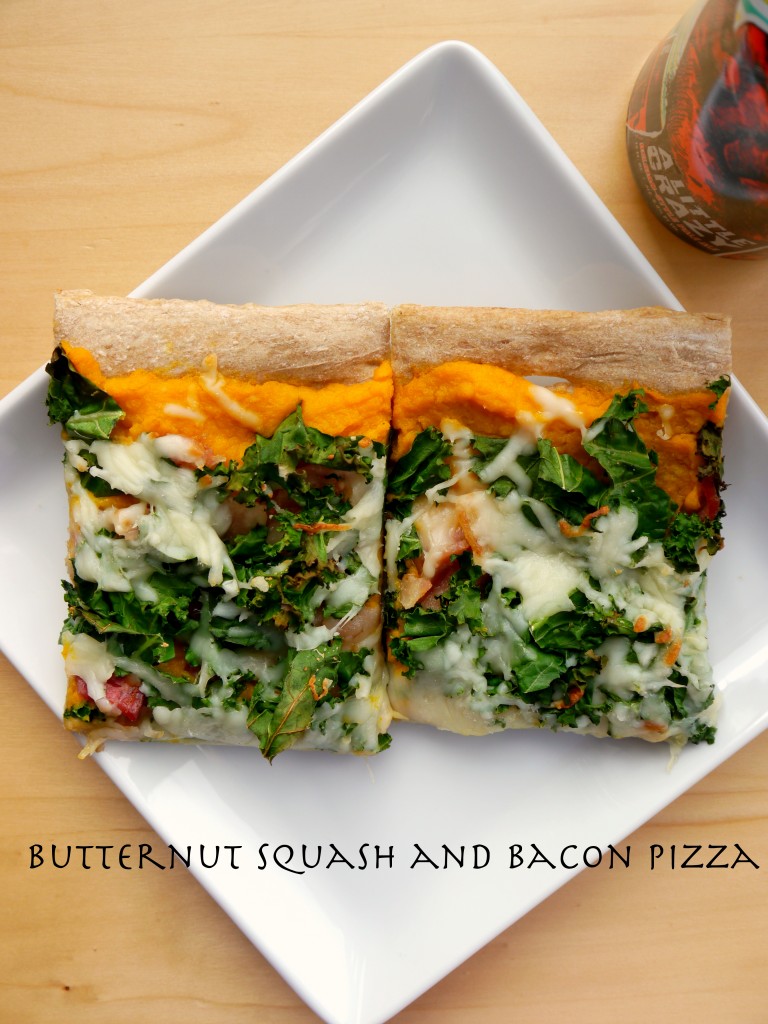 Butternut Squash and Bacon Pizza
2014-03-02 19:58:09
Serves 4
With roasted butternut squash puree, kale, bacon, lots of cheese, and a perfectly chewy whole-wheat crust, this is truly the perfect winter pizza!
For the dough
1 ½ cups lightly packed whole-wheat flour
1 ½ cups lightly packed all-purpose flour
Slightly heaped 1/8 tsp. active dry yeast
1 ½ tsp. kosher salt
1 ¼ cups water, plus an additional 1-2 tbsp. (if needed)
For the pizza
1 lb. cubed butternut squash
1 tbsp. olive oil
Salt and pepper, to taste
4 slices thick-cut bacon
2 cups chopped kale
1/3 cup milk
Pinch of cayenne pepper, to taste
1 cup shredded Italian blend cheese
Instructions
In a large mixing bowl, mix all of the dough ingredients together with a wooden spoon until they come together. If your dough is too dry and just won't come together, here is where you add the additional water, 1 tbsp. at a time. Cover your bowl with plastic wrap and allow to rise for approximately 22 hours at room temperature.
About 40 minutes before you're ready to bake your pizza, Preheat your oven to 400°F. Arrange your butternut squash in a single layer on a large baking sheet. Drizzle with olive oil and season with salt and pepper. Toss it all around and bake for about 25 minutes or until cooked through.
While the squash is cooking, chop up your kale and cook up your bacon slices. Allow the bacon to drain on a paper towel-lined plate, then chop into small pieces.
When the squash is done, transfer it to a food processor. Add 1/3 cup milk, a pinch of cayenne pepper, and blend. Taste and add more cayenne if it's not spicy enough for you!
At this point, turn your oven up to 500°F. Now it's time for the dough. Dump your dough out onto a well-floured counter. Flour the top of the dough and divide it in half. (You can refrigerate the other half for up to 3 days – just roll it into a ball and wrap in plastic wrap.) Take your half and let it stretch out a few times before landing it on a large rimmed baking sheet that has been sprayed with cooking spray. Using floured fingers, spread the dough out to the edges of the sheet (or as close as it will get).
Bake the dough by itself for 5 minutes. Then take it out of the oven and top 'er up. Spread the butternut squash puree to the edges, leaving a 1-inch border on all sides. Then sprinkle the chopped bacon and kale over the squash, and top with the shredded cheese. Continue to bake for about 5 more minutes or until the cheese gets all melty and the dough is cooked through. Slice it up and serve!
Notes
Use a large spoon to gently spoon the flour into the cup measurements – do NOT scoop! This will lead to a dense flour measurement and dry dough.
Dough recipe from Smitten Kitchen (http://smittenkitchen.com/blog/2013/10/lazy-pizza-dough-favorite-margarita-pizza/) and pizza toppings inspired by Bev Cooks (http://www.tablespoon.com/recipes/roasted-butternut-squash-pizza/b697c3bd-7280-4a33-9521-30a950e2eec4)
My Bacon-Wrapped Life http://www.mybaconwrappedlife.com/