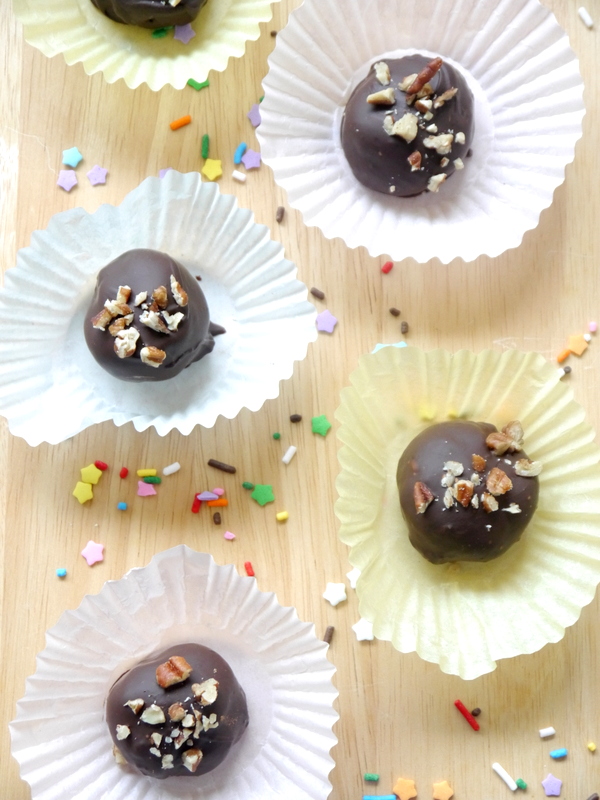 You know when a food blogger posts two boozy recipes in a row, there's something going on that's worthy of some serious celebration. Well, I promise I won't disappoint on that front. Not only is today my 25th birthday, not only is New Year's Eve in just a few short days, not only is it the happiest and most relaxing and coziest time of the year…
But also last week Brad asked me to marry him, and I said yes.
!!!!!!!!!!!!!!!!!!!!!!!!!!!!!!!!!!!!!!!!!!!
This has been the most wonderful week or so of celebration – eating, drinking, cheers-ing, laughing, happy crying, and staring at my gorgeous new ring and still barely believing that it's real. It's been one of the happiest weeks of my life, and I am so grateful for our family, friends and—perhaps most of all—my incredible future husband who makes my day, every day. Words can't express how lucky we feel to be surrounded by so much love and how excited I am to be the future Mrs. Lookabaugh! <3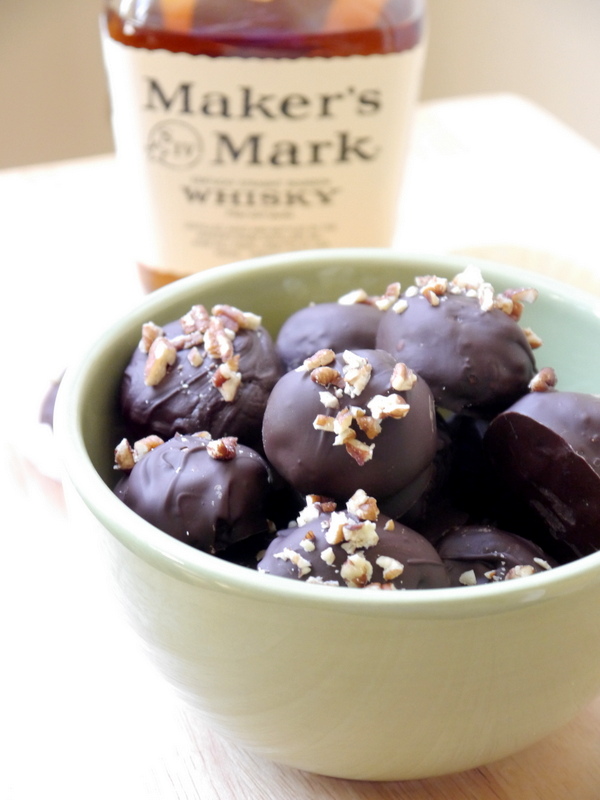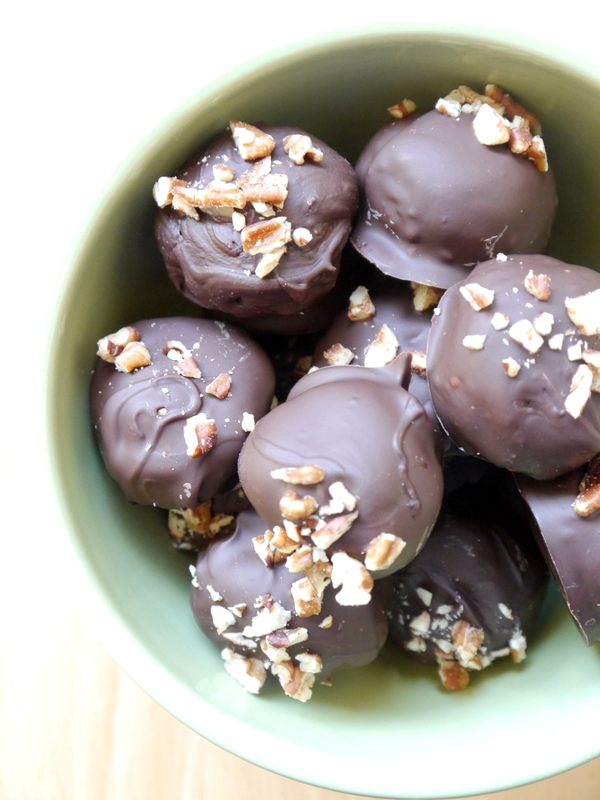 So then, the question became: what's a treat worthy of such an exciting time? It had to be chocolate-y. It had to be boozy. It had to be decadent and rich and celebratory. Also, I wanted it to be bite-sized, perfect for a NYE bash to hold in one hand while clinking champagne glasses with someone you love. It had to be these bourbon pecan chocolate truffles.
Truffles are one of my favorite desserts – so decadent, but packed into a tiny little package that doesn't leave you lying on the couch, full for hours afterwards. They're fun to make, completely delicious, and a total show-stopper – people go crazy when you bust out the homemade truffles. I knew they'd be the perfect way to celebrate the holidays, my birthday, and our engagement.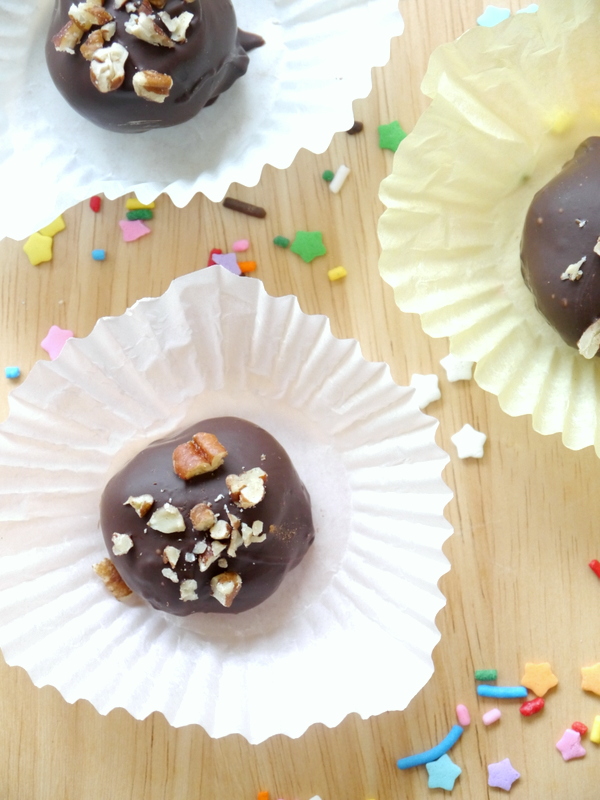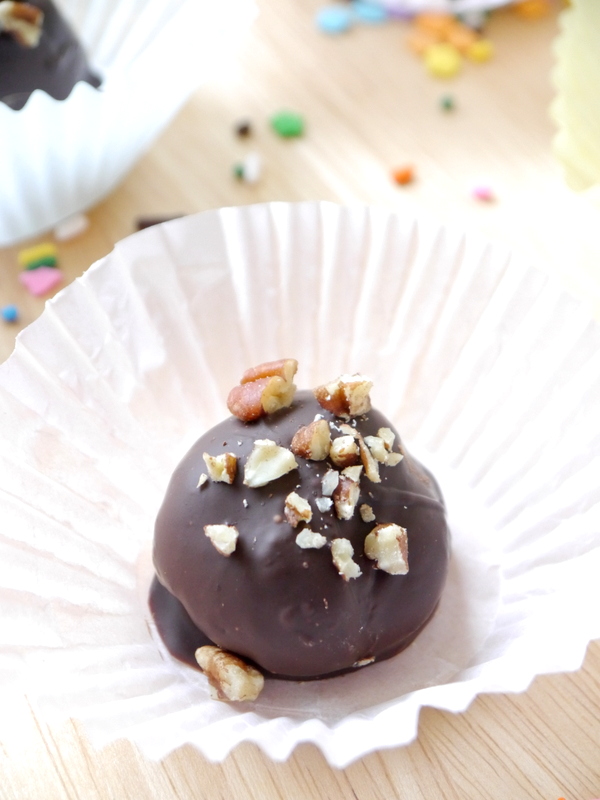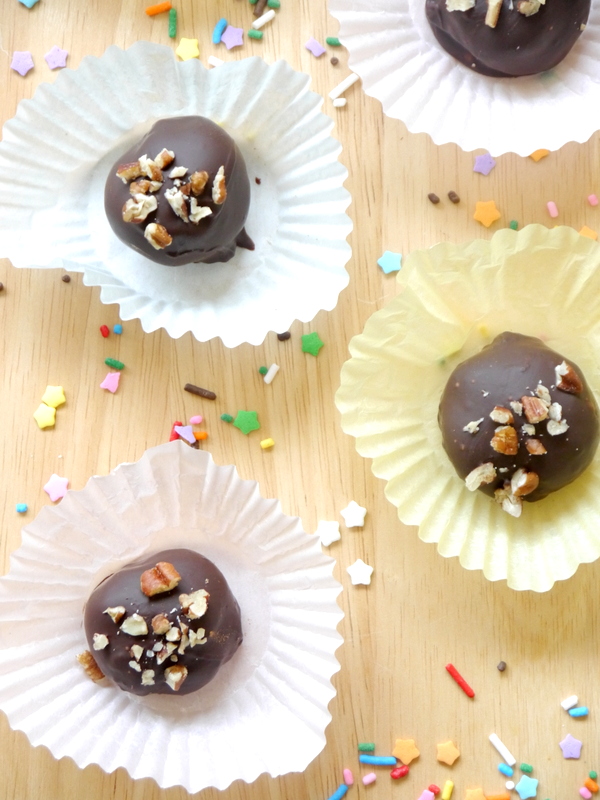 These bourbon pecan chocolate truffles are to die for, friends. They are rich, creamy, and BOOZY – they do not mess around! The bourbon flavor is prominent, which in my opinion is a very good thing for a celebratory evening. It complements the sweet chocolate so well, and the sprinkle of pecans on top is the perfect crunch to contrast the dense and creamy chocolate center. These are real, show-stopping, party-making, happiness-inducing winners. I can't imagine a better hand-held dessert to ring in the New Year this Wednesday night. I mean, how could 2015 be anything less than amazing with these babies to start it off, right?!
I'll be back one more time in 2014 to share the top 10 recipes on the blog this year, so stay tuned! XO!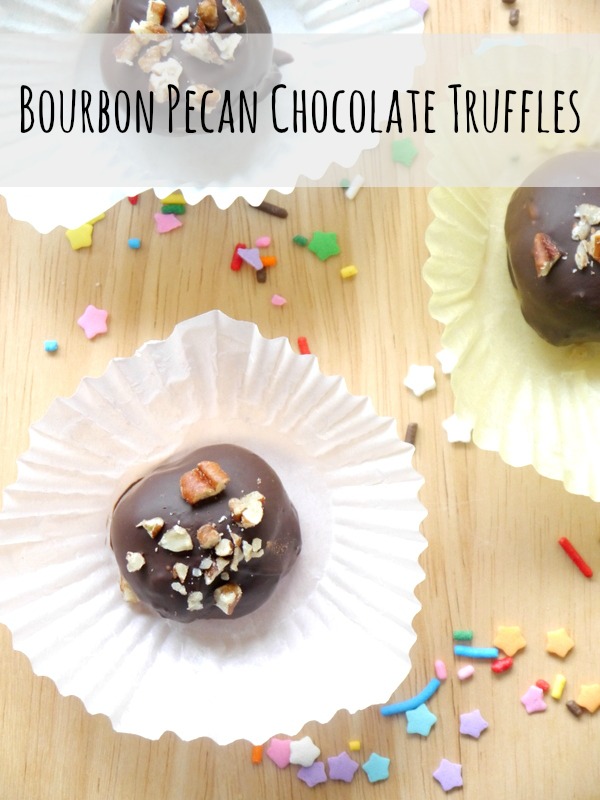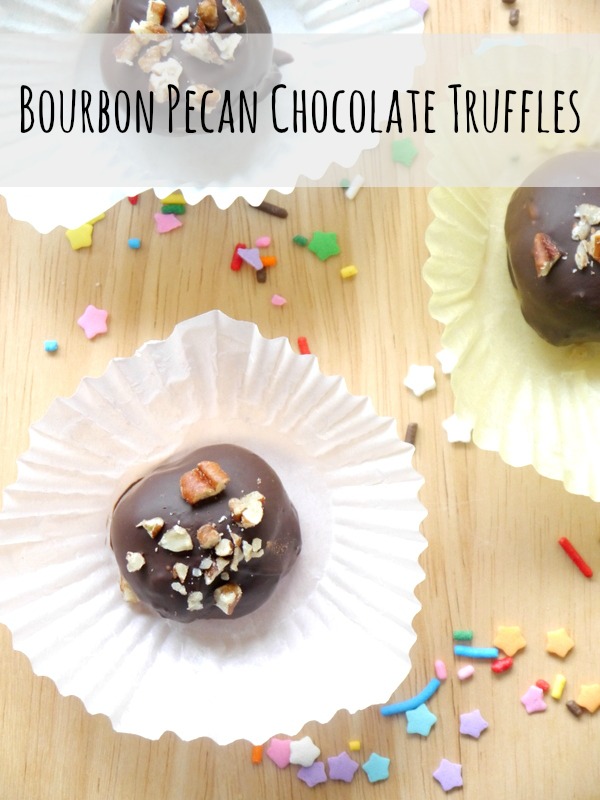 Bourbon Pecan Chocolate Truffles
2014-12-28 14:19:18
These bourbon chocolate truffles are insanely rich, decadent, and BOOZY! They are the perfect little treat for a celebratory evening!
For the truffles
¼ cup heavy cream
4 tbsp. unsalted butter
6 oz. milk chocolate, chopped
6 oz. semisweet chocolate, chopped
¼ cup bourbon
Cocoa powder, for rolling truffles
For the chocolate coating + topping
12 oz. semisweet chocolate, chopped
1/3 cup finely chopped pecans
Instructions
In a small heavy saucepan, combine the cream and the butter on medium-low heat. Allow the butter to melt and the cream to come to a simmer, stirring occasionally. Once the cream starts simmering, remove the pan from the heat and stir in the chocolates. Stir until melted and smooth, then add in the bourbon and stir to combine. Pour into a heat-safe bowl, then cover and freeze for about 40 minutes – you want the truffles to be just firm enough to scoop with a spoon and hold their shape, but not too hard.
Line a baking sheet with aluminum foil. Scoop out tablespoon-size drops of filling and place them onto the sheet. Cover again and freeze for about 30 minutes, until almost firm but still able to mold.
In a shallow bowl, sprinkle a 1/2 inch-thick layer of cocoa powder. Take each truffle, roll it into a ball in your hands (I had to let mine come to room temperature for 5-10 minutes before I could do this) and then roll in cocoa powder until evenly coated. Return the coated truffles to the baking sheet and freeze again while melting the chocolate for the topping.
In a double boiler, melt the 12 oz. semisweet chocolate until shiny and smooth. One at a time, dip each truffle into the melted chocolate, tossing with two forks until totally covered. Use the forks to ease it out of the chocolate and back onto the baking sheet. Sprinkle with a pinch of chopped pecans.
Repeat for the remaining truffles. Once completed, place the sheet uncovered in the refrigerator for at least 1 hour to allow the truffles to firm up. Serve, or transfer to a covered Tupperware container if you'll be enjoying later. Truffles keep for 3 weeks in the refrigerator in an airtight container.
Adapted from Williams-Sonoma
My Bacon-Wrapped Life http://www.mybaconwrappedlife.com/
I love truffles at this time of year! Check out these other delicious versions!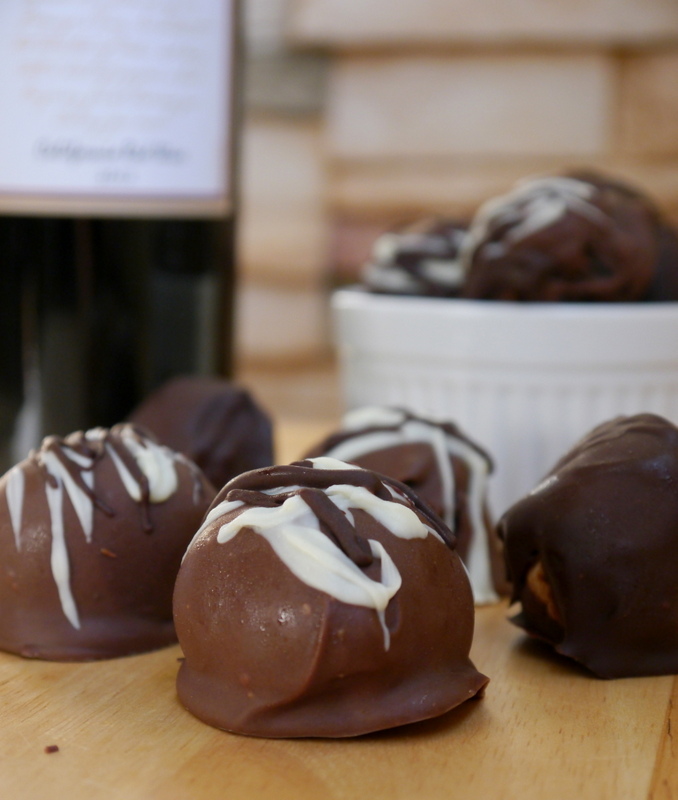 Oreo Truffles and Cookie Dough Truffles