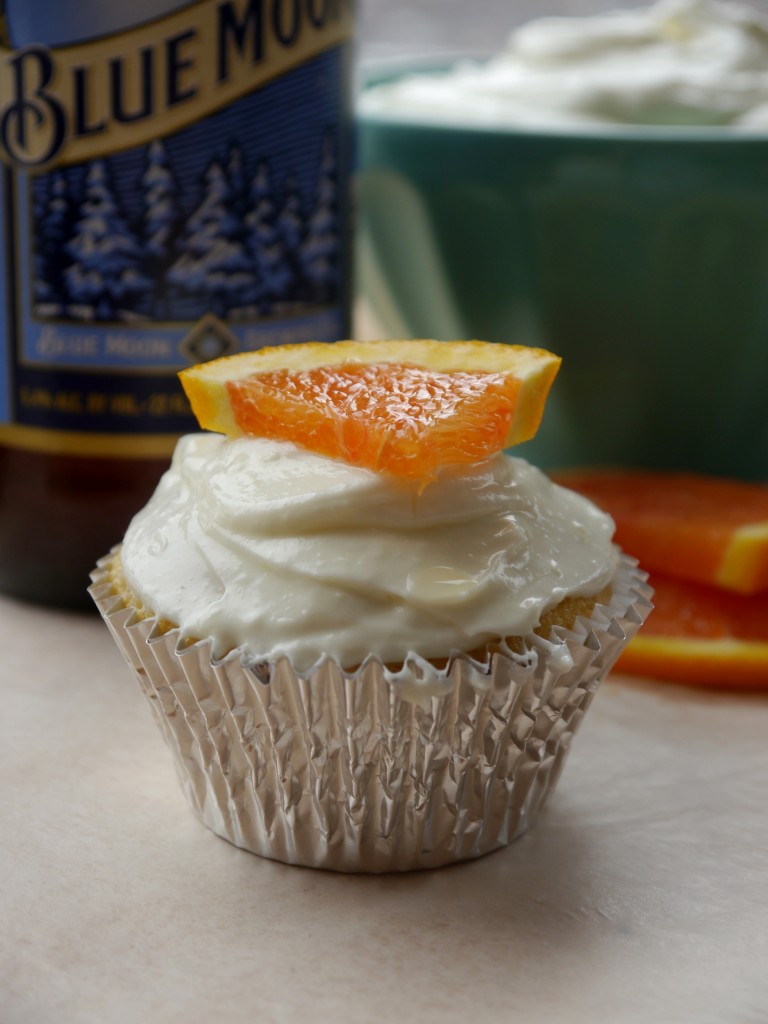 Today is part two of our Super Bowl food series! It's also the tail end of Meg and Brad's Moving Weekend Extravaganza. Yeah, that's right, we no longer live in a teensy tiny studio apartment. In our new place, there are ROOMS. With different PURPOSES. I can't even talk about the additional counter space in the kitchen. I'm getting giddy just thinking about it. Anyways, the point is that as I'm writing this, I'm sitting on a couch in the middle of our new living room surrounded by a million errant cords and stacks of books and mounds of cardboard boxes that are just waiting to be dealt with, and I'm ignoring all of it to talk about Blue Moon cupcakes.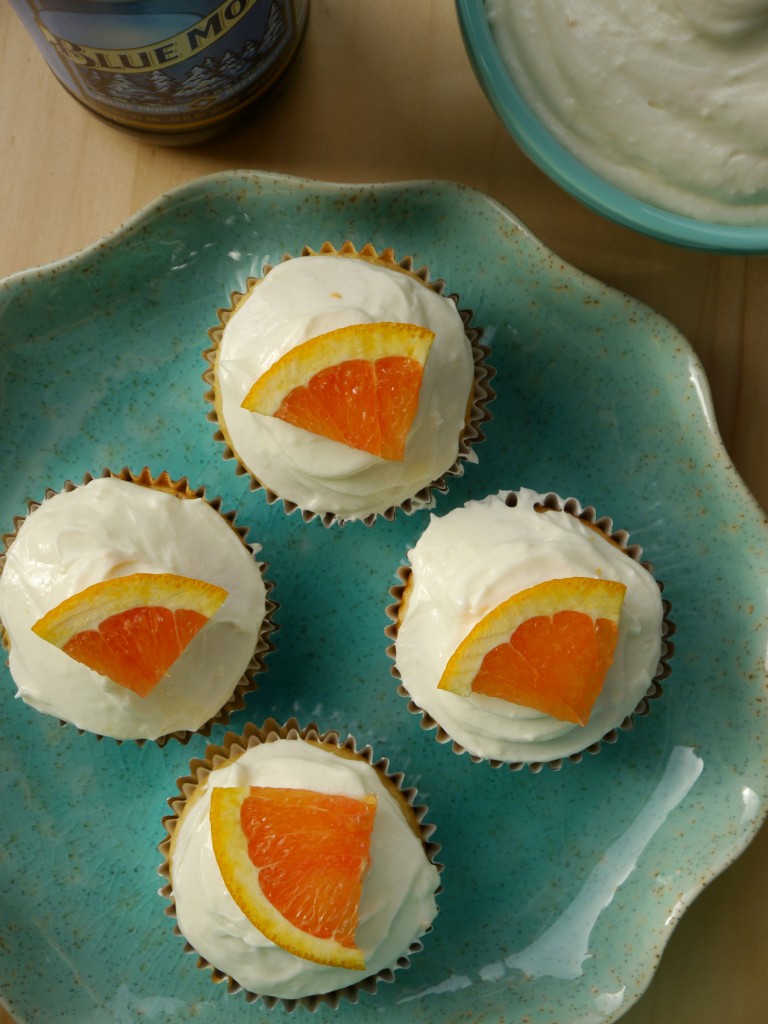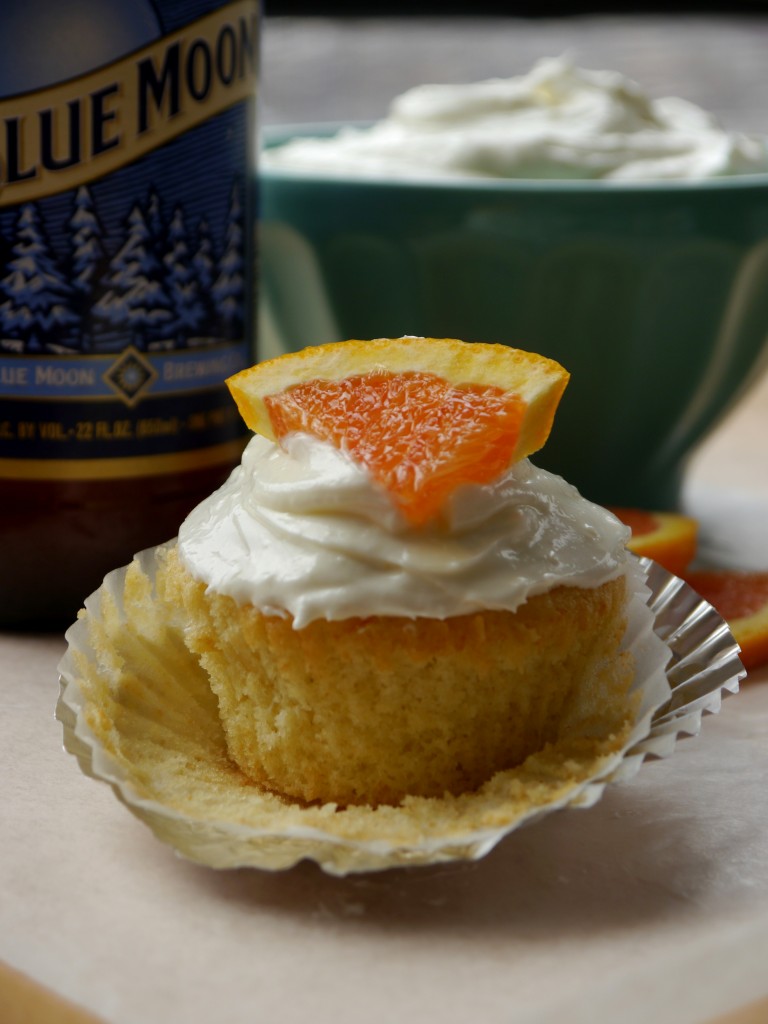 These cupcakes are my absolute favorite Super Bowl treat – I've made them for a couple of years now. They always get rave results, especially from dudes! These are totally dude-friendly cupcakes. They're obviously still CUPCAKES, but the sweetness is super subtle and the Blue Moon flavor maintains its integrity incredibly well because it's added both before and after baking. We use Blue Moon as the main liquid in the batter, and then after the cupcakes are all baked up we poke holes in them with toothpicks and baste more Blue Moon on top. Finally – because what's a Blue Moon without an orange wedge on top? – we whip up a fantastically bright and flavorful orange cream cheese frosting to top the whole situation off. And I know it sounds so strange, but the beer-and-citrus flavor combination just translates so well to baked goods. YUM.
I will say – I don't think you have to LOVE beer to love these cupcakes, but the flavor is pretty pronounced. If you hate beer, maybe not for you. Also, we probably can't be friends. Kidding! Kind of…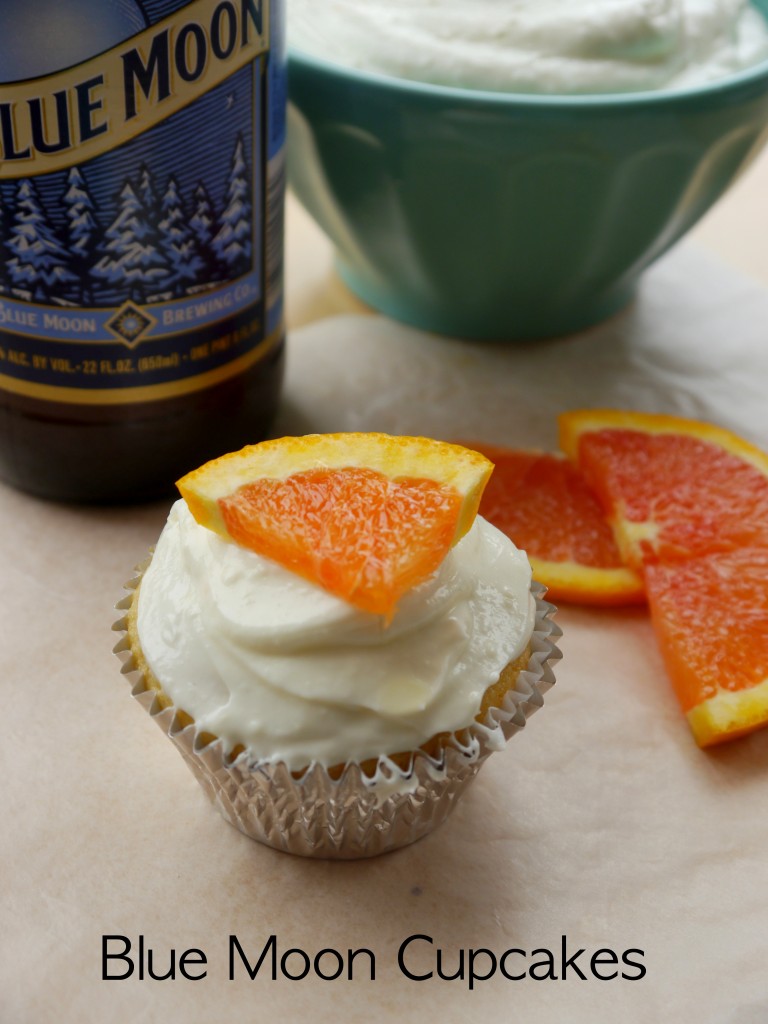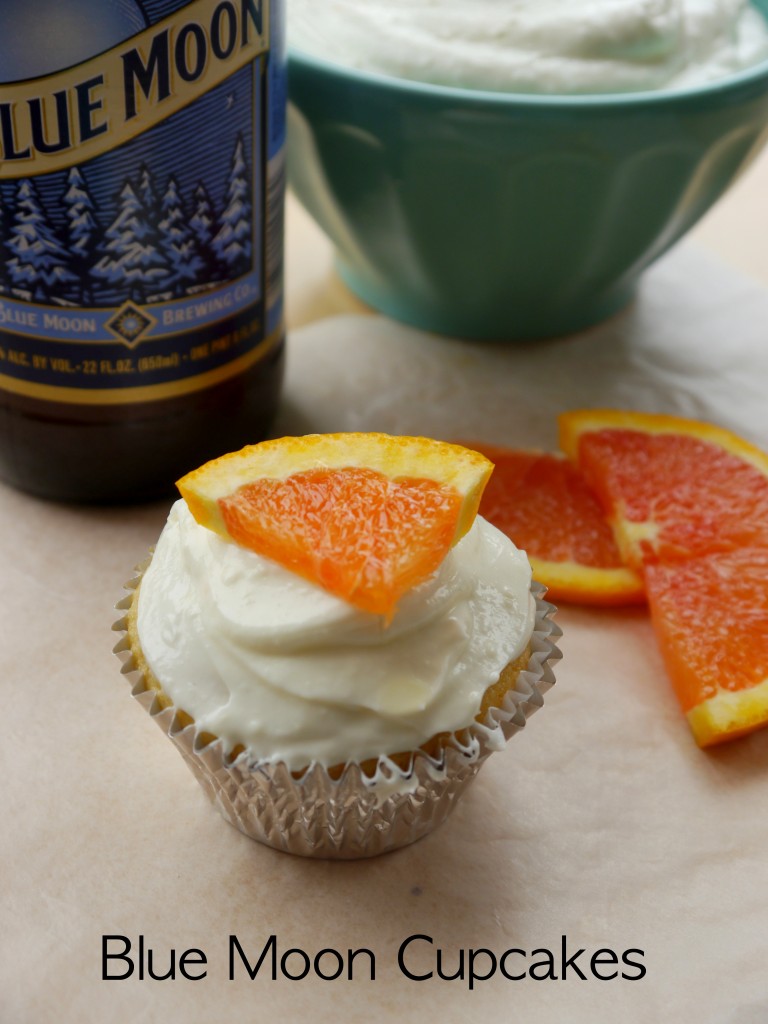 Blue Moon Cupcakes
2014-01-26 17:43:29
These Blue Moon cupcakes are the perfect manly cupcake for some serious football-watching! Combine your favorite beverage and your favorite baked good into one with this seriously awesome beer+citrus flavor bomb.
Ingredients
¾ cups unsalted butter, at room temperature
1 ¾ cups sugar
2 ½ cups flour
2 tsp. baking powder
½ tsp. salt
3 eggs, at room temperature
1 tsp. vanilla
½ tsp. orange zest
1 cup Blue Moon beer, plus more for brushing the cupcakes after baking
¼ cup milk
Citrus Cream Cheese Frosting (see below) and orange wedges, for garnish
For the Citrus Cream Cheese Frosting
12 oz. cream cheese, refrigerator cold
6 tbsp. butter, at room temperature
1 tbsp. freshly squeezed orange juice
1 tsp. orange zest
4 cups powdered sugar
Instructions
Preheat your oven to 375°F. Line 24 muffin tins with cupcake liners.
Next, in a medium bowl, whisk together your dry ingredients- the flour, baking powder, and salt. In a large bowl and using an electric mixer, beat together the butter and sugar until light and fluffy (this will take a few minutes.) Add the eggs one at a time, beating to combine after adding each egg. Add the vanilla and the orange zest.
In a measuring cup, combine the milk and the beer. Add a little of the flour mixture to the sugar-butter combination, beat to combine, then add a little of the milk/beer mixture and beat to combine again. Continue to alternate until everything is combined, taking care to start and end with the flour mixture. Fill your cupcake liners 2/3 full and bake for 15-18 minutes, or until a toothpick comes out clean.
While the cupcakes are still warm, poke holes in the top of the cupcakes with toothpicks or skewers. Brush some beer on top of each cupcake.
After the cupcakes have cooled, make the citrus cream cheese frosting. Cream together the cream cheese and the butter with an electric mixture until smooth and creamy (this will take a few minutes). Add the citrus juice and zest and add the powdered sugar gradually until totally combined. Beat for another few minutes until the mixture is smooth.
Spread the frosting all up on your cupcakes and top with orange slices. I used Cara Cara oranges because I can't get enough of that reddish-orange color, but feel free to use whatever kind you like.
Notes
Be warned: this frosting recipe makes A LOT! You may want to plan to repurpose sometime in the next few days. Or, you know, just eat it with a spoon.
Adapted from Erica's Sweet Tooth
My Bacon-Wrapped Life http://www.mybaconwrappedlife.com/