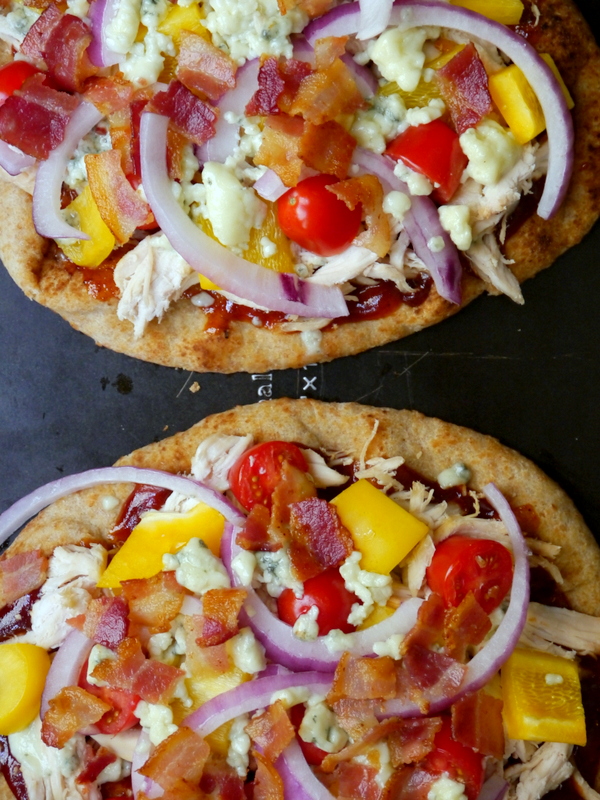 I'd like to formally introduce you to what will be henceforth be known as The Summer of Quick and Easy Recipes on My Bacon-Wrapped Life.
It's not ideal, but it's real life, people. With a crazy (at least, crazy for my super-homebody self) travel schedule that's packed my summer with weddings and wedding-errands and lake vacations and friend visits, my summer is lookin' a lotta wonderful but also a little nutso. Which means keeping up with this blog is going to be an adventure and a half for this working girl. So I just wanted to throw out some advance warning that this here space will tend more towards the quick and easy and less towards the slow-simmered Bolognese/homemade cinnamon rolls/fancy-pants stuff for the next few months. Which I think is actually quite perfect for the summer, ya know? Don't we all really just want something fast and mindless and delicious and hot-kitchen-time minimizing?
That's the summer dream, people.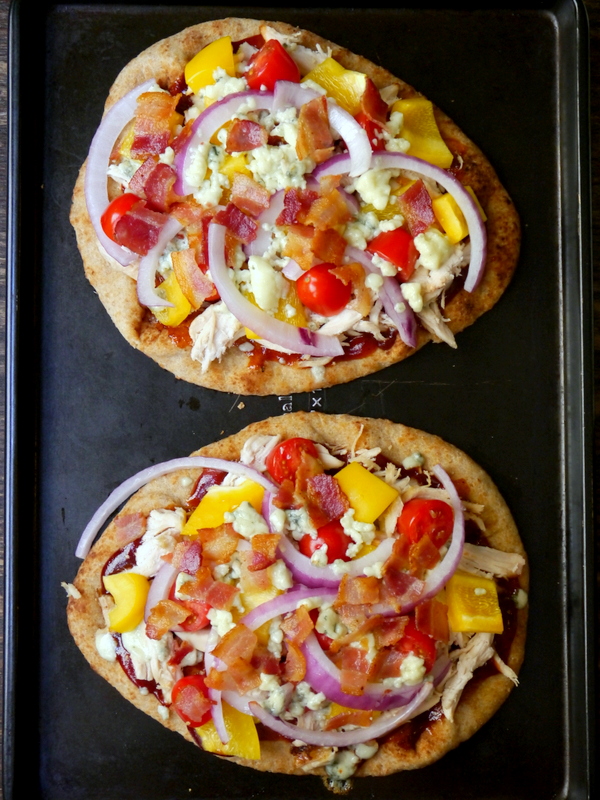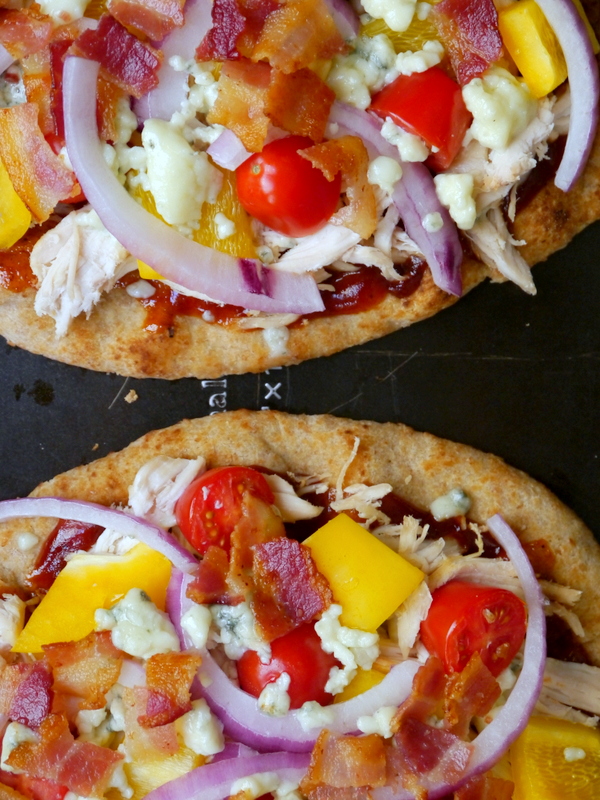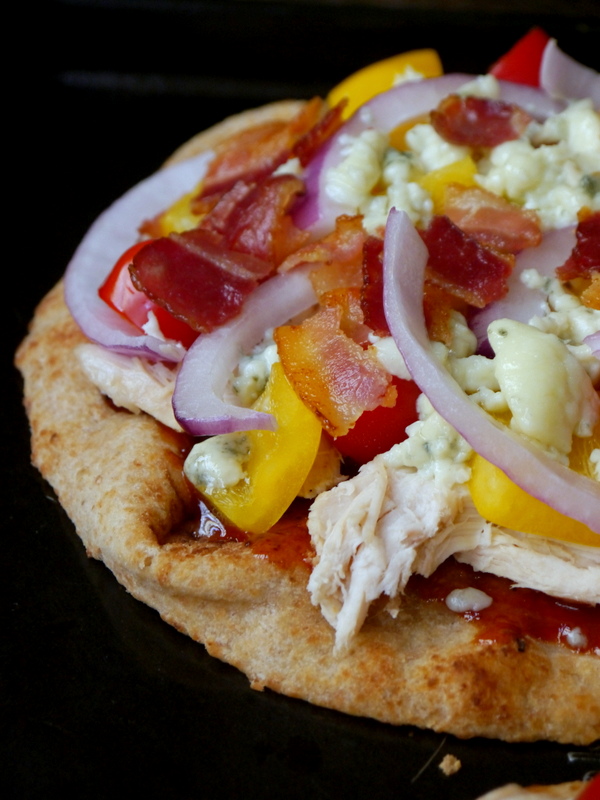 This BBQ chicken, bacon, and blue cheese naan pizza was the perfect way to kick off my summer of easy-breezy cooking. Homemade pizza is one of my favorite lazy-Sunday indulgences, but that amount of time and effort just wasn't in the cards for me the weekend I made these little cuties. I had been wanting to try using naan as a pizza crust as a quickie crust-hack for a long time, and I have to say, I was super impressed. The naan crust comes out chewy and hearty, not as crispy and doughy as real pizza dough but certainly a great substitute considering the time and effort trade-off.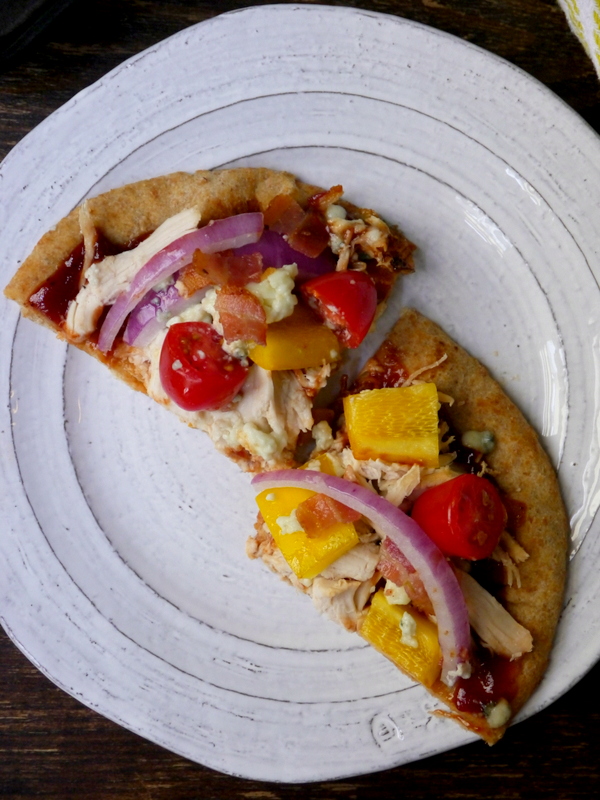 I topped these naan 'zas with tons of good stuff: BBQ chicken, bacon, blue cheese, and tons of fresh summer veggies for heft and color. The result was a fantastically flavorful, cheesy, salty, crunchy treat – an absolute perfect quick (and healthy!) lunch or dinner. These bad boys are definitely a fork-and-knife situation, and I love that they're loaded up with tons of fresh veggies – they really fill you up! Which is totally a healthy-eating win in my book. Next time you're looking for an easy, wholesome dinner option for you and your crew, these BBQ chicken, bacon, and blue cheese naan pizzas are all, "I got you, girl." I loved them, and I think you will too!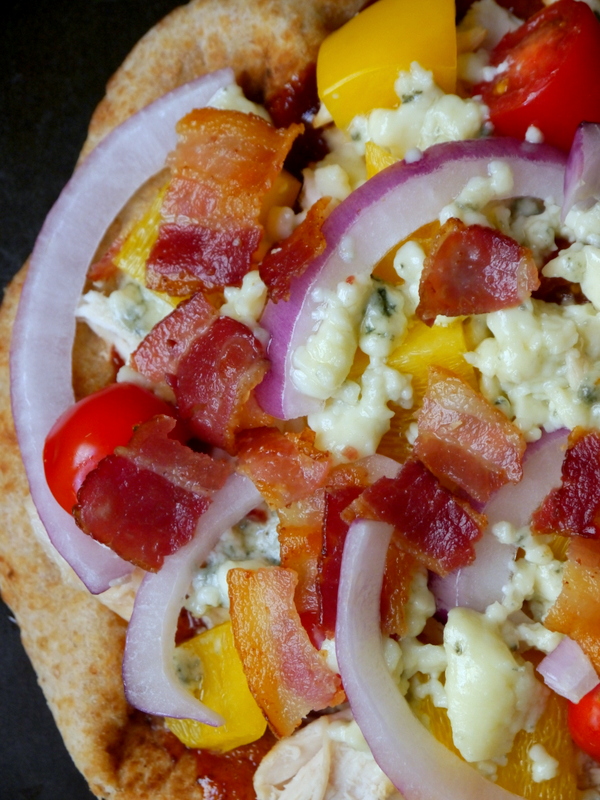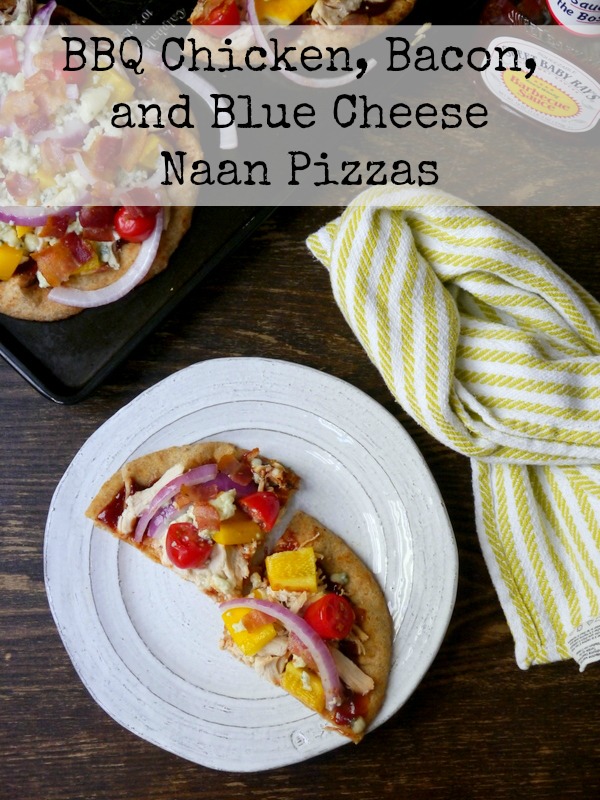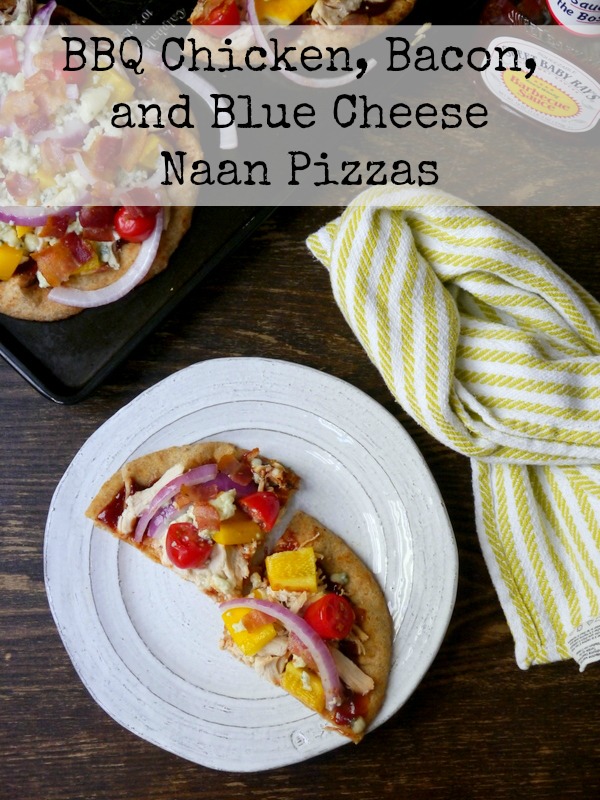 BBQ Chicken, Bacon, and Blue Cheese Naan Pizzas
2015-07-11 10:58:23
Serves 2
These quick and easy naan pizzas are the perfect healthy weeknight dinner - loaded up with salty bacon, creamy blue cheese, and lots of chicken and summer veggies!
Ingredients
2 naans (I used whole-wheat)
1/3 cup BBQ sauce
1 ½ cups shredded chicken breast (I used rotisserie, but you could also cook 1 chicken breast and shred that)
½ yellow bell pepper, chopped
½ red onion, sliced into half-moons
½ cup cherry tomatoes, halved
3 slices bacon, cooked and crumbled
½ cup crumbled blue cheese
Instructions
Preheat your oven to 350°F. Place 2 naans either on a baking sheet or directly on the oven rack. Par-bake for 2 minutes, then remove from the oven and add toppings. Spread half the BBQ sauce on each naan pizza. Top each with half the chicken, veggies, bacon, and blue cheese. Return to the oven for about 8 more minutes, until the pizzas are heated through and the cheese is melted. Serve immediately!
Adapted from Cooking Light
My Bacon-Wrapped Life http://www.mybaconwrappedlife.com/
Looking for more awesome pizzas?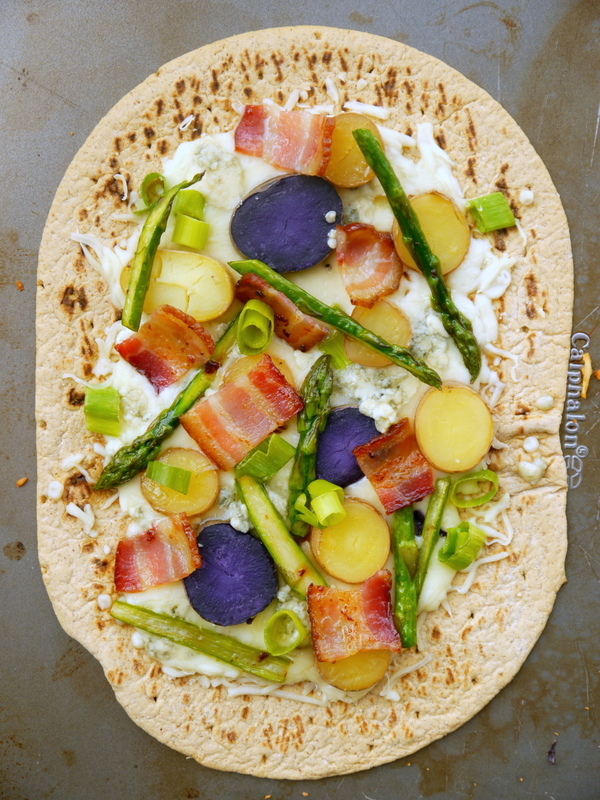 Asparagus and Fingerling Potato Flatbread Pizza with Bacon and Blue Cheese Crumbles