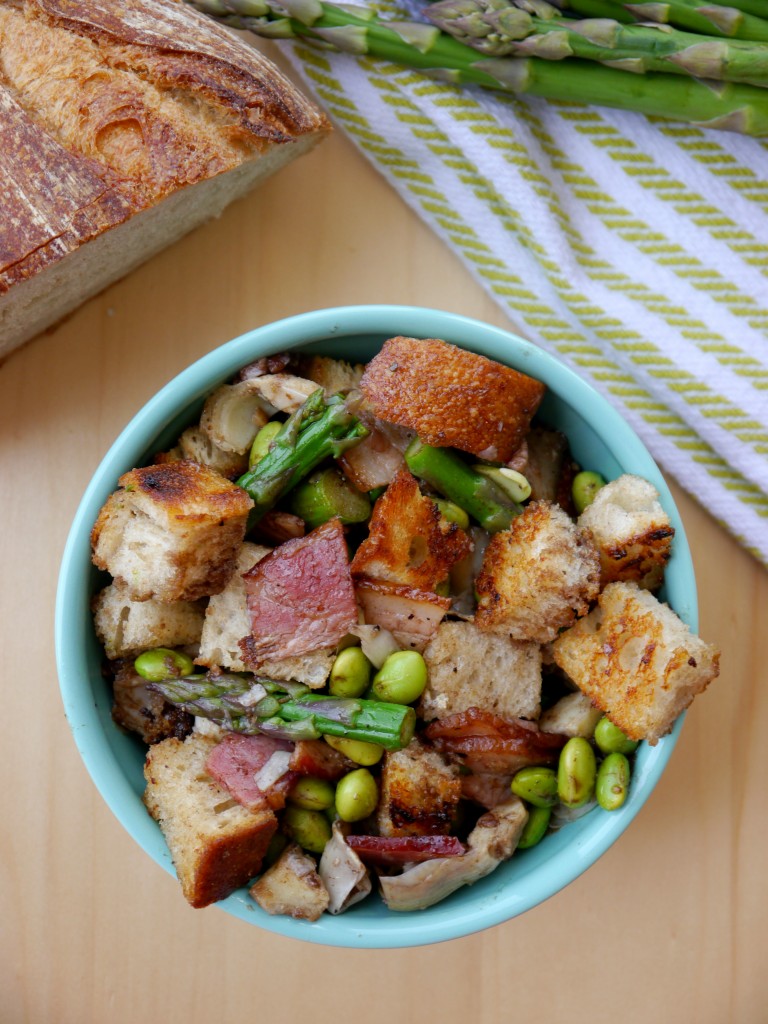 Last summer, I waxed poetic about my all-time favorite kind of salad: panzanella. I mean, it's a bread salad. What's not to absolutely love? I made this salad a million times last summer and I don't see this summer being any different. But while I'm waiting for those perfectly plump tomatoes to hit the farmers market, I decided to whip up a spring version that I have to say I – gasp! – might like better than the original.
I think the giant hunks of thick-cut bacon and the bread toasted up in bacon fat might have something to do with it. Maybe.
This salad could not be easier and is just so good. It's rare to find a salad that is both light and fresh and completely soul-satisfying and filling, but this bacon-y spring panzanella salad is the best of all worlds. We combine lots of bright green goodness – edamame, fresh asparagus, and artichoke hearts – with some serious thick-cut bacon and some hearty whole-wheat bread that has been cubed up and pan-fried in the leftover bacon fat. Because it's a crime to waste bacon fat, didn't you know?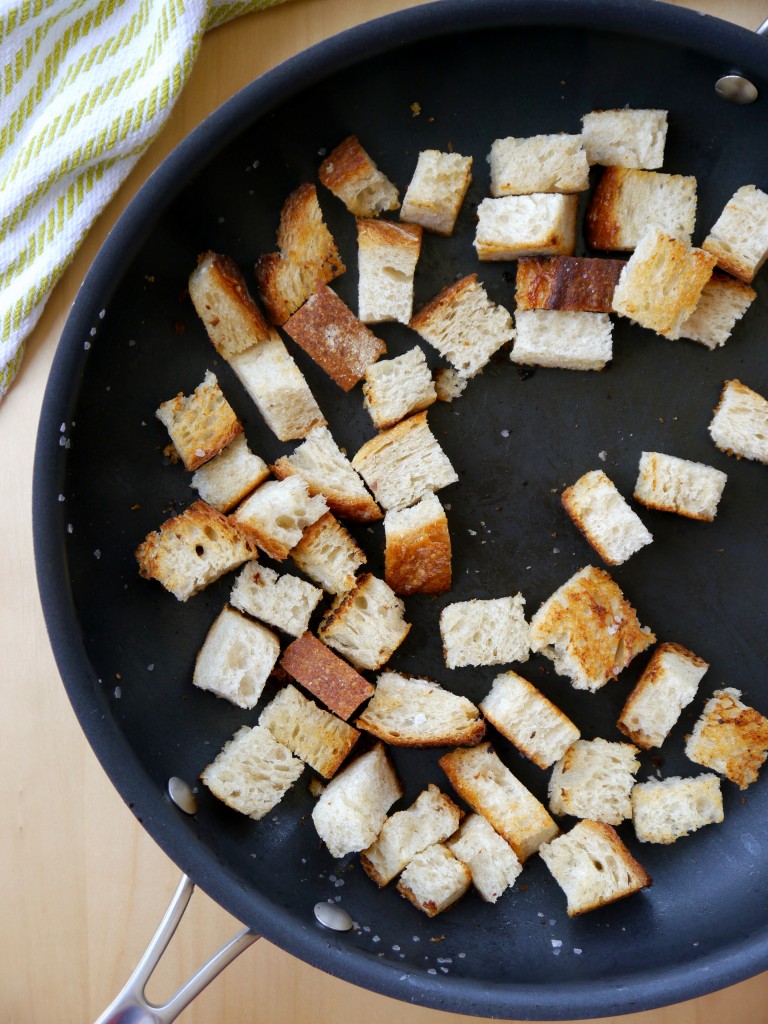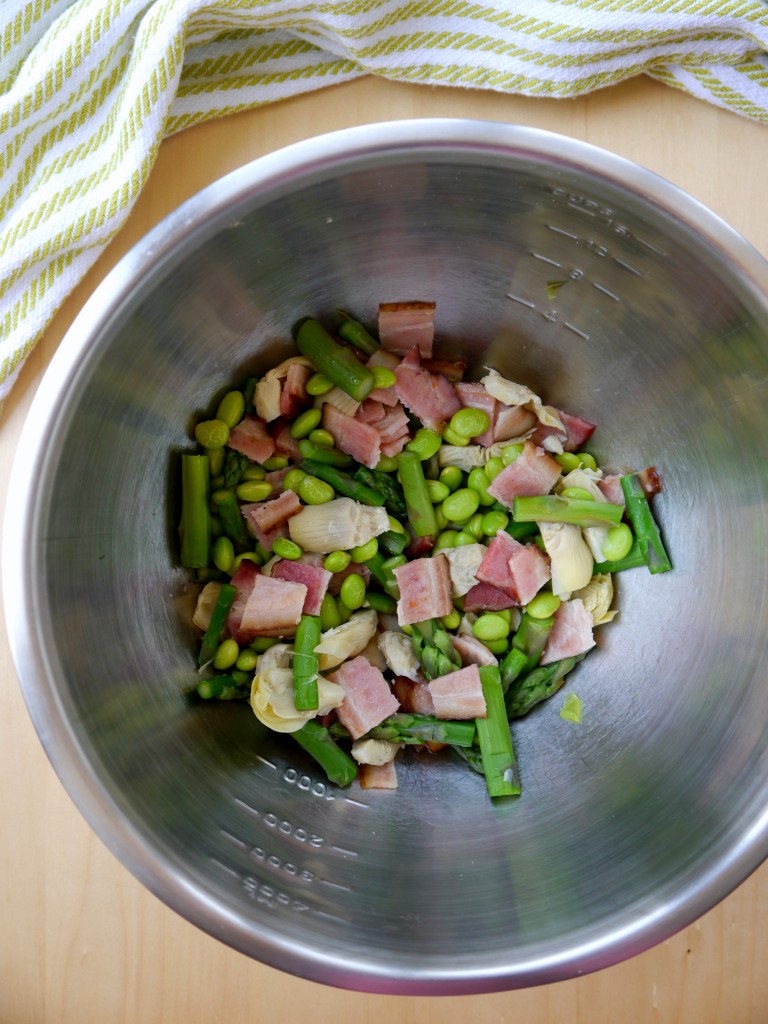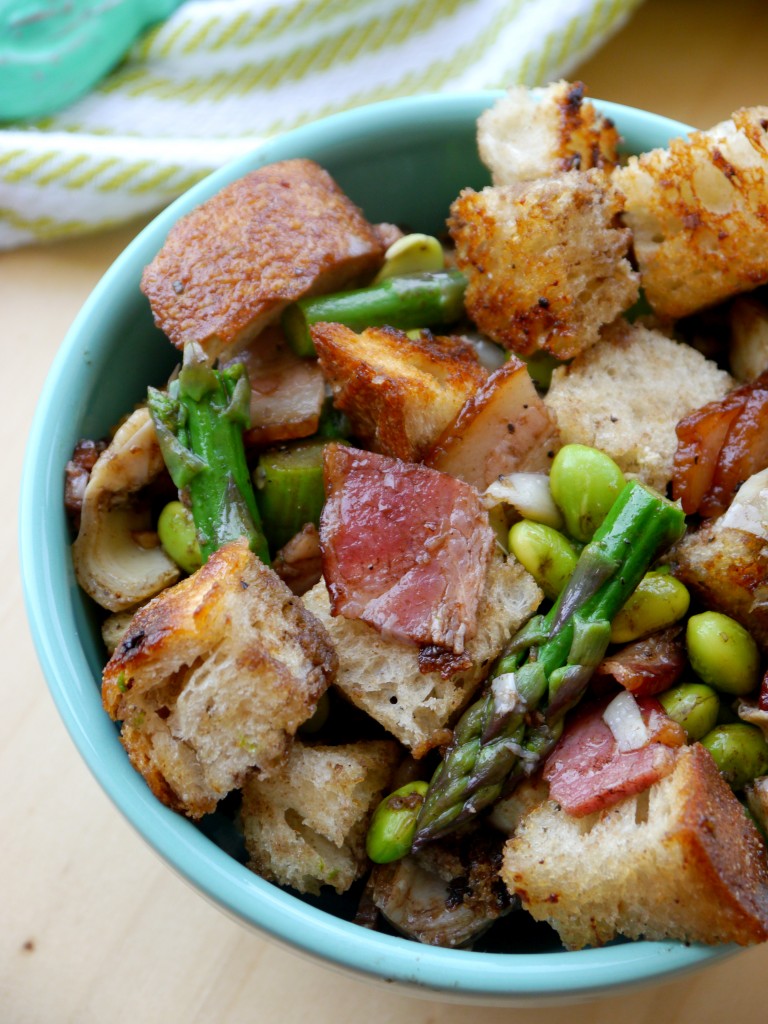 The result is meaty and crunchy and insanely flavorful, and it's all tossed up in my favorite classic balsamic vinaigrette for the spring salad of your dreams. I love the idea of making this fantastic salad in all seasons – who says panzanella has to be limited to the summer? I'm already dreaming about fall and winter versions. But for now, let's celebrate beautiful spring-y green veggies…and bacon-y toasted croutons. Always bacon-y toasted croutons.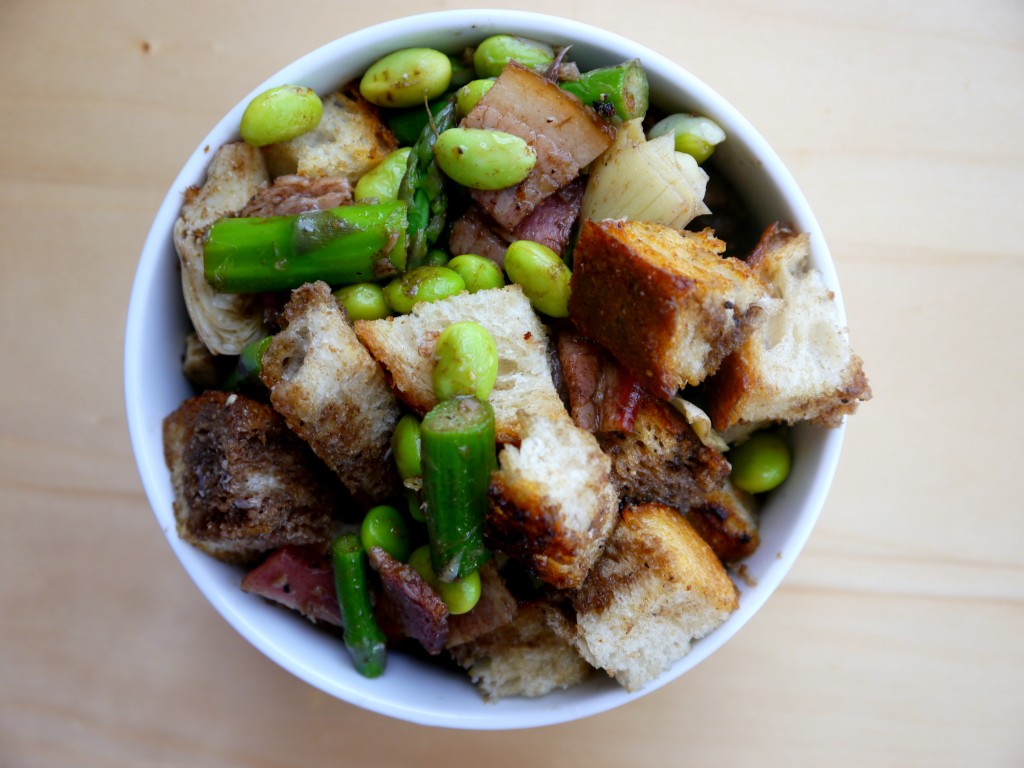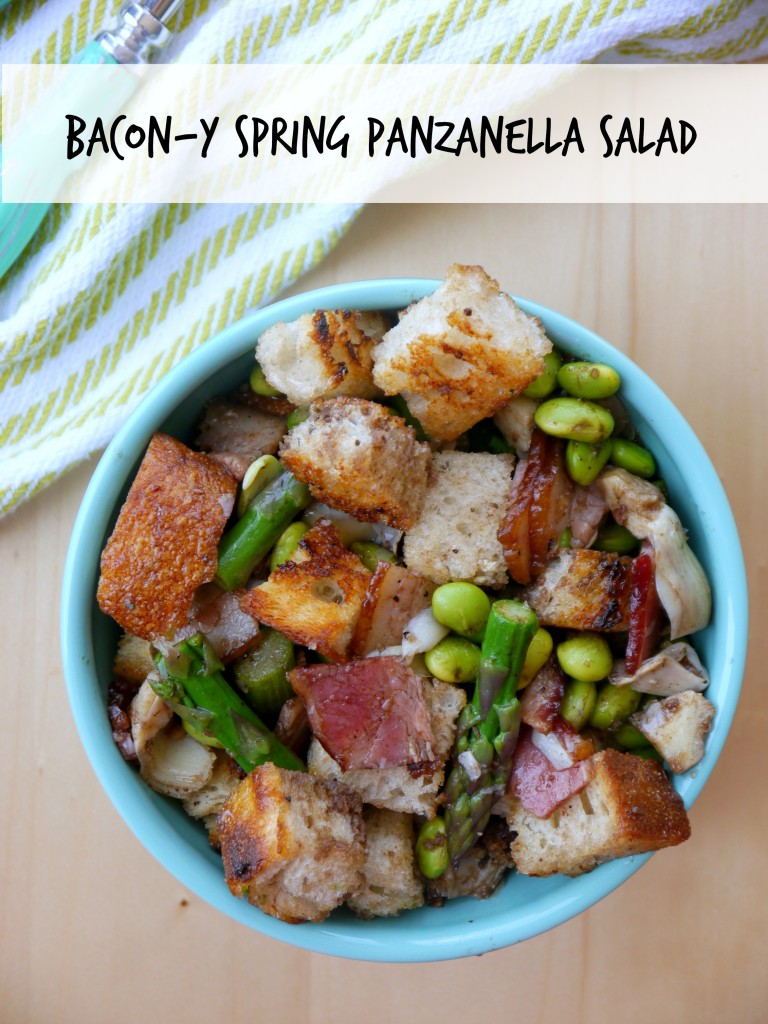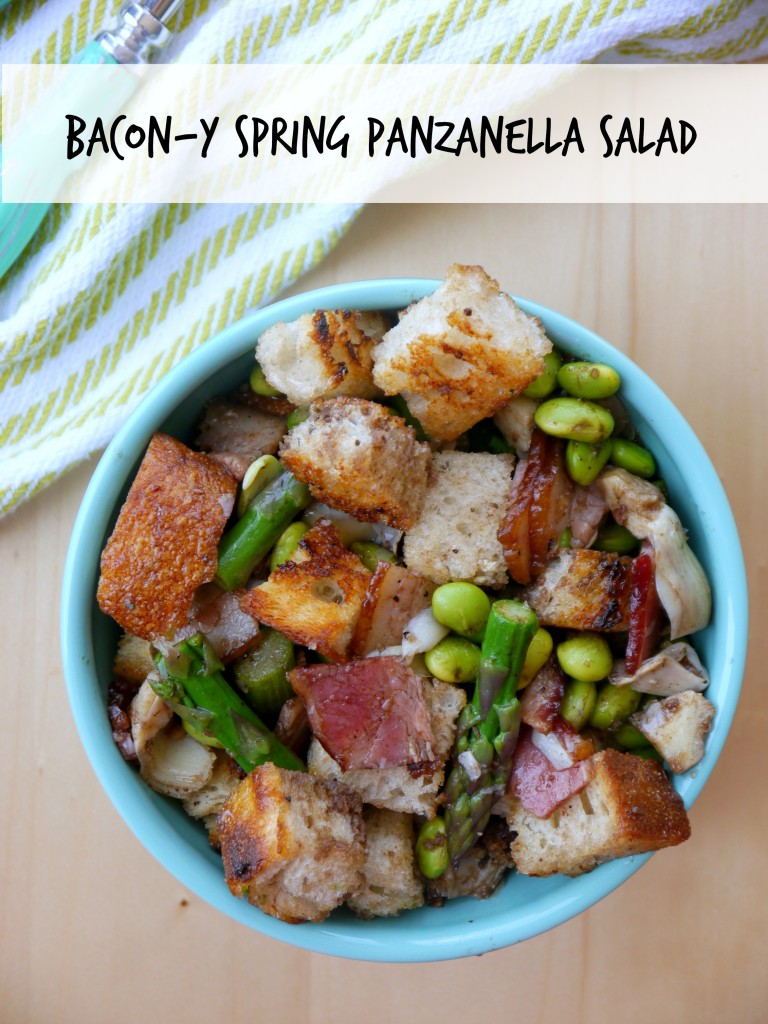 Bacon-y Spring Panzanella Salad
2014-05-18 18:00:30
Serves 2
This salad combines gorgeously green spring veggies with giant hunks of bacon and bacon-toasted croutons, all tossed in a simple vinaigrette - and the flavor is out of this world!
For the salad
4 slices thick-cut bacon – my favorite brand is Nueske's bacon
About 1/3 of a loaf of fresh whole-wheat fresh bread, preferably one day old, cut into one-inch cubes (about 3 cups bread cubes)
1 cup frozen shelled edamame, cooked according to package directions
½ of a bundle of fresh asparagus, ends trimmed
6 artichoke hearts, quartered
For the vinaigrette (makes double what you need)
1 tsp. minced garlic
½ tsp. Dijon mustard
3 tbsp. balsamic vinegar
1/2 cup olive oil
½ tsp. kosher salt
¼ tsp. black pepper
Instructions
First, pan-fry your bacon in a large skillet. When the bacon is done, transfer to a paper towel-lined plate to drain. Reserve the bacon fat in the pan.
While the bacon is cooking, bring a few inches of water in a medium saucepan to a boil. Cook the asparagus in the boiling water for about 3 minutes, then drain.
Next, toast your bread cubes. In the same pan you used to fry the bacon, add the bread cubes to the reserved bacon fat. Sprinkle the bread with kosher salt and toss to combine with a spatula. Cook over medium heat for about 10 minutes, until the cubes are lightly browned on all sides.
While the bread is cooking, make your vinaigrette by whisking all ingredients in a small bowl. Also, by now your bacon should be cool enough to cut, so cut the bacon into 1-inch pieces.
When everything is ready, add all veggies and the bacon to the bottom of a large bowl; mix to combine. Add the bread cubes and combine again. Finally drizzle half the vinaigrette (save the rest for another use) over the salad and toss all together to combine a final time. Serve immediately!
Adapted from Ina Garten
My Bacon-Wrapped Life http://www.mybaconwrappedlife.com/
Looking for more hearty and healthy salads?