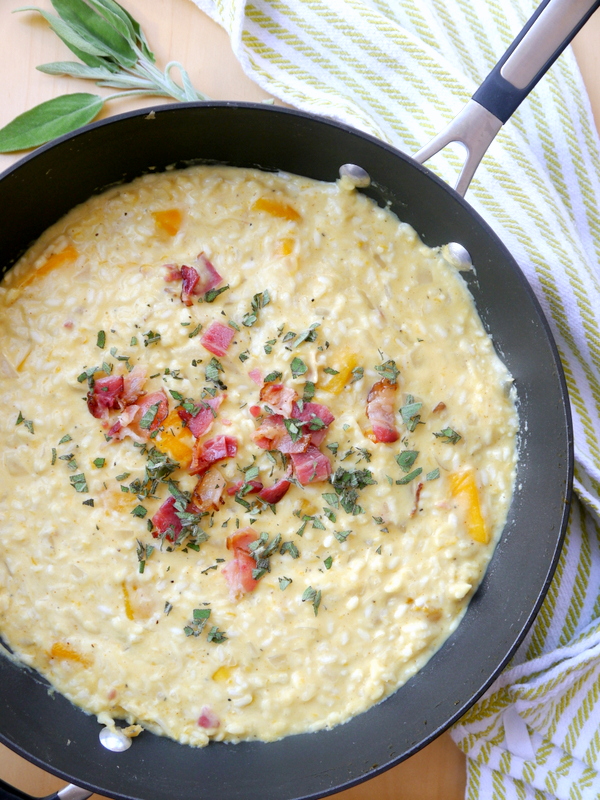 So a couple of weeks ago I was looking through the archives of this here food blog and it struck me that I haven't made a pasta recipe in over a year. Not a single solitary carb-a-licious one. This is obviously completely NOT indicative of how much time I spend eating/thinking about/dreaming about pasta. You know that, right? We know each other better than that? Just making sure here.
It was clearly time for me to right my pasta wrongs, and what better time to do so than October? When the leaves are colorful and there's a little chill in the air and a big bowl of creamy, steaming goodness just hits the spot so darn hard. But as I was racking my recipe files for the perfect warm and hearty Italian recipe, I kept finding myself coming back to a dish that's not pasta at all, but instead made with (gasp!) rice. Yep, we're talking risotto.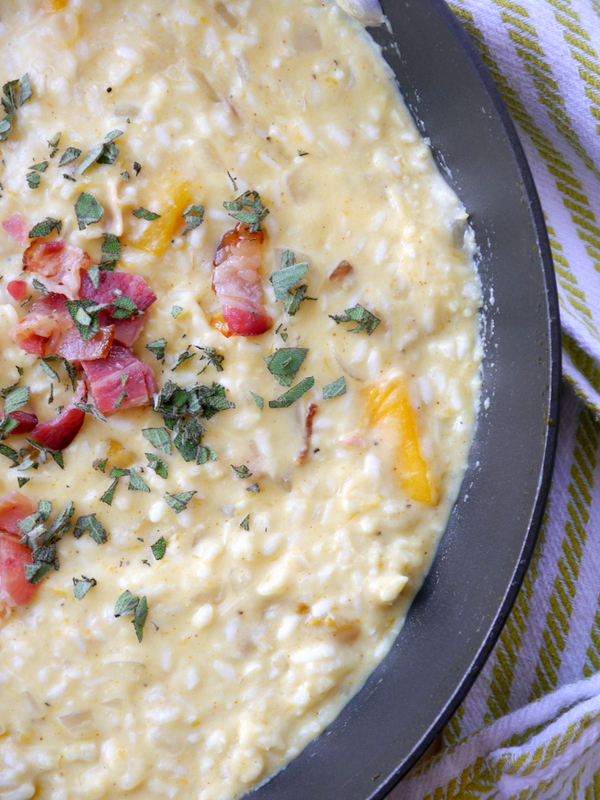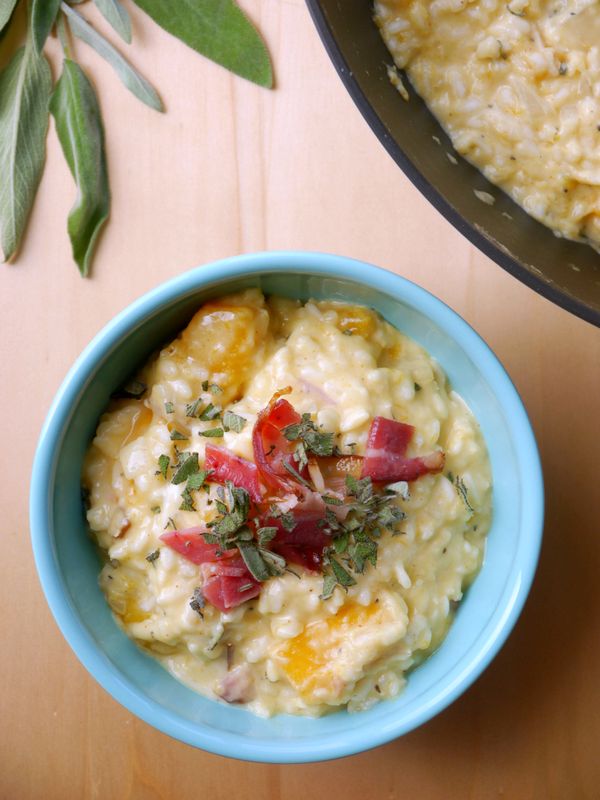 Risotto might not be the first thing that comes to mind when you think about soul-warming homemade Italian dishes. It's not as ooey-gooey showstopping as a big piece of cheesy lasagna or as rich and hearty as a bowl of classic spaghetti Bolognese. It's kind of a diva, too – it requires lots of stove time and stirring and practiced patience. But what comes out of all that patience is something that's so rich, creamy, and melt-in-your-mouth buttery, something so wholly satisfying in a way that love-filled homemade food can only be. You take just one bite and you think, yeah. Risotto rocks.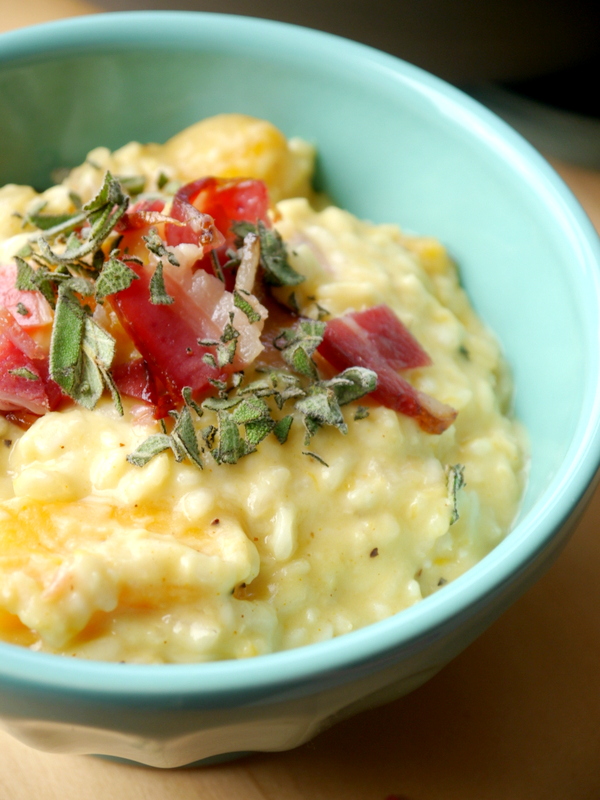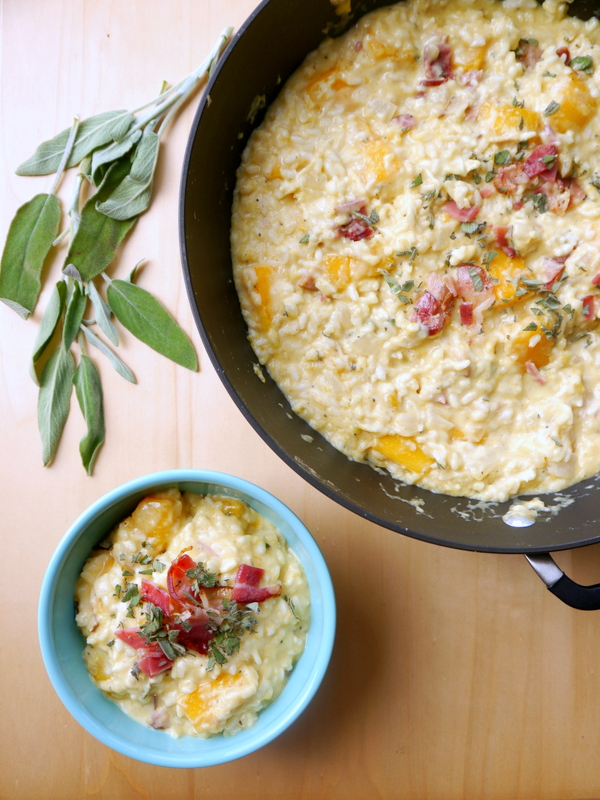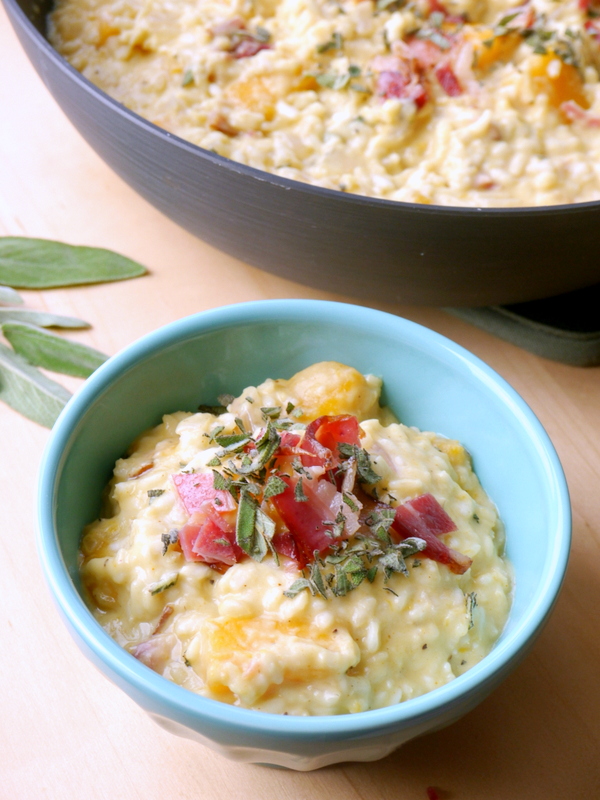 This bacon butternut squash risotto is everything you want in a no-holds-barred Italian dinner. (I briefly considered calling it "Fall Threw Up In Your Mouf" risotto but I thought that was a little unappetizing.) It's so flavorful, creamy but not heavy, and filled with so much texture. We cook Arborio rice in chicken broth, slow and steady until it's transformed into a creamy pot of incredibleness. We mix in big chunks of tender butternut squash, a sprinkling of thick-cut bacon, a touch of salty parmesan cheese, a teeny tiny bit of cream. We sprinkle it with a hefty dose of finely chopped sage and everything just works. So freaking well. The rice is creamy, the squash is sweet, and the cheese and the bacon add the perfect salty touch. And the sage!! The sage makes the dish, people. Don't skip it. It's such a wonderful touch of fall herbal earthiness and I can't imagine the dish without it.
So maybe I've still technically failed you on the pasta front, but I promise this risotto is just as incredible and hearty and, you know, pasta-y as any pasta dish. Does that even make sense?
Don't answer that. Just make it, okay?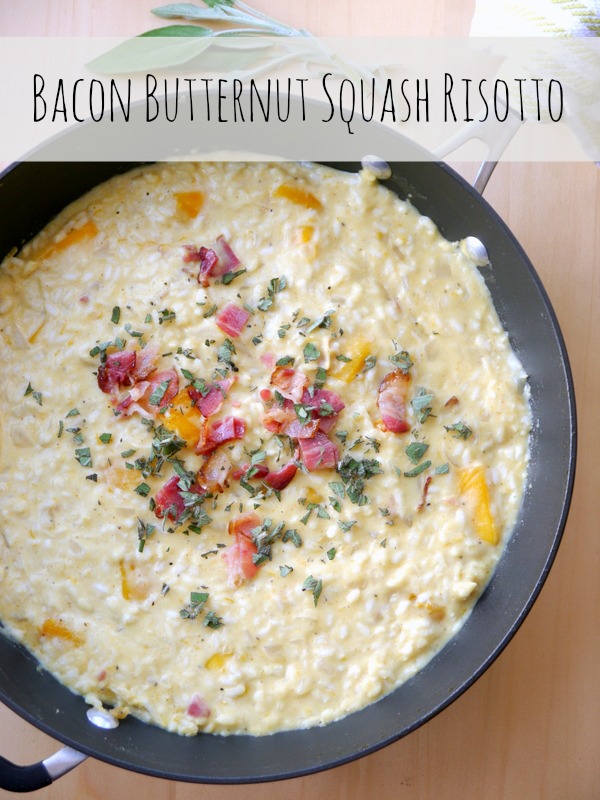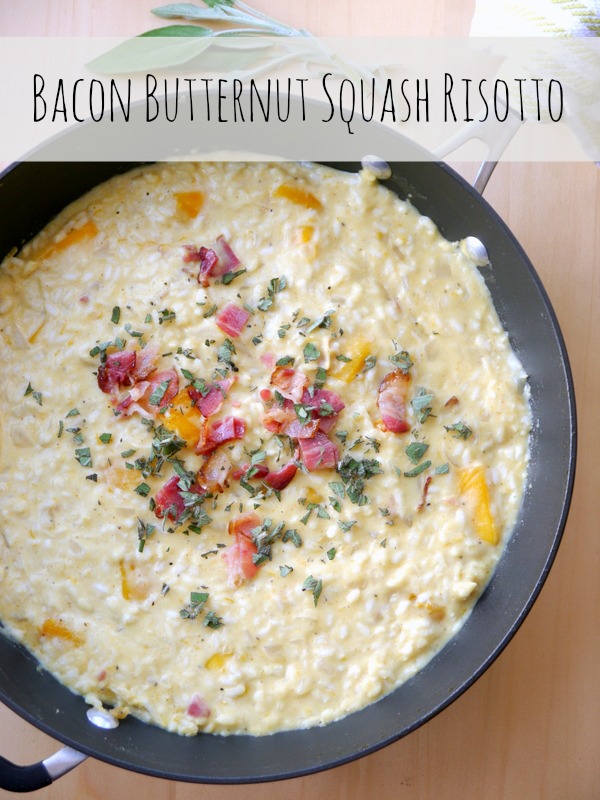 Bacon Butternut Squash Risotto
2014-10-12 14:48:26
Serves 6
This bacon butternut squash risotto is insanely rich and creamy, filled with bacon, butternut squash, and fresh sage. It's everything you want in a homemade Italian dinner!
Ingredients
4 slices thick-cut bacon
3-4 cups cubed butternut squash
½ tsp. kosher salt
Black pepper, to taste
¼ tsp. chili powder
2 tbsp. butter
½ large white onion, diced
1 ½ cups Arborio rice
6 cups low-sodium chicken broth
Salt and pepper, to taste
1/8 tsp. turmeric
¼ cup heavy cream
½ cup shredded Parmesan cheese
2 tbsp. finely chopped fresh sage, for serving
Instructions
Cook your bacon in a large, heavy bottomed skillet with high sides until crispy. When done, remove the bacon from the skillet and chop finely. Reserve bacon drippings in the skillet.
Heat the same skillet with the bacon drippings over medium-high heat Add the butternut squash cubes, salt, black pepper, and chili powder and cook for 5-10 minutes (depending on the size of your squash cubes), until browned on the outside and slightly soft. Remove from the pan and set aside.
In a medium saucepan, add the 6 cups of broth and keep warm on low heat.
Turn the heat on the original skillet down to medium-low. Add 2 tbsp. butter and the diced onion. Cook for a few minutes, until the onion is translucent. Add the Arborio rice and cook for 1 minute, stirring frequently.
Reduce your heat to low. Add 1 cup of broth to the rice and onion mixture and allow to be absorbed completely, stirring frequently. Keep adding broth, 1 cup at a time, allowing the broth to be fully absorbed before adding the next cup and stirring frequently the whole time. For me, it took about 10 minutes for each cup of broth to be fully absorbed. After you've added 5 cups, season with salt and pepper to taste. Add the last cup of broth and allow to absorb completely. Taste again and season more if desired. The rice should be tender and soft with a little bit of a bite.
When your rice is tender, remove from the heat and stir in the butternut squash, the turmeric, three-quarters of the bacon pieces, the parmesan cheese, and the heavy cream. Serve immediately, topped with fresh sage and the remaining bacon pieces.
Adapted from The Pioneer Woman
My Bacon-Wrapped Life http://www.mybaconwrappedlife.com/
Looking for more butternut squash love?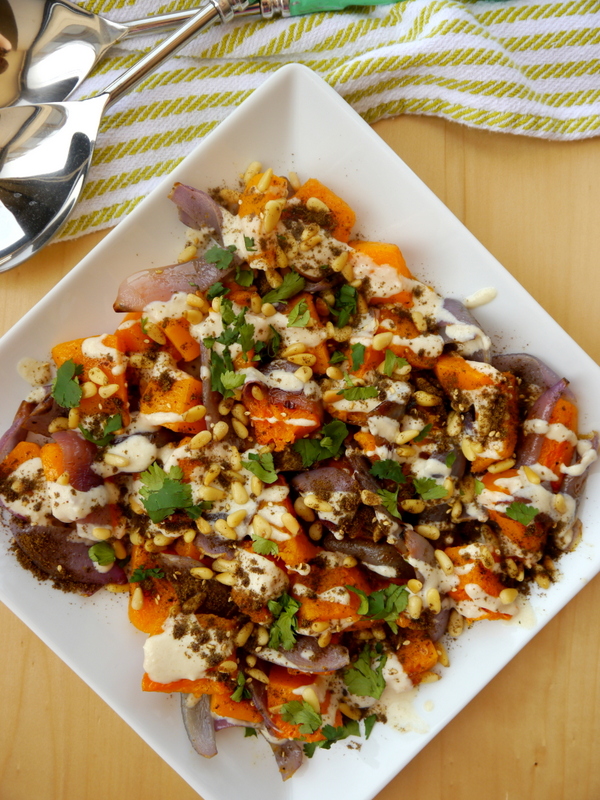 Roasted Butternut Squash with Tahini, Toasted Pine Nuts, and Za'atar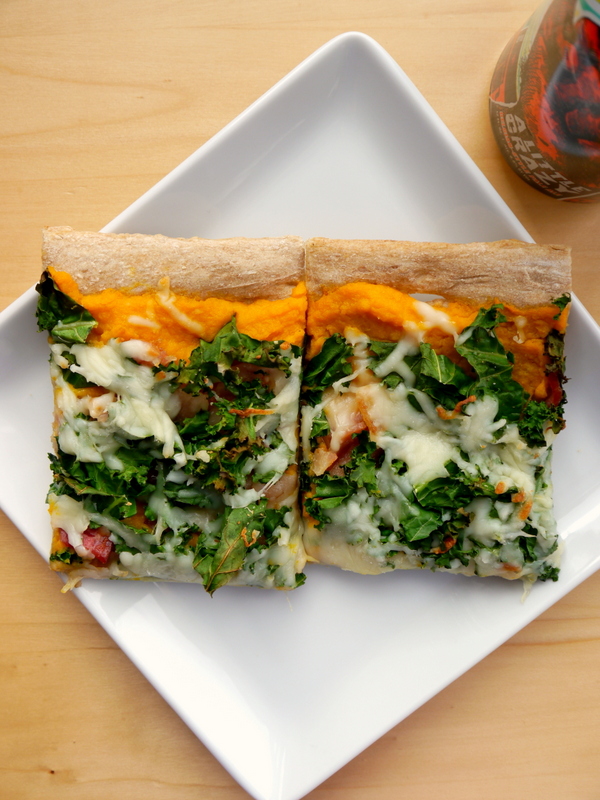 Butternut Squash and Bacon Pizza