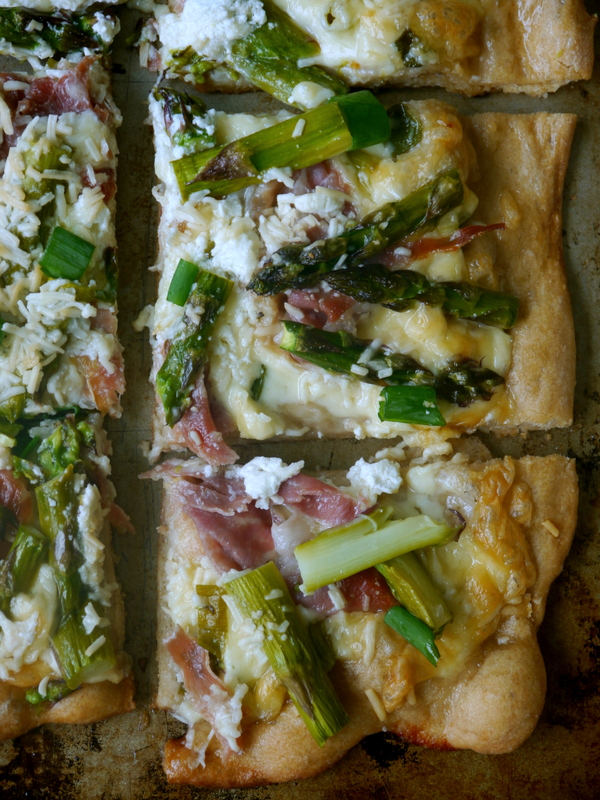 Banana bread might be the first thing I bake in a new kitchen to feel like home, but shortly after has to be homemade pizza. It's the savory equivalent, coziness-wise, and nothing makes me feel quite at home like a bowl of dough rising in the corner, a floured counter, and visions of crispy, cheesy, meaty goodness dancing through my head.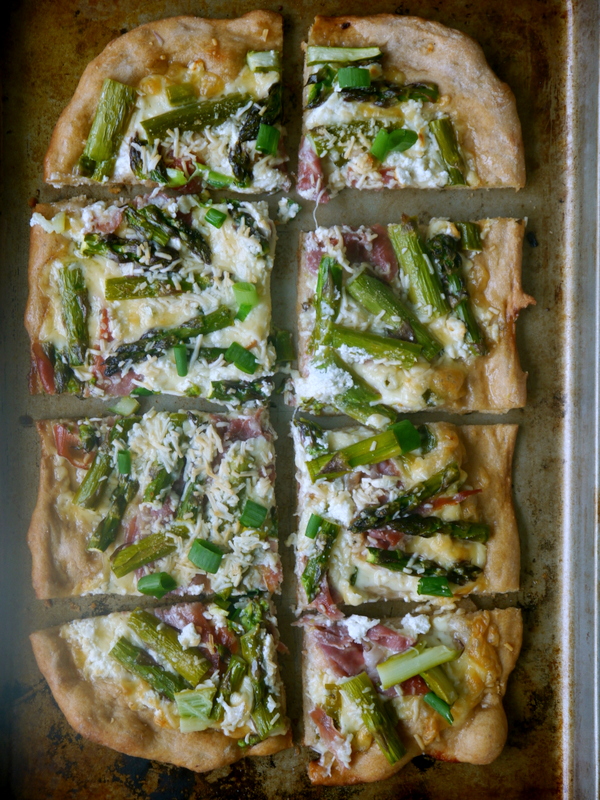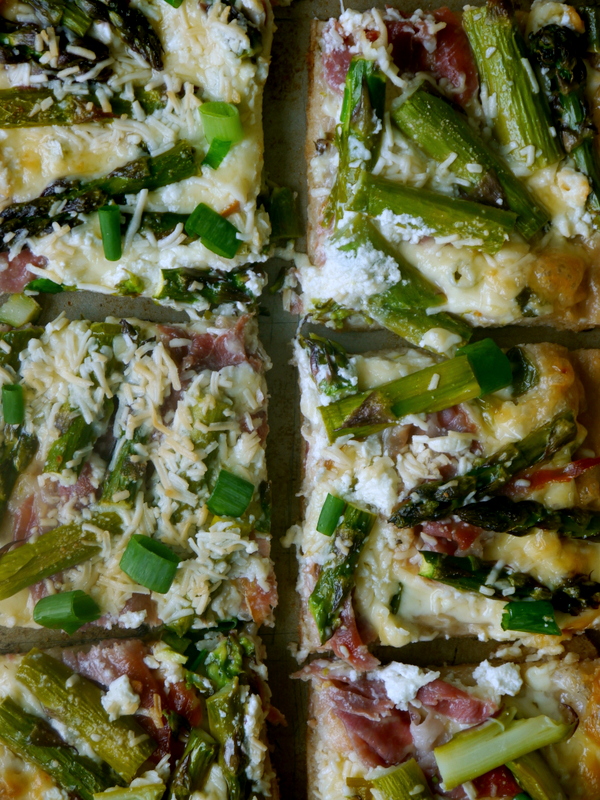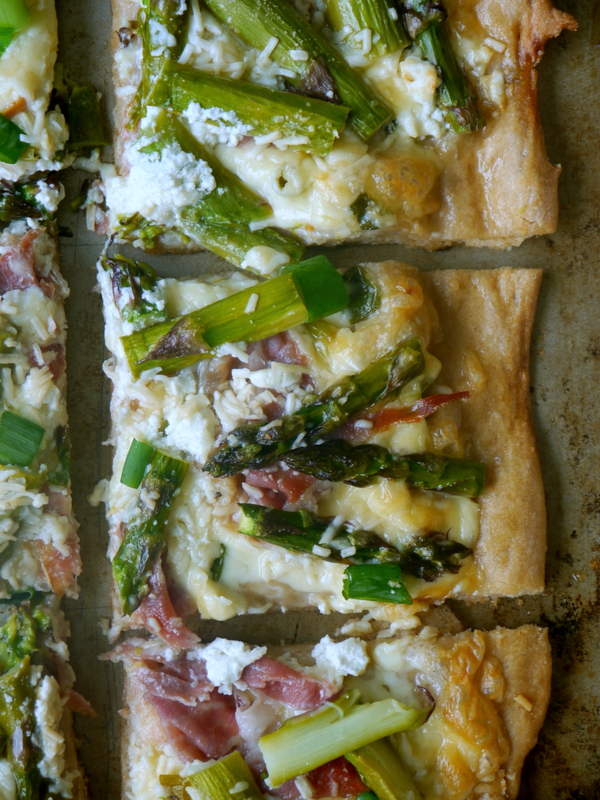 I'm completely in love with asparagus on pizza – I can never resist it on any menu. Something about the way it gets so crispy on top makes it feel like the most decadent of green vegetables, and I love the way it complements whatever cheese I throw at it. For this light and spring-y asparagus and prosciutto pizza, I used my favorite pizza crust recipe and topped it with the aforementioned asparagus, green onions, gorgeous slices of prosciutto, and three cheeses – mozzarella for creaminess, goat cheese for tanginess, and parmesan for that incredible salty touch on top.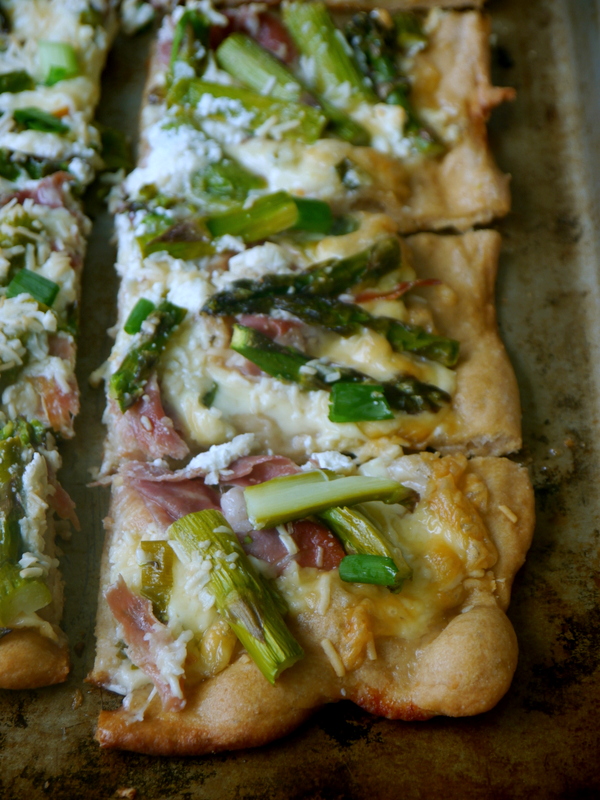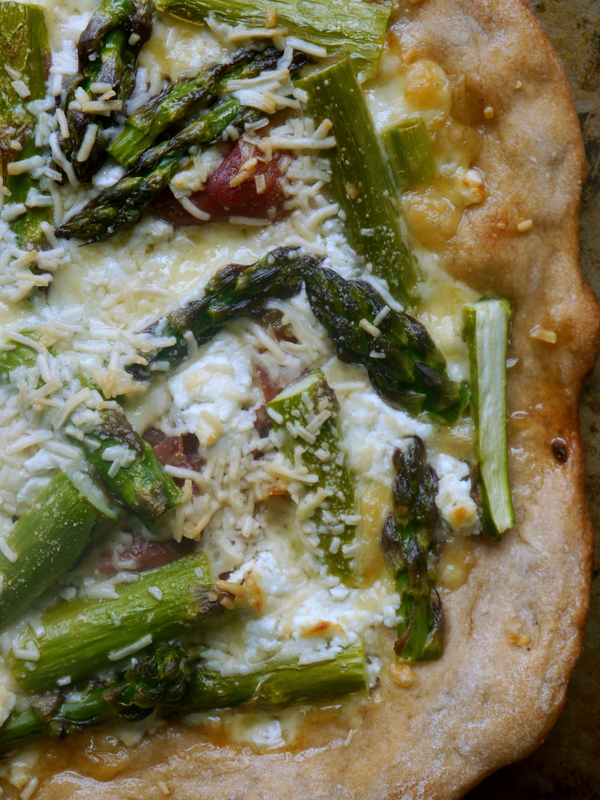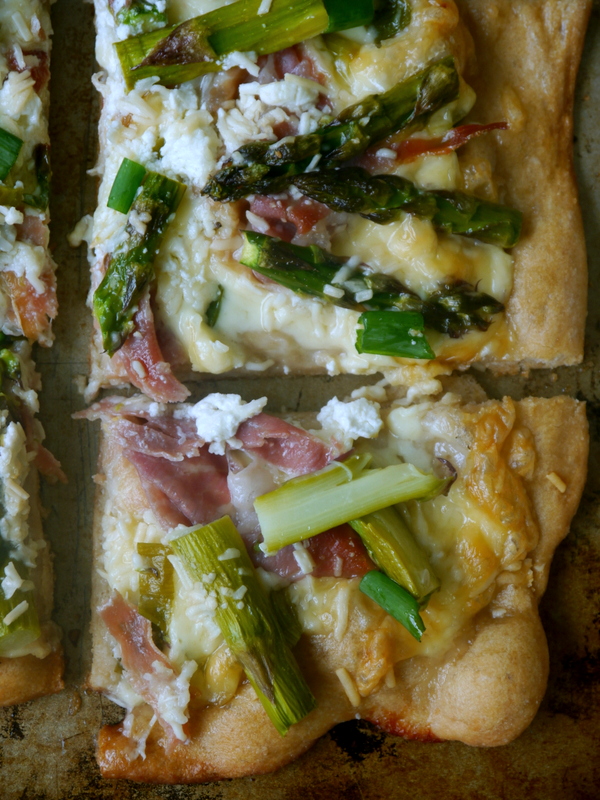 This pizza is up there in a league with my very favorite homemade pizzas of all time. It's pizza, of course, so I'm not going to argue that it's health food, but between the whole wheat crust and the gorgeous green veggies, I will promise that this is the kind of pizza that just feels good – savory and comforting and cheesy and carb-y, but without the need to take a giant nap afterwards. This is simply my kind of food, and my absolute favorite way to cook for the people I love. I know you'll love it too!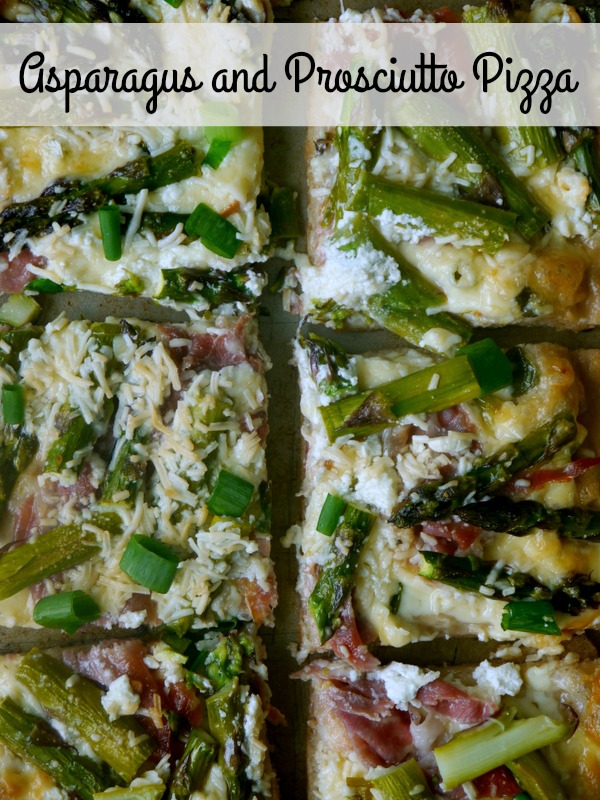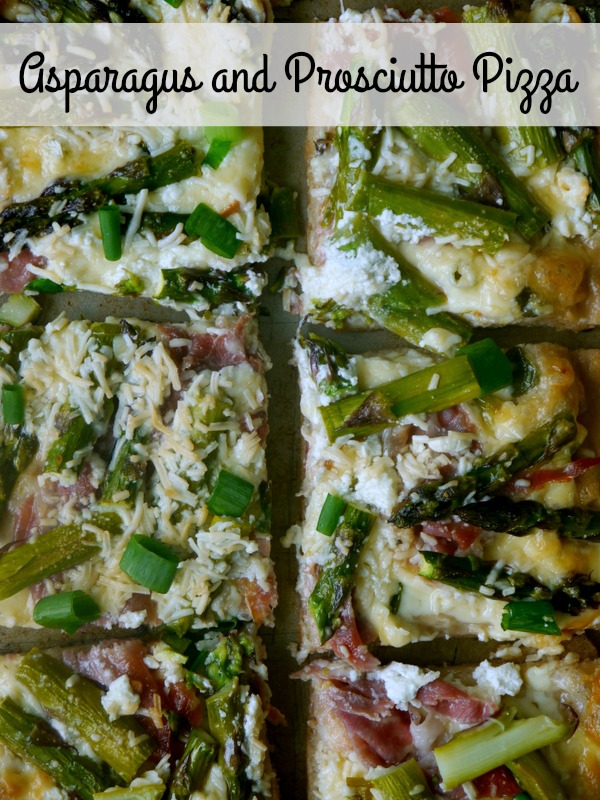 Asparagus and Prosciutto Pizza
2016-05-08 17:15:45
Serves 4
My new favorite homemade pizza combo - crispy roasted asparagus, salty prosciutto, and tangy goat cheese! This pizza is a total winner.
Ingredients
1 ball pizza dough (see Notes for my favorite recipe)
2 tbsp. olive oil, divided
1 clove garlic, minced
4 green onions, chopped
1 1/3 cups grated mozzarella cheese (about 6 ounces)
¼ lb. prosciutto
2 ounces goat cheese, crumbled
6 stalks asparagus, halved lengthwise and cut into 1 ½ inch pieces
1/3 cup parmesan cheese
Kosher salt and fresh cracked black pepper
Instructions
Preheat your oven to 450°F. Coat a large rimmed baking sheet with a light layer of olive oil and sprinkle with cornmeal to prevent sticking. Drop your ball of dough into the center of the prepared baking sheet and, using floured fingers, press it out to as large of a rectangle as you can without tearing.
In a small bowl, combine 1 tbsp. of olive oil with the minced garlic. Spread all over the crust, leaving a one-inch border on all sides. Top with ¾ of the green onions and then the mozzarella cheese. Drape with prosciutto and sprinkle with goat cheese.
In the same small bowl, toss the asparagus pieces with the remaining tbsp. of olive oil. Arrange on top of the pizza. Finally, sprinkle with Parmesan. Sprinkle with kosher salt and fresh cracked black pepper.
Bake for about 18 minutes, until the cheese is melted, the crust is browned, and the asparagus is crispy on top. Serve immediately!
Notes
This is my favorite pizza dough recipe: http://smittenkitchen.com/blog/2013/10/lazy-pizza-dough-favorite-margarita-pizza/. I sub half the flour with whole wheat flour and it's fantastic!
My Bacon-Wrapped Life http://www.mybaconwrappedlife.com/
Pizza dough adapted from Smitten Kitchen and toppings adapted from Epicurious.
More homemade pizza recipes!!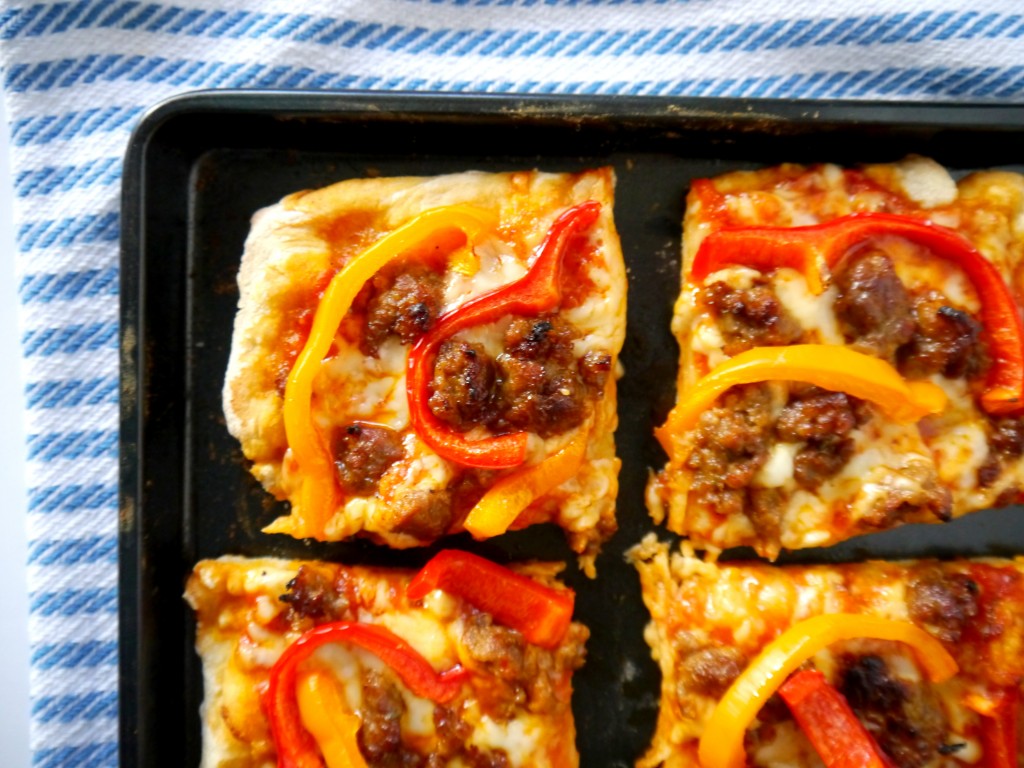 Italian Sausage and Pepper Pizza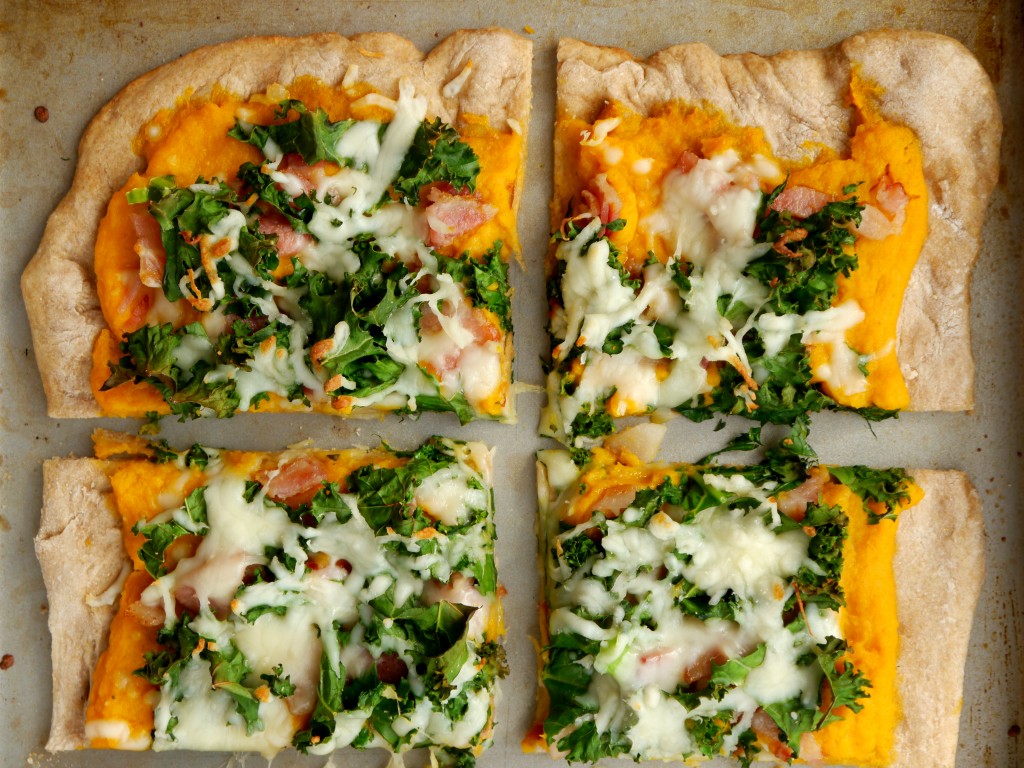 Butternut Squash and Bacon Pizza