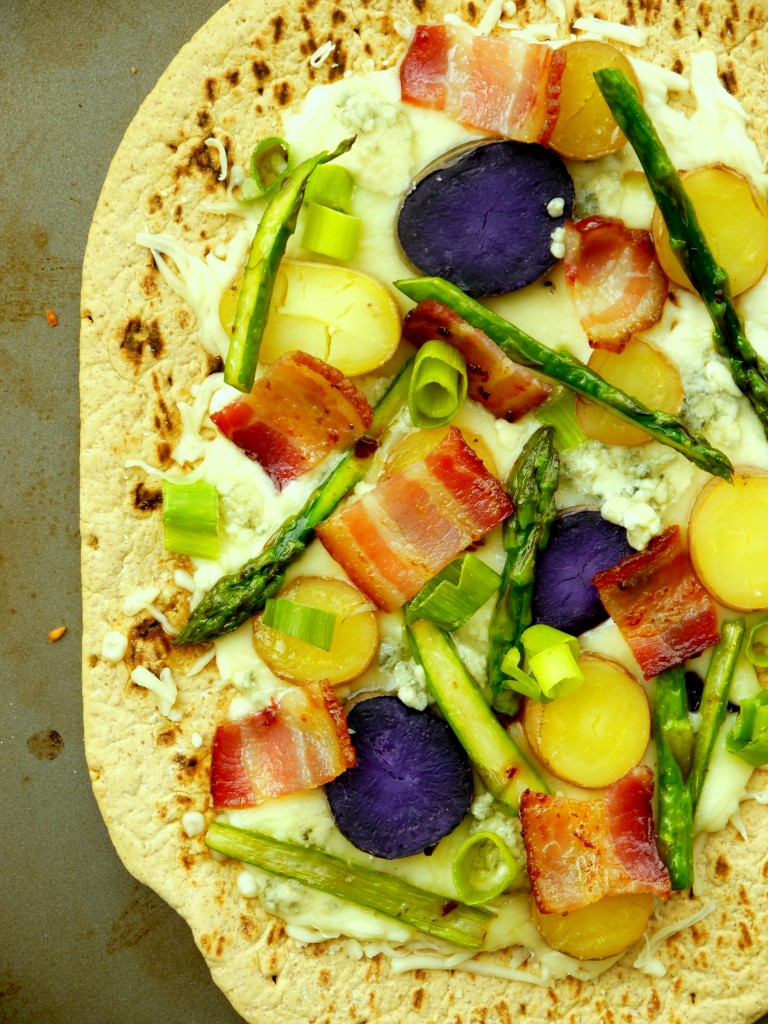 One of my favorite things about having a food blog is the constant inspiration and motivation to make seasonal, fresh veggie-licious food.
And add bacon and cheese to it. In all seasons. Duh.
This asparagus and fingerling potato flatbread pizza is the best of all worlds. It's light and healthy and beautifully green, but we also get a little bacon love. It may be sunny spring, but that doesn't mean we can't enjoy some thick-cut bacon and salty blue cheese. In fact, they go perfectly with the crisp asparagus, creamy fingerling potatoes, and crunchy sprinkle of green onions. The trick to keeping this situation light and healthy is a lot of veggies and a little hit of bacon and cheese – just enough to provide flavor without weighing you down. A little bacon goes a long way!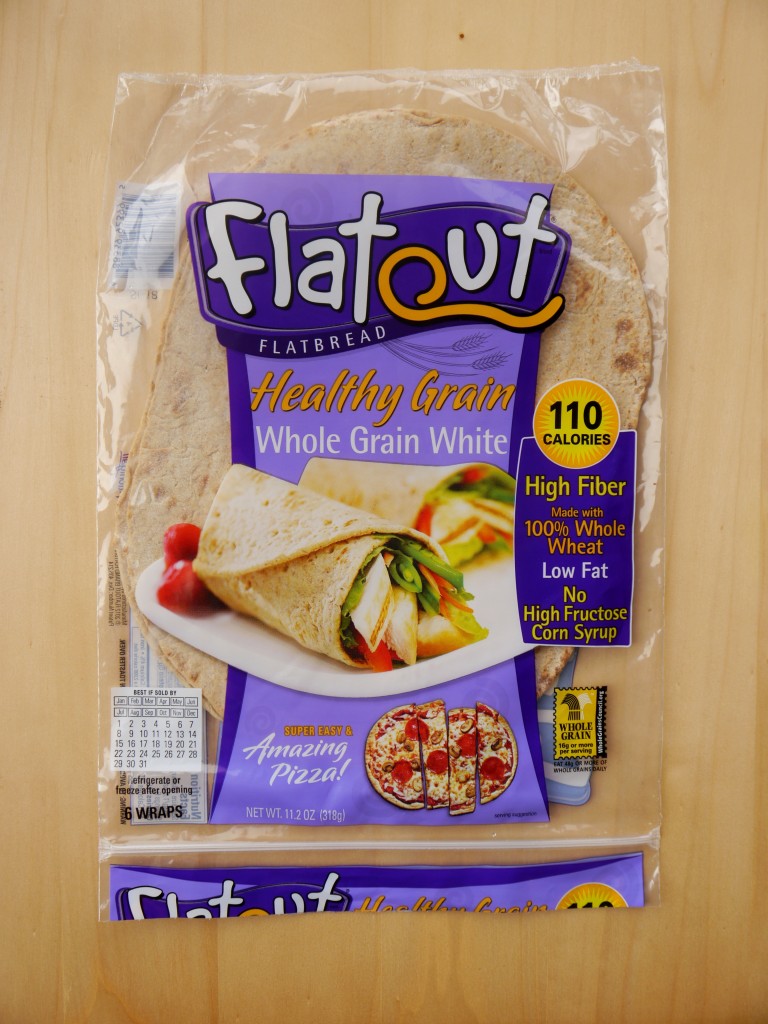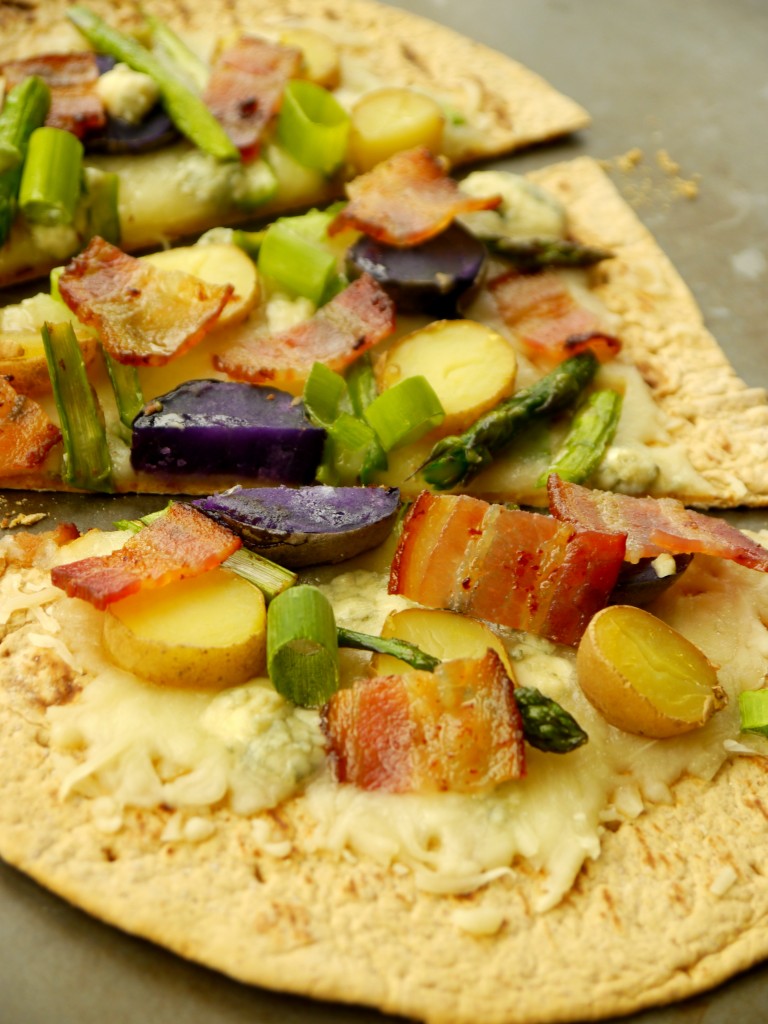 My real secret healthy trick here is a crust made from Flatout Flatbread. I used their Whole Grain White flatbread in this recipe to make these single-serving, insanely light and crispy pizzas. The flatbreads are super flavorful and crisp up perfectly in the oven – the absolute perfect base for a light spring pizza. Less cals in the crust means more bacon for us!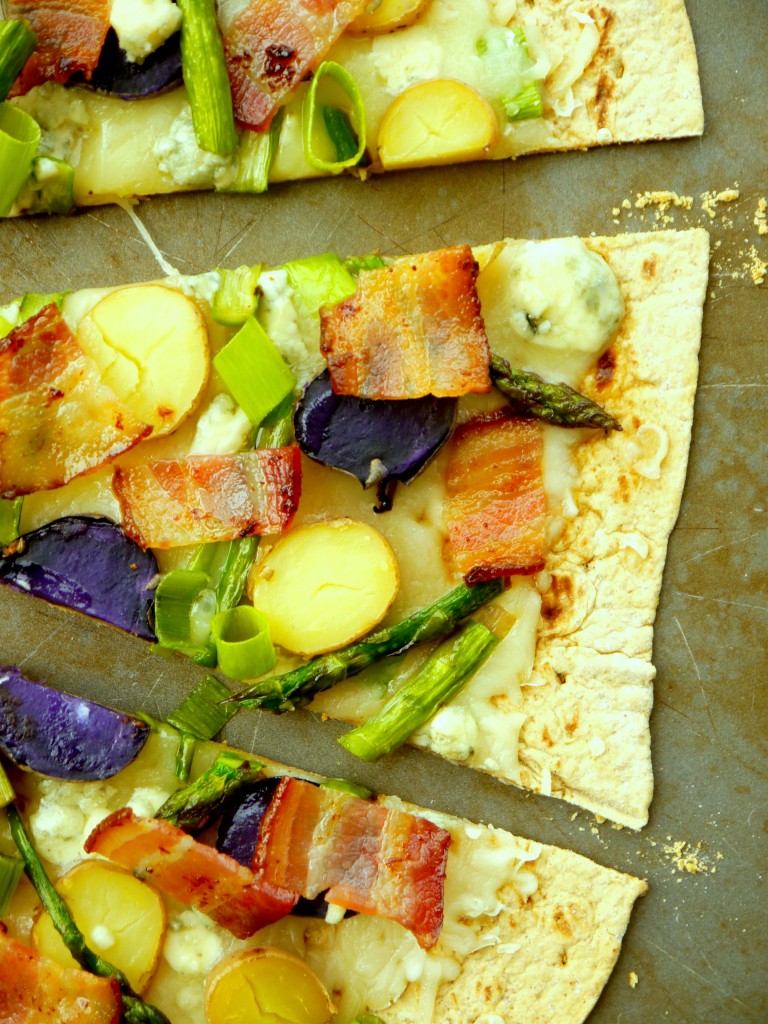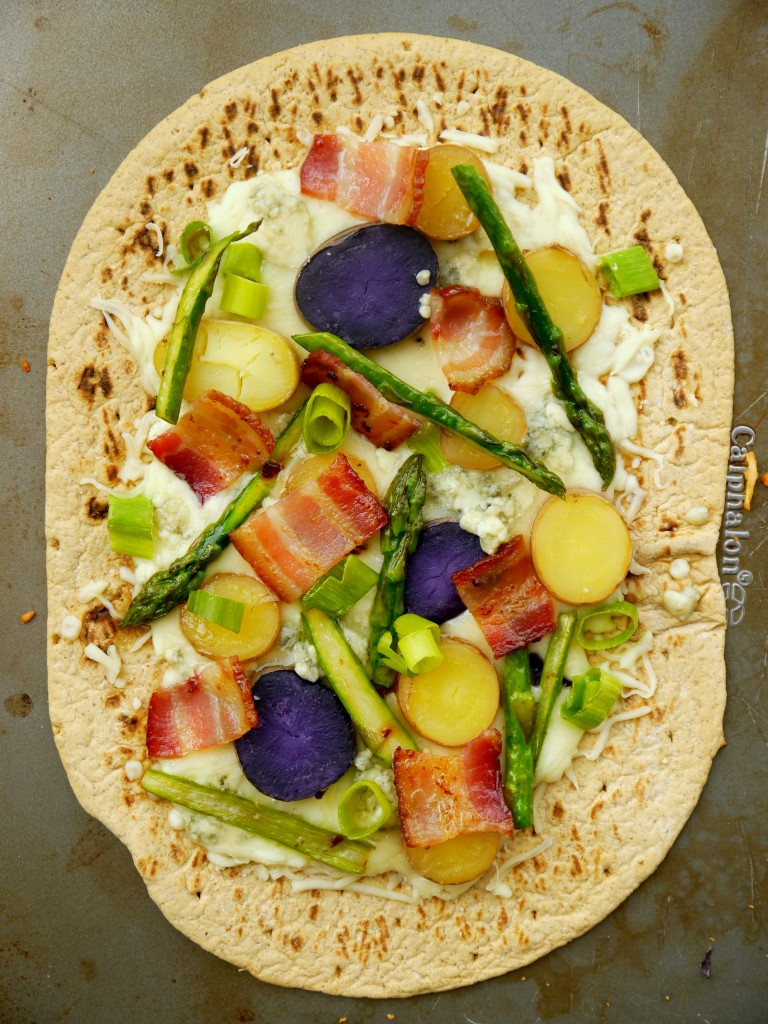 Yup, that kind of rhymes. Not sorry about it.
Just make this flatbread pizza, okay?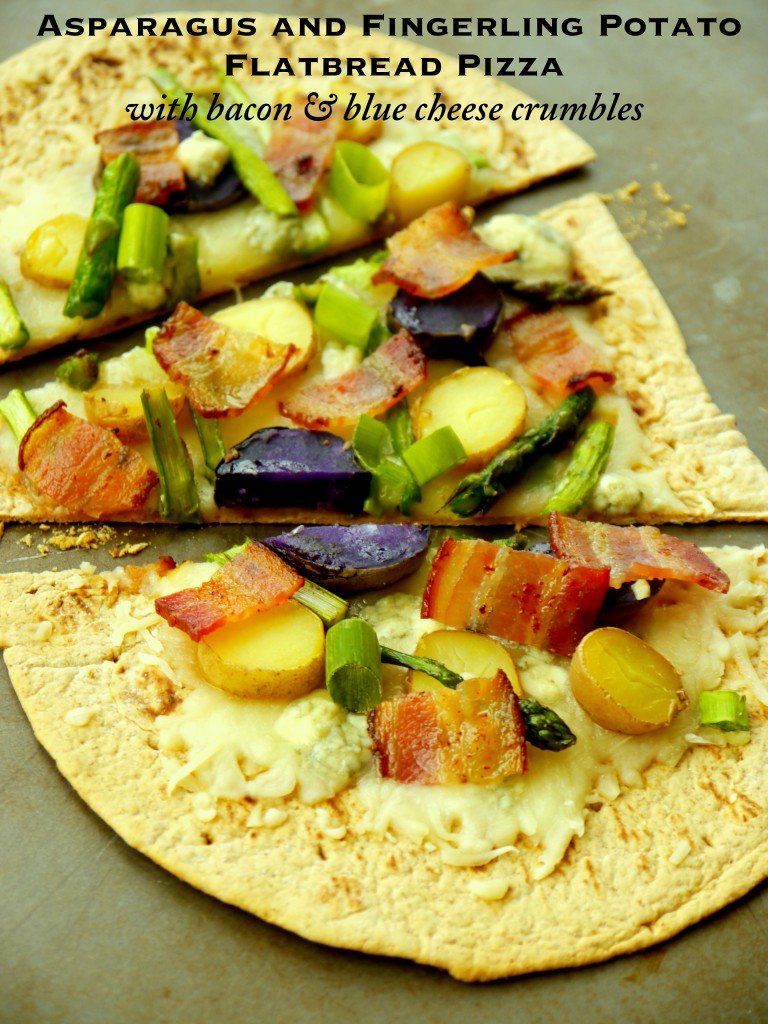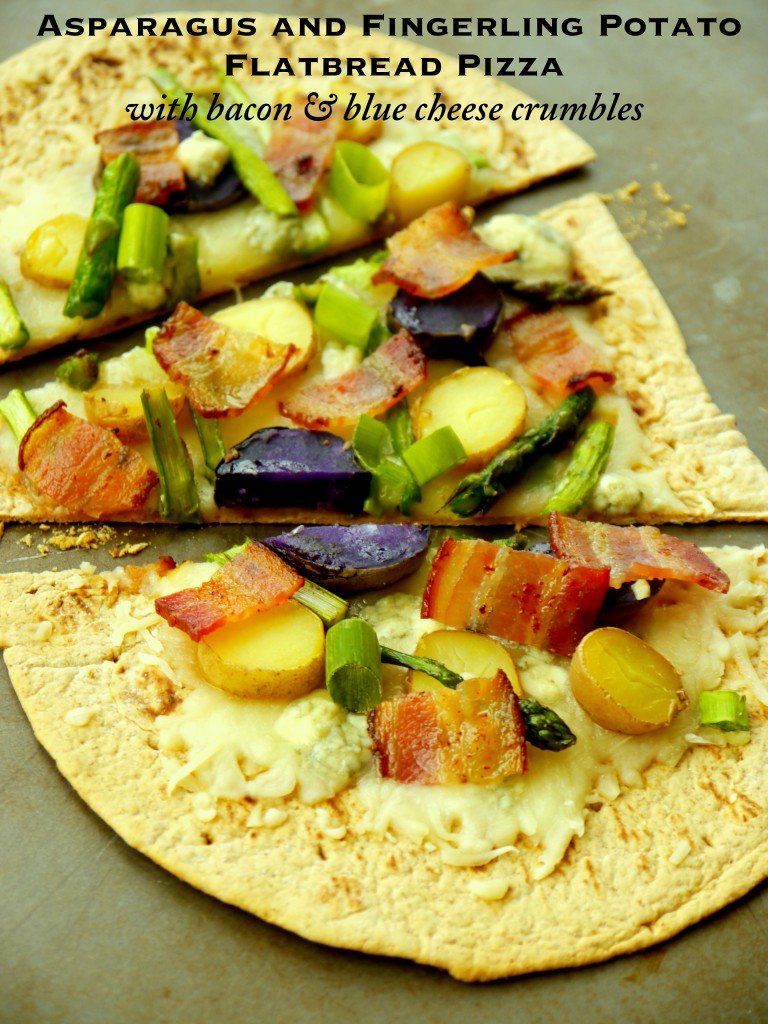 Asparagus and Fingerling Potato Flatbread Pizza with Bacon and Blue Cheese Crumbles
2014-04-20 12:48:26
Serves 4
A super flavorful, light and crispy flatbread pizza loaded with spring veggies and a sprinkle of bacon and blue cheese!
Ingredients
8 oz. fingerling potatoes
4 slices thick-cut bacon
8 large asparagus spears, sliced vertically in half and then diagonally into 3 pieces (6 pieces total per spear)
6 green onions, chopped
4 Whole Grain White Flatout® Flatbreads
2 cups shredded mozzarella cheese
¼ cup blue cheese crumbles
Instructions
Preheat your oven to 375°F.
After scrubbing your potatoes, place them in a single layer in a medium saucepan. Add enough water to cover the potatoes by an inch or two, add a sprinkle of salt, and then bring to a boil. Cook for 10 minutes or until potatoes are tender. Drain the potatoes, allow to cool for 15 minutes or so, and then slice as thinly as possible.
While the potatoes are cooking, cook your bacon in a skillet over medium-low heat. Place on a plate lined with paper towels to drain. Do not remove the bacon grease from the pan.
Increase heat to medium-high and add the asparagus spears to the bacon grease. Saute the asparagus in the bacon grease for just a few minutes. Remove from the pan and set aside.
Place 4 Flatout® Flatbreads on 2 large baking sheets. Bake the flatbreads by themselves for 2 minutes, then remove them from the oven and add toppings. To each flatbead, add one-quarter of the green onions, then ½ cup shredded mozzarella, then one-quarter of the asparagus, potatoes, and bacon, and finally 1 tbsp. blue cheese crumbles. Bake for about 5 minutes or until the cheese melts. Serve immediately!
My Bacon-Wrapped Life http://www.mybaconwrappedlife.com/
Inspired by this this pizza on Epicurious.
Disclaimer: Flatout Flatbread was kind enough to gift me some sample product. I was not in any way compensated to write positive reviews. As always, all opinions expressed are entirely my own.
Looking for more bacon-y pizza ideas?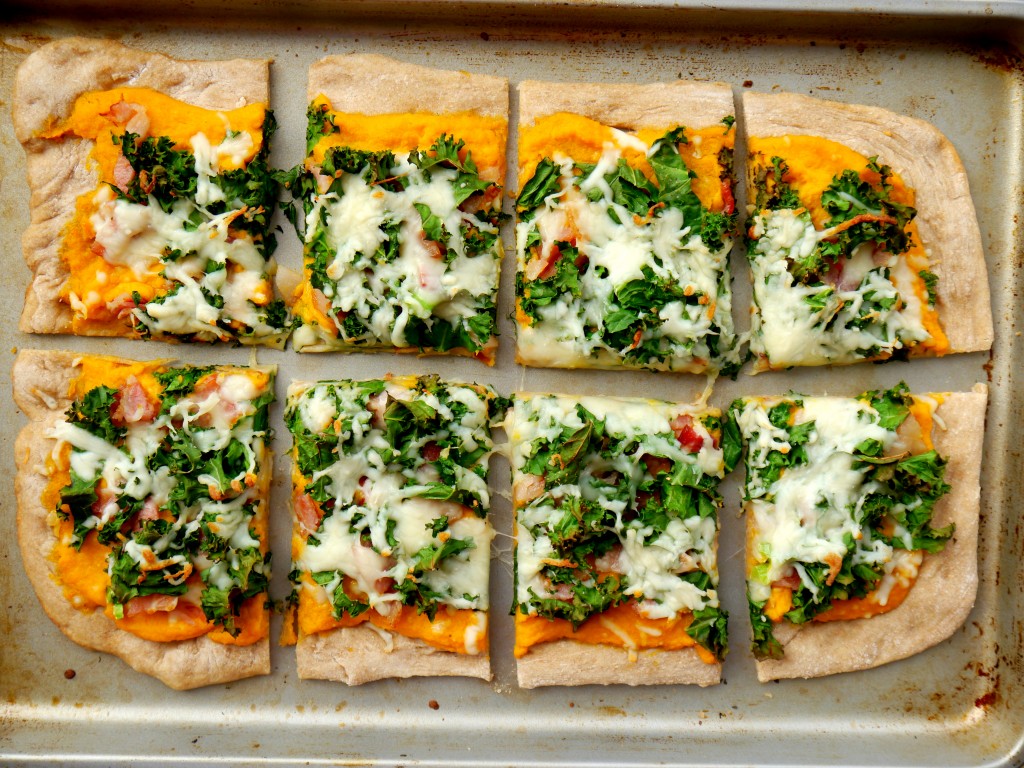 Butternut Squash and Bacon Pizza