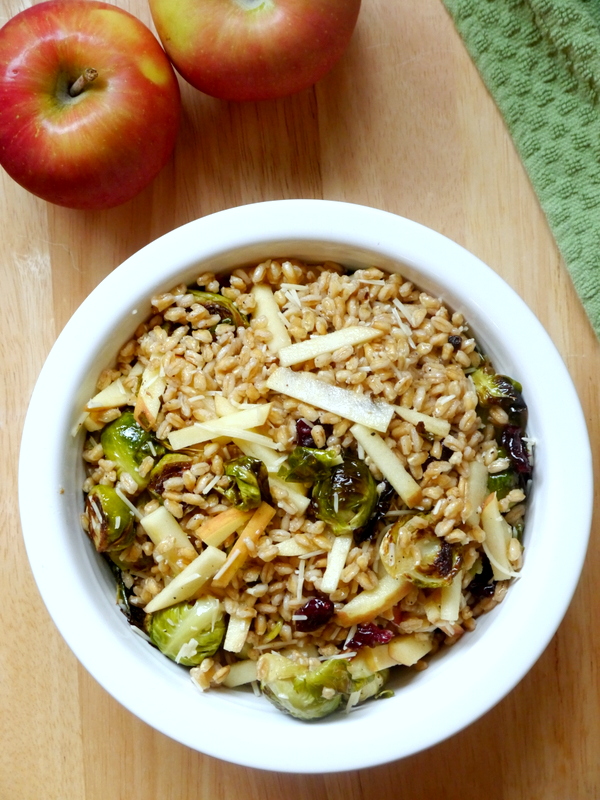 I don't know about you all, but I am fully in the throes of my post-Thanksgiving, pre-Christmas "let's-take-a-break-from-eating-pie-for-breakfast" period. It's not a phase that lasts long (I mean, we have Christmas parties starting soon, and if you think I won't eat my weight in sugar cookies, you are wildly incorrect) but it's a definite one or two-week period that strikes every year. It's a critical rest from indulgence that allows us to rally for the rest of the year and enjoy baked brie and champagne cocktails and Christmas cookies to the absolute fullest extent during the holiday. It's a marathon, not a sprint, after all.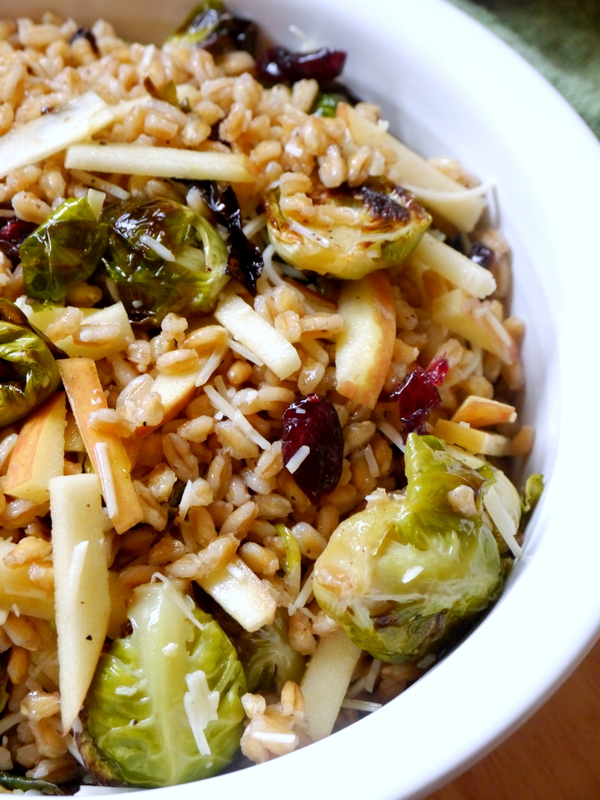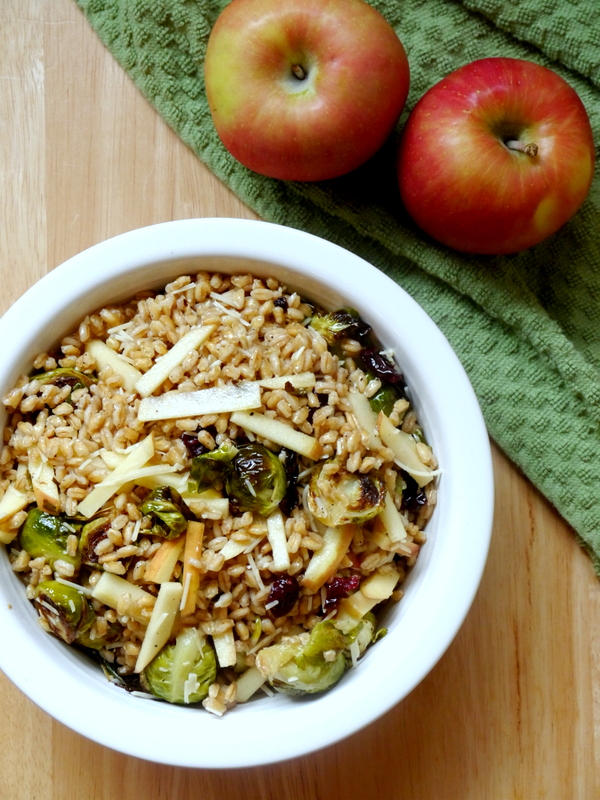 Now, that doesn't mean this phase isn't filled with fantastic food. It totally is – just a different kind of delicious food. Less butter and heavy cream, more nourishing veggies and whole grains. Less cheesy broccoli casserole, more apple cider farro. And you know what? I'm going to go ahead and say I love them both equally. Yeah, I went there. WHAT.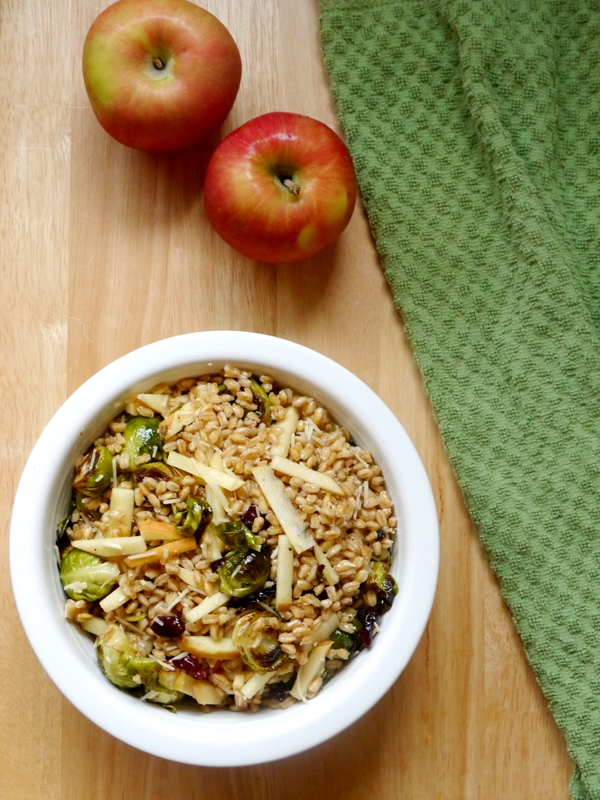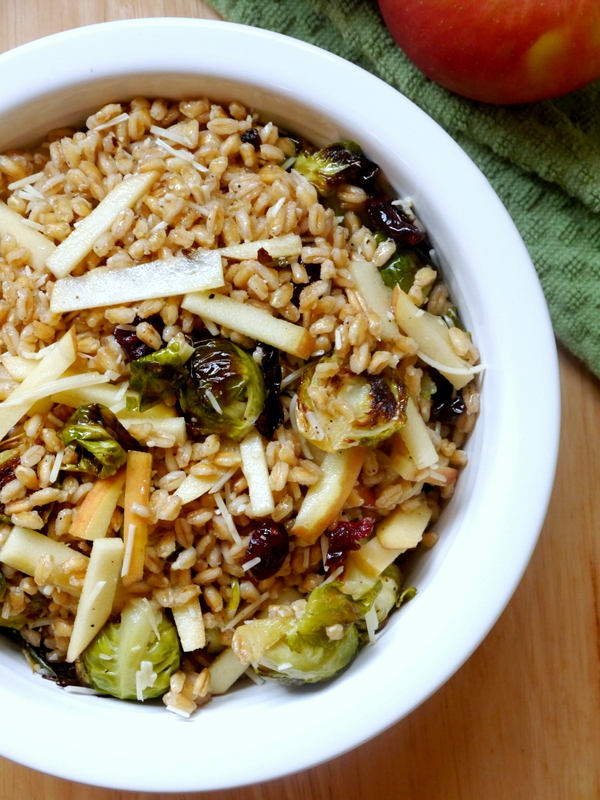 This apple cider farro with Brussels sprouts and dried cranberries is exactly what I want to eat when I want something that's totally seasonal and delicious and satisfying yet wholesome and nourishing at the same time. Unless you couldn't tell, I love farro. It's by far my favorite whole grain to cook with – it just has such great hearty flavor, and the semi-pearled variety, which I always use, cooks in just 20 minutes. For this recipe, I cooked the farro in apple cider, a little trick I picked up from the November issue of Bon Appetit. It lends an extremely subtle apple flavor to the grains and just infuses them with a little somethin' extra. I then tossed the farro with simple roasted Brussels sprouts, julienned Fuji apple, dried cranberries, and Parmesan cheese. We whip up a quick vinaigrette of apple cider vinegar, olive oil, salt, and pepper, and toss the whole shebang together. The whole salad is just so flavorful, light and satisfying at the same time – it's SO good.
I'm absolutely in love with this apple cider farro, and it's the perfect recipe for this time of year when you want a fantastic home-cooked meal without needing a serious nap afterwards. The food coma days will be back soon enough right? (…And I cannot wait!!!!!)
Apple Cider Farro with Brussels Sprouts and Dried Cranberries
2014-11-30 15:11:00
Serves 4
This apple cider farro is so flavorful and filled with tons of good-for-you ingredients - best of both worlds! Perfect for those chilly days when you're craving something fresh and healthy.
Ingredients
15-20 Brussels sprouts
3 tbsp. olive oil, divided
¼ tsp. kosher salt
¼ tsp. black pepper
2 cups apple cider
2 cups water
1 cup semi-pearled farro, rinsed
1 small or ½ large Fuji apple, julienned
½ cup shredded Parmesan cheese
¼ cup dried cranberries
2 tbsp. apple cider vinegar
Kosher salt and freshly ground black pepper, to taste
Instructions
Preheat your oven to 400°F.
Wash your Brussels sprouts and cut off the brown stems. Peel off the tough outer leaves, then cut each Brussels sprout in half. Transfer the Brussels sprouts to a large rimmed baking sheet, drizzle with 1 tbsp. olive oil and ¼ tsp. each of kosher salt and black pepper, and toss. Bake for 20-25 minutes, tossing every 5-10 minutes or so, or until crispy and cooked through.
While your Brussels sprouts are cooking, bring the 2 cups of apple cider and 2 cups water to a boil in a medium saucepan. Add a pinch of kosher salt. Once the mixture comes to a boil, add the farro and cook for 20 minutes or so, until the farro has a bit of a bite but is not too chewy. (If you're using a different kind of farro, follow package directions for cooking.) Once cooked, drain and allow to cool for 10-15 minutes.
Once the farro has cooled and the Brussels sprouts are done cooking, combine the farro, Brussels sprouts, apple, dried cranberries, and Parmesan cheese in a large bowl. Drizzle with remaining 2 tbsp. olive oil, 2 tbsp. apple cider vinegar, and kosher salt and black pepper to taste; toss and add more salt and pepper, if desired. Serve immediately, slightly warm or at room temperature.
Notes
For a heartier dinner, add 2 cooked chicken apple sausages, sliced up and tossed with the rest of the salad. That's how we ate it, and it was delicious!
My Bacon-Wrapped Life http://www.mybaconwrappedlife.com/

Farro cooking method adopted from Bon Appetit.

Looking for more delicious healthy dinner recipes?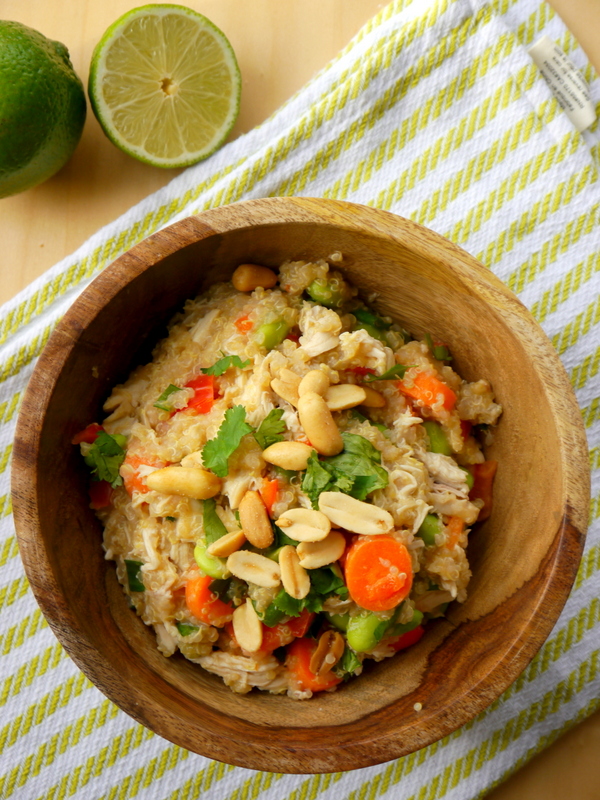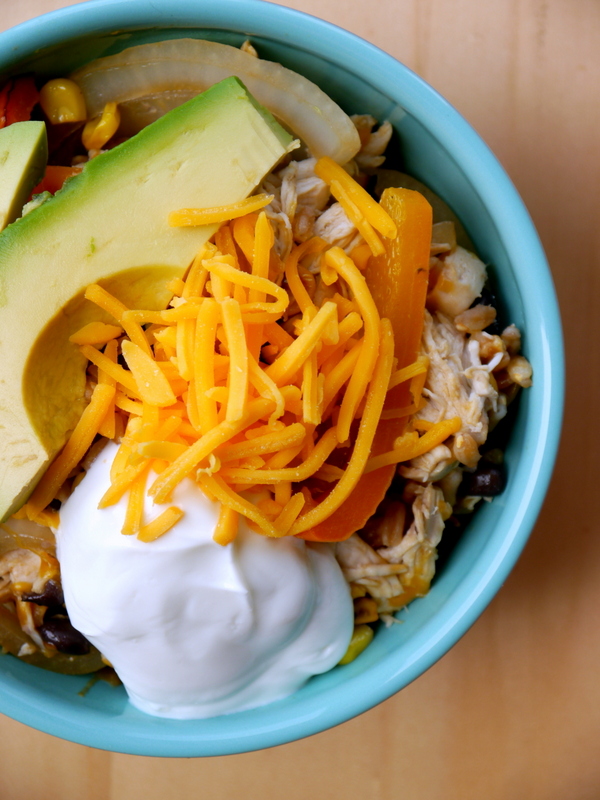 Farro and Black Bean Burrito Bowls